Cables! Cables as far as the eye can see! Our modern need to charge many multiple devices before we go out of the house means that, if we want a tidy desk space or bedside table, investing in a multi-device charging dock is the way to go. The introduction of Apple's MagSafe charging standard, which lets devices be wirelessly charged while held in place with strong magnets, has made a cottage industry for manufacturers looking to send power to our iPhones, AirPods and Apple Watches. But some prove so bulky that any gains made over cable management are lost to desk space woes instead.
There are no such problems for the Journey Rapid Trio 3-in-1 Wireless Charging Station. Its upright orientation and clever modular design mean it slips easily onto a desk without disruption, while also doubling as a handy viewing stand for any video your iPhone may be playing. We recommend it without hesitation. Read on to find out why.
Journey Rapid Trio 3-in-1 Wireless Charging Station: Price and availability
The Journey Rapid Trio 3-in-1 Wireless Charging Station is available now, priced at $139.99. If you're in the UK, it's one of those rare occasions when you'll get a better-priced deal on a gadget too, with the charging station priced at £109.99 in old Blighty. 
It'd be a good deal at the US pricing, but it's a real steal in the UK. For comparison, the Belkin Boost Charge Pro 3-in-1 Wireless Charging Pad has an RRP of $149.99 / £139.99, and for my money, the Journey device is the better choice. 
There's a slight catch in that price though — there's no wall plug included in the box (though a 1.5m USB-C to USB-C cable is packed in). So factor that into the overall cost if you haven't got one spare.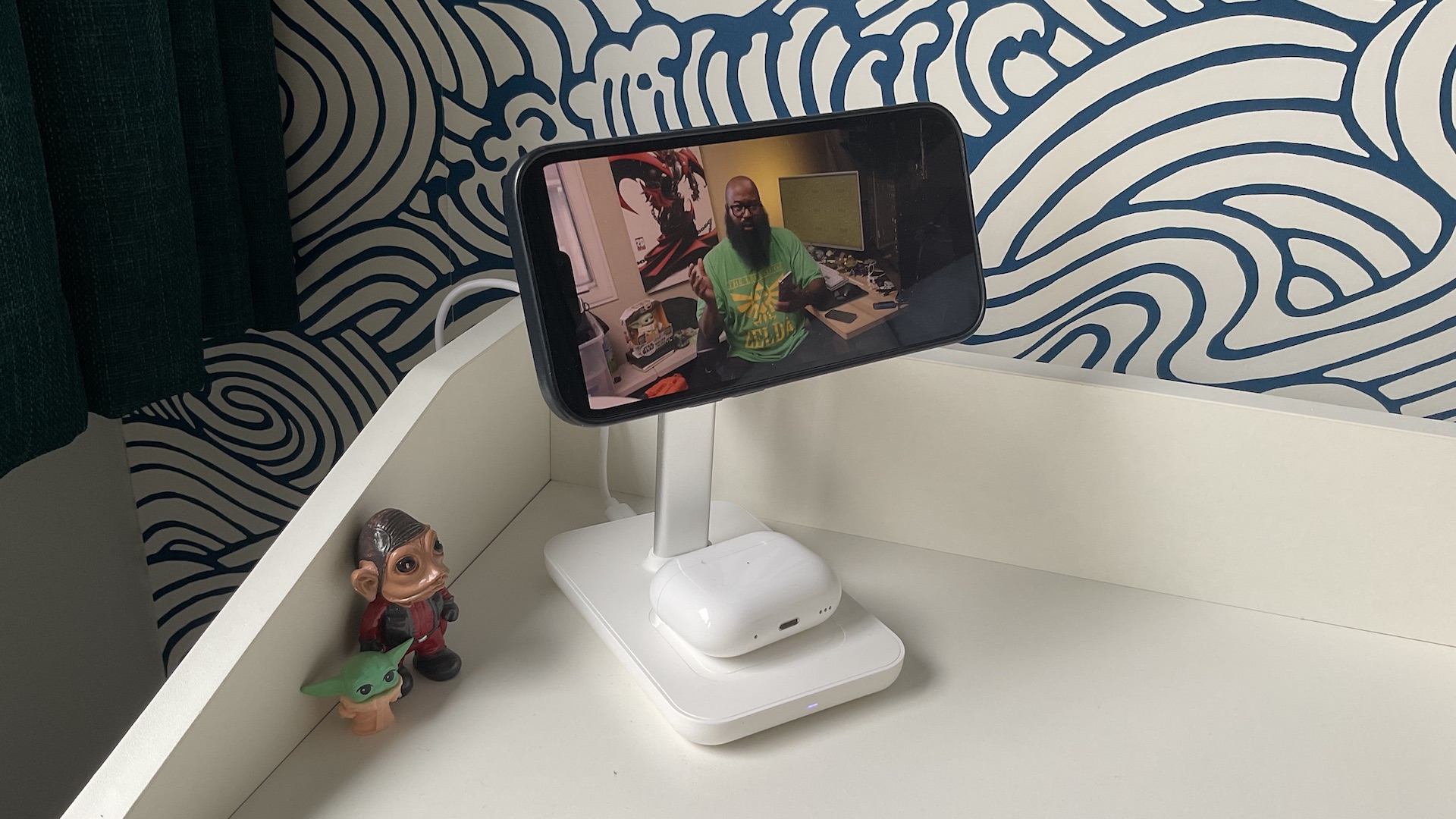 Journey Rapid Trio 3-in-1 Wireless Charging Station: What I love
A quick run down on the key specs before going into what's made the Journey Rapid Trio my go-to charging stand. The Rapid Trio supports charging three devices at once — a MagSafe compatible iPhone (iPhone 12 through iPhone 14 and beyond) an Apple Watch and MagSafe compatible AirPods too. Alternatively, you can swap the AirPods out for a second iPhone. 
They'll charge off a minimum 20W USB-C wall charger, connected by a single USB-C cable to the base, but higher-powered chargers will deliver faster charging speeds — Journey recommends its own 30W mini charger as an accompaniment, for instance. MFi certified, it's smart enough to protect your battery health, and react to any potential temperature spikes to keep your device working at its best — I've experienced no charging connection or overheating problems in the weeks I've been using the Rapid Trio.
As mentioned, there are three charging areas on the stand — and two come with some very useful secondary features which make the Rapid Trio a particularly useful option.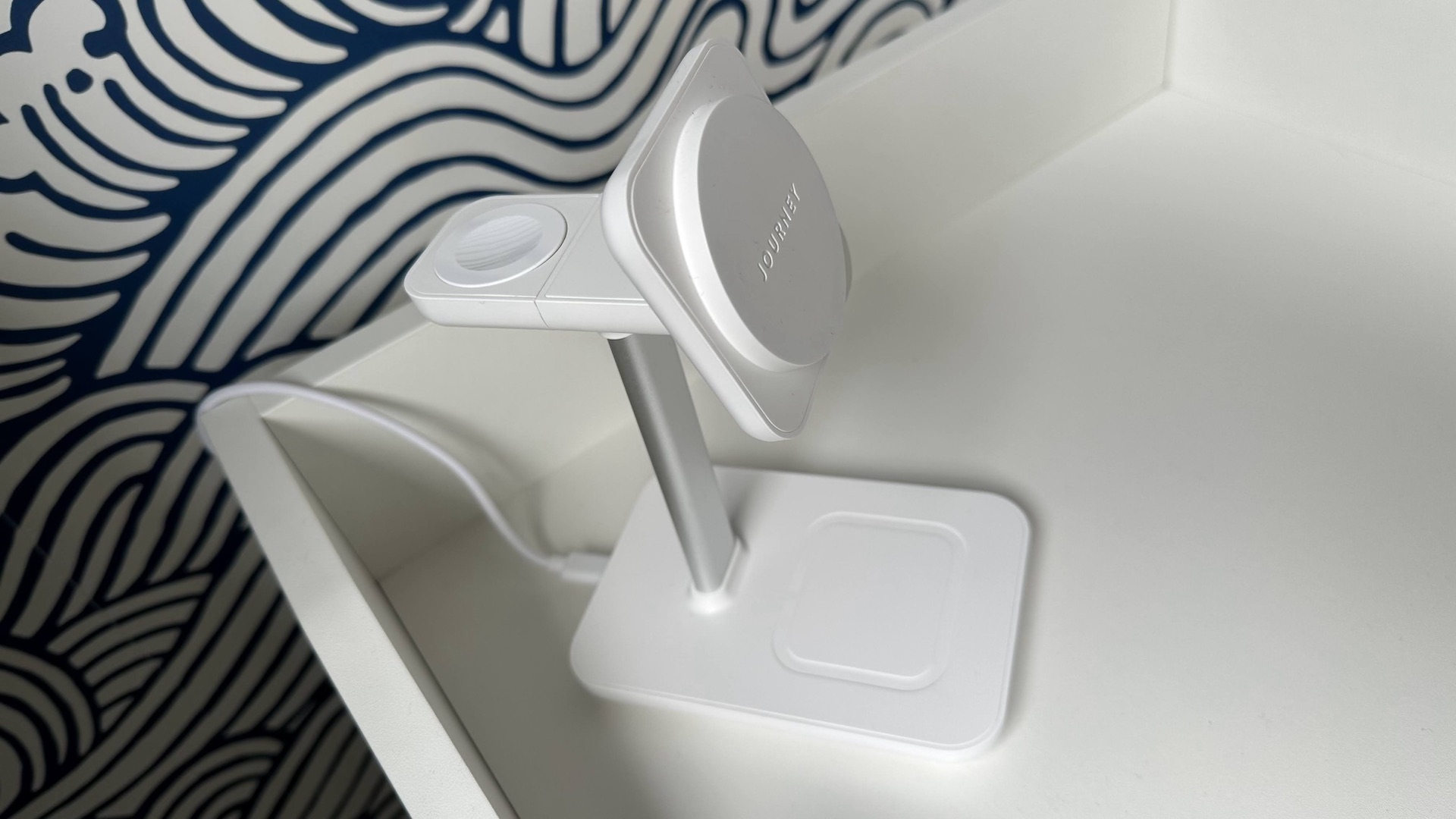 First of all there's the charging unit in the base of the device. Though it's intended primarily for AirPods, it'll happily charge an iPhone placed on it, too. It's a great bit of flexibility that not all similar chargers offer.
The main charging station though is solely for an iPhone — a MagSafe connection that sits on a vertical arm, raising your device about 6-inches off the base. It's a powerful magnetic connection that holds your phone firmly in place on a tilting hinge — powerful enough to hold the device horizontally, too. As a result, I've been using it on sleepless nights on my bedside table as a mini YouTube screen, displayed in widescreen. It's something charging mats don't allow for.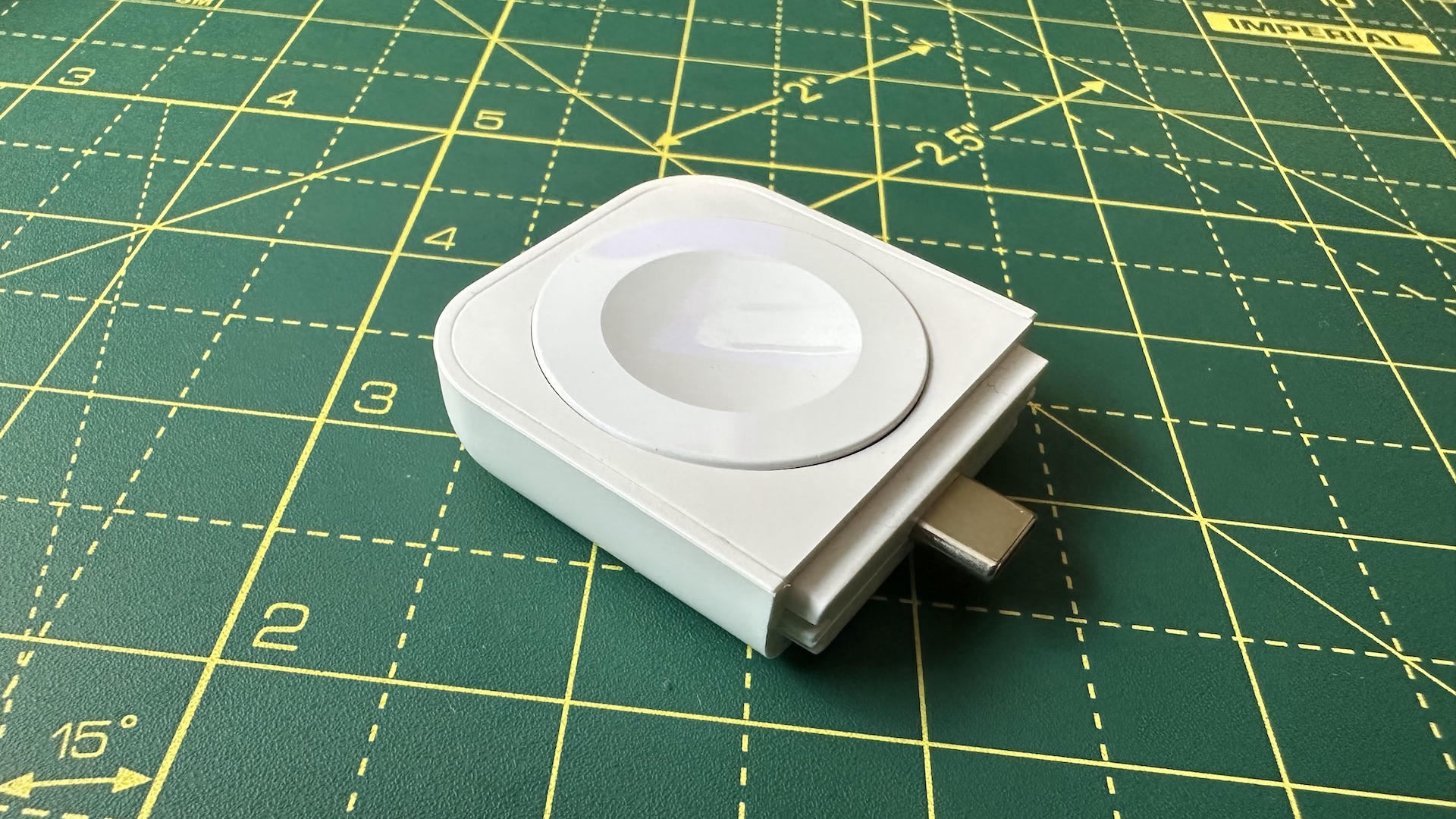 The most interesting element though is the Apple Watch charging plate. It's a modular option included in the box — it clips into the back of the main iPhone charging bracket with a USB-C port. What's great about it is that, because it pops in and out, you can easily take it with you alongside your MacBook, pop it in the side of your computer, and get a quick on-the-go battery boost to the wearable when away from the stand. It's a neat extra and a handy secondary feature.
Image 1 of 2
It's generally just an attractive device, too. Whether you go for the black or white finish, it's a relatively discreet design (dimensions a mere 169.3mm (H) x 133.58mm (D) x 85.63mm (W)) when not in use, with its metallic riser reassuringly sturdy. 
Journey Rapid Trio 3-in-1 Wireless Charging Station: What I don't love
I'm nitpicking to find fault with the generally-excellent Journey Rapid Trio 3-in-1 Wireless Charging Station, but if a second-generation device ever arrives, there are a few small tweaks I'd make.
Chief among them would be some sort of way of controlling the indicator light on the front edge of the base. A white light that slowly pulses when charging, it's useful for seeing that your devices are charging at a glance. But at night it's surprisingly bright and can prove distracting on a bedside table. Lowering the brightness or making it an optional feature would be better.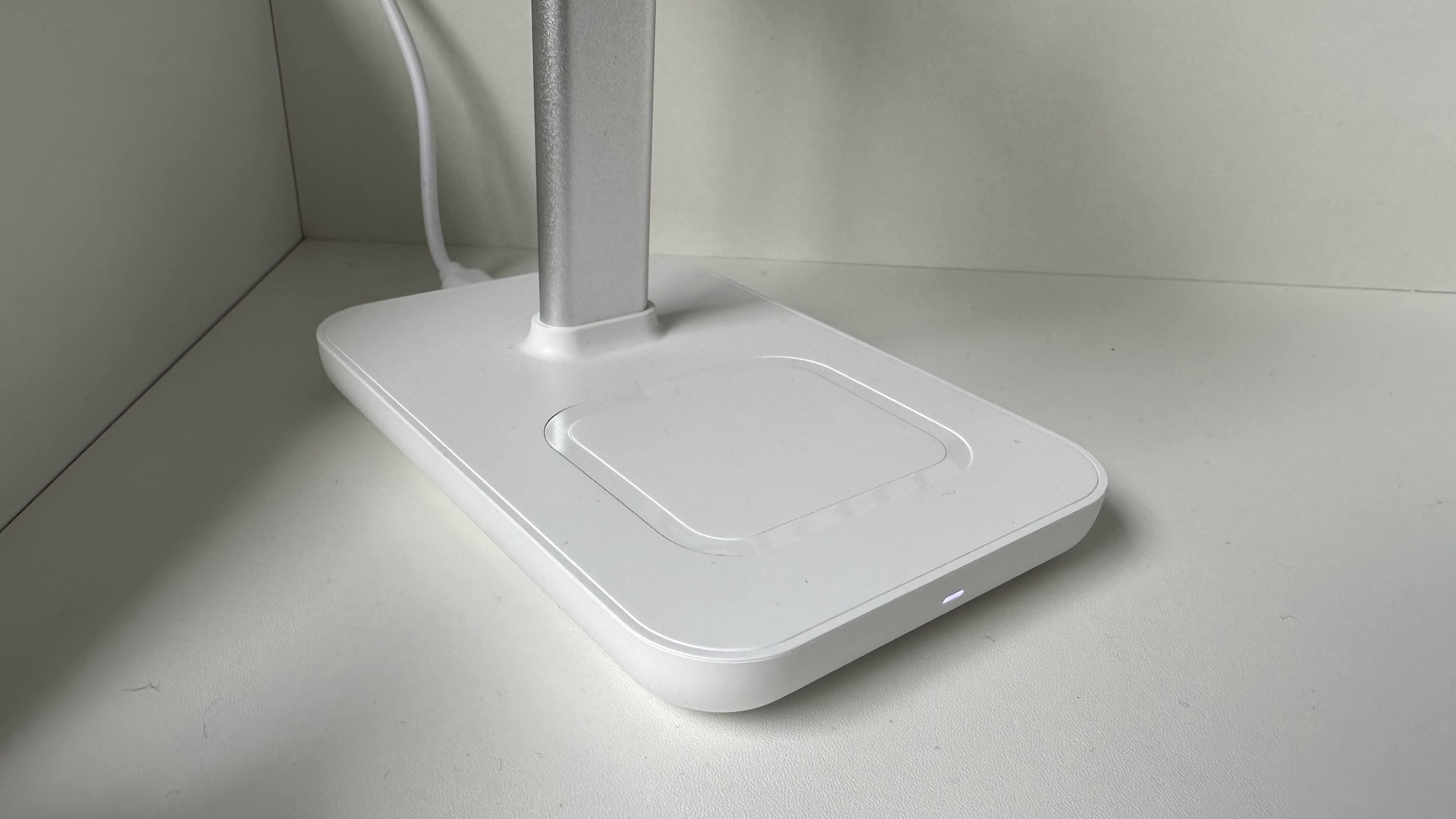 I'd like a little more weight in the base too. It's a sturdy charger — I never worried about it toppling over with my iPhone 14 Pro attached, it's well balanced. But the MagSafe connection is strong enough that it takes two hands to release the phone — one to pull the iPhone from the magnet, and one to keep the base in place. A little more weight in the base might make it easy to remove the phone with one hand. The design means it's not a particularly travel-friendly device anyway, so some extra weight wouldn't be a problem.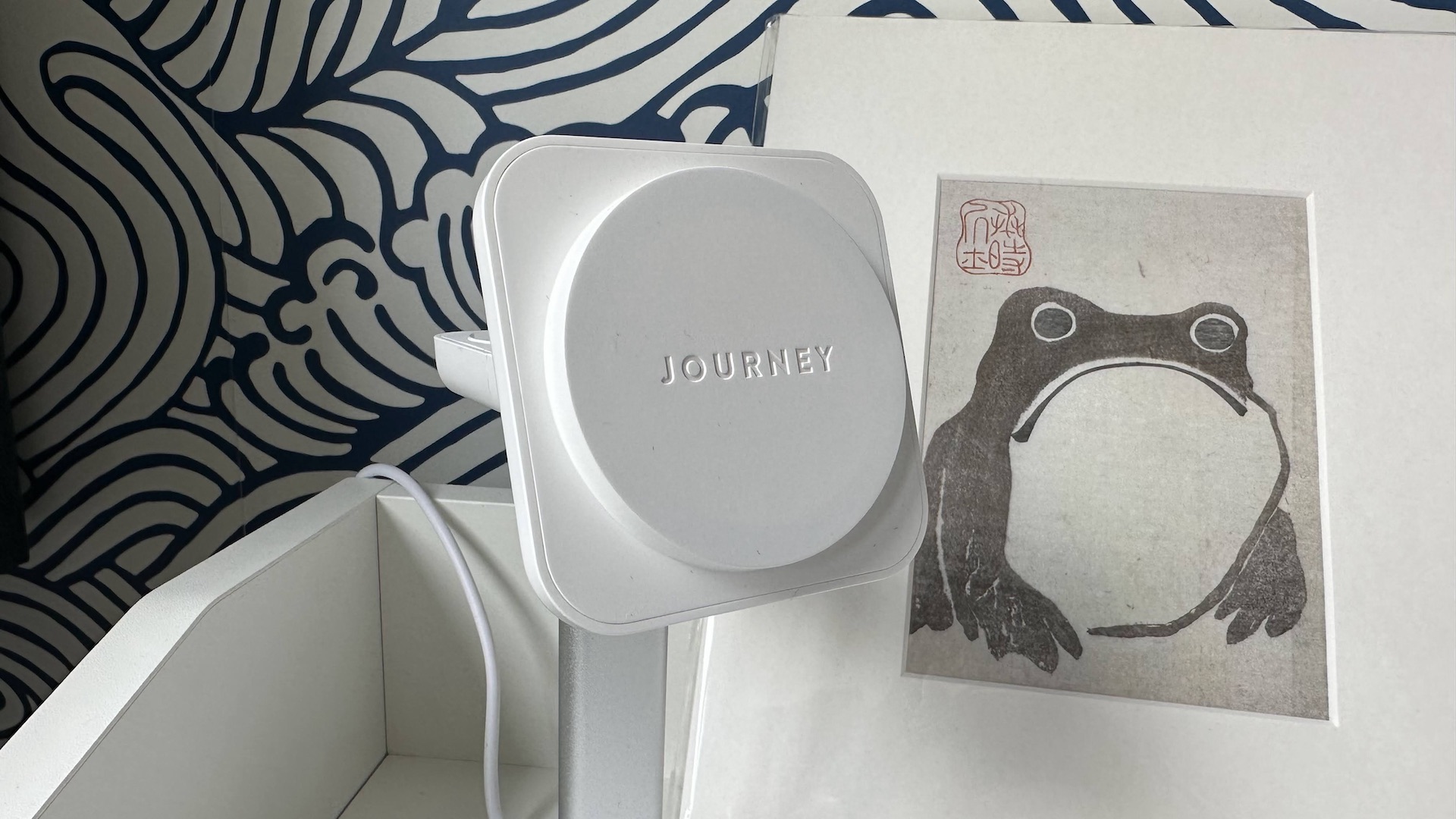 And though it's a well-priced device — a bargain in the UK in particular — it'd be an even better deal with a charger in the box. Though, having said that, I appreciate we've all probably got a spare knocking about at this point, and any avoided e-waste is a good thing.
Journey Rapid Trio 3-in-1 Wireless Charging Station: Competition
You have a ton of options when it comes to MagSafe chargers — including devices produced by Apple itself. Though AirPower remains a mythical failure, you can still pick up the one-device MagSafe Charger (opens in new tab) puck and travel-friendly MagSafe Duo Charger (opens in new tab), as well as the Apple Watch Magnetic Charging Dock (opens in new tab). These will only charge one or two devices at a time though, and the Duo option is usually priced close to what this three-device option from Journey will set you back.
Belkin has a similarly-vertical charger in its upright Boost Charge Pro 3-in-1 Wireless Charger. It's usually a bit more expensive than the Rapid Trio, and it's wider with its tree-like design, but that's better if you want to keep an eye on your Apple Watch screen, too. We've also reviewed the Boost Charge Pro 3-in-1 Wireless Charging Pad, which is similarly priced and great if you don't have as much vertical space to play with. Its flat design makes it easier to travel with, too.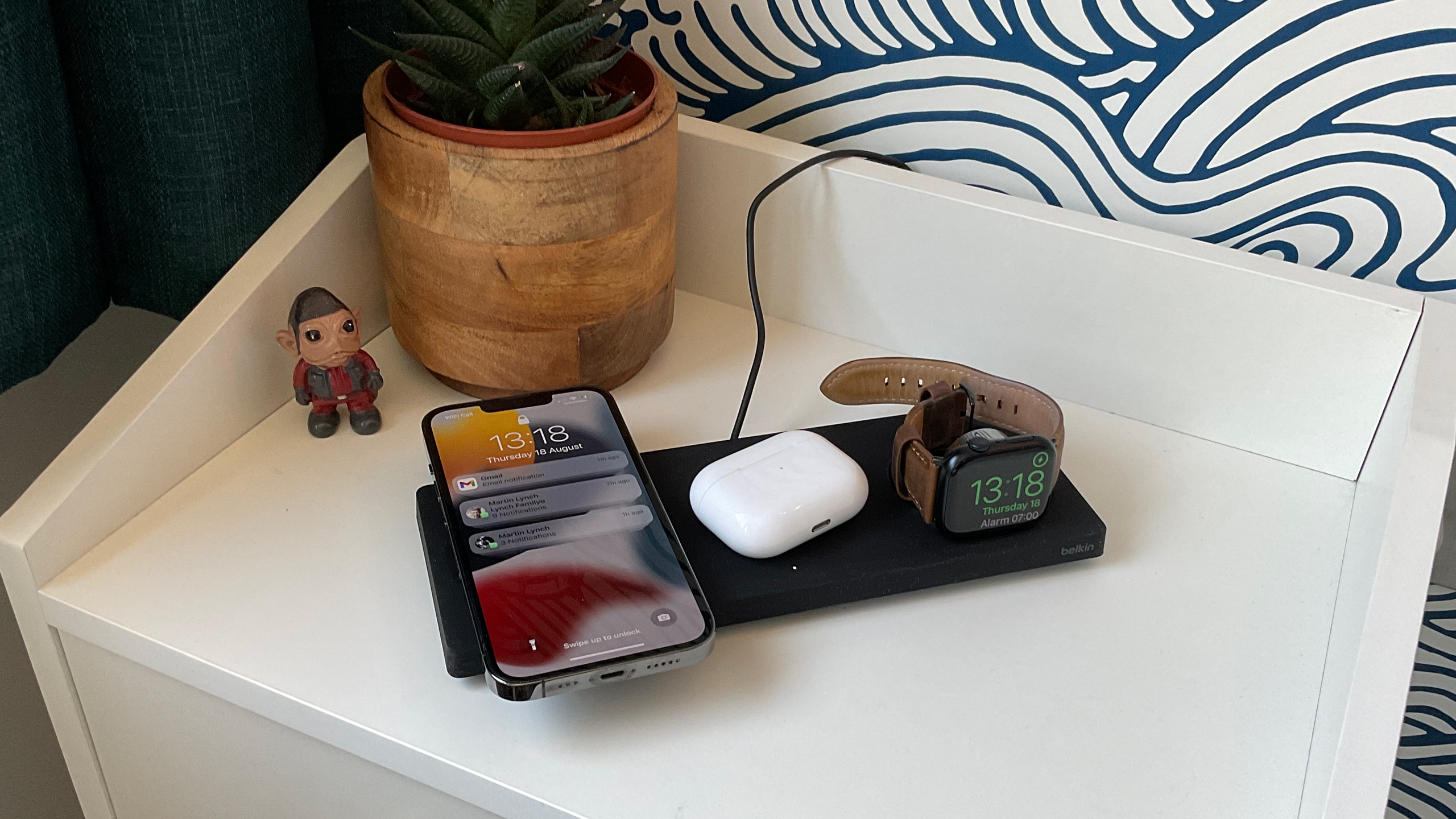 You can find lots of cheaper options out there from lesser-known brands, but we tend to avoid recommending them among our best wireless chargers for multiple devices lists, as battery health is so important to our gadgets. You want a charger that won't burn out your iPhone, and thankfully all of the picks we recommend will take good care of your device's health.
Journey Rapid Trio 3-in-1 Wireless Charging Station: Should you buy it?
You should buy this if…
You have the trinity of wireless-charging-ready iPhone, Apple Watch and AirPods
You're sick of dealing with multiple plugs and cables
You want to use your Apple Watch as a bedside clock
You shouldn't buy this if…
You only charge one device at a time
Your gear doesn't support MagSafe
You need a charging station that you can travel with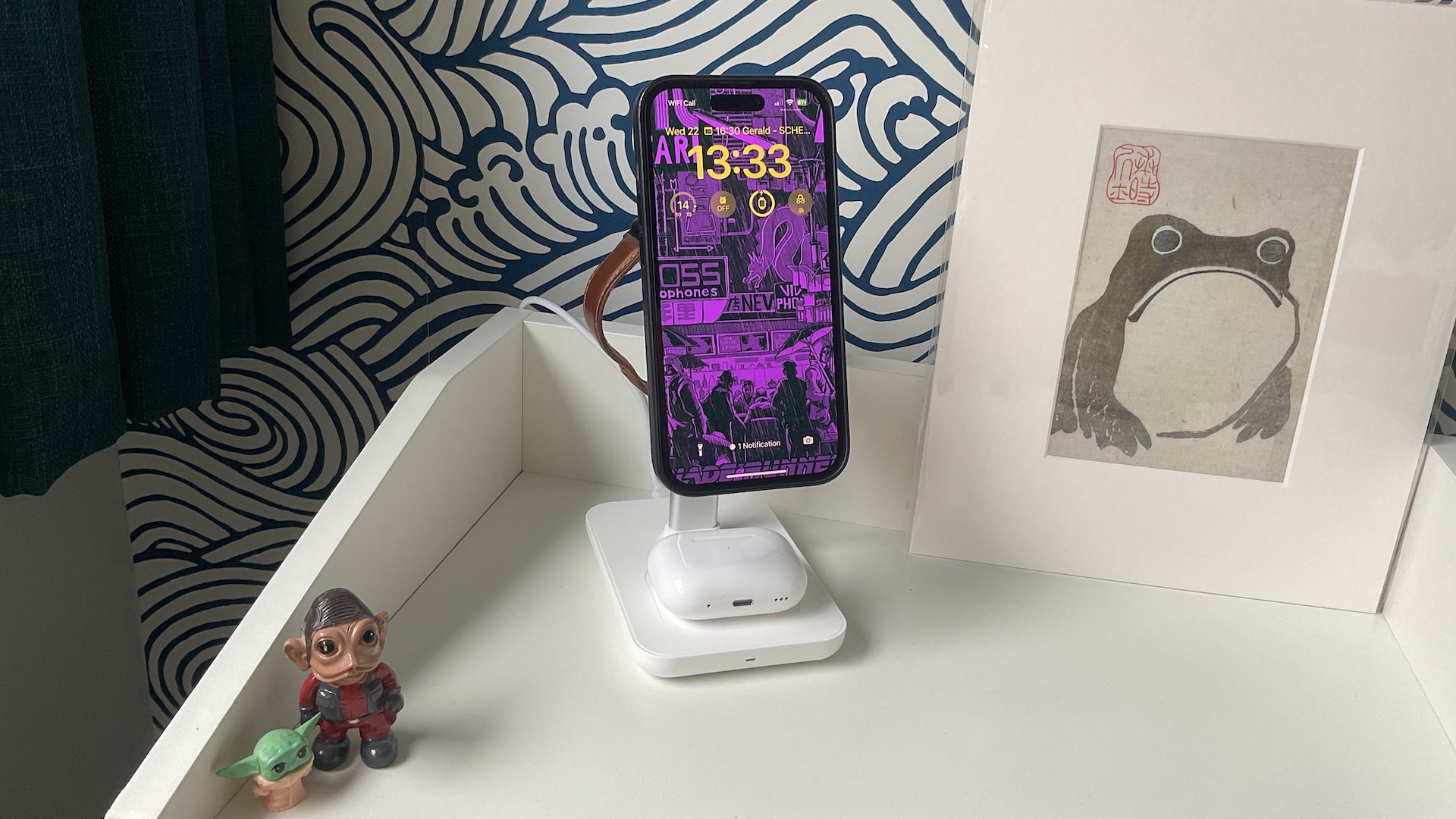 Journey Rapid Trio 3-in-1 Wireless Charging Station: Verdict
The Journey Rapid Trio 3-in-1 Wireless Charging Station is just what I want from a multi-device charger. It's neat and tidy, not taking up unnecessary space, and doesn't look ugly when not in use. It safely charges all my daily Apple devices, but does so with some added bells and whistles too — not least of all its removable Apple Watch charger. Priced appropriately, it's a superb choice for anyone looking to power the core trinity of on-the-go Apple devices all at once.
---
window.reliableConsentGiven.then(function()
!function(f,b,e,v,n,t,s)if(f.fbq)return;n=f.fbq=function()
n.callMethod? n.callMethod.apply(n,arguments):n.queue.push(arguments)
;if(!f._fbq)f._fbq=n;
n.push=n;n.loaded=!0;n.version='2.0′;n.queue=[];t=b.createElement(e);t.async=!0;
t.src=v;s=b.getElementsByTagName(e)[0];s.parentNode.insertBefore(t,s)(window,
document,'script','https://connect.facebook.net/en_US/fbevents.js');
fbq('init', '1765793593738454');
fbq('track', 'PageView');
)