It's hardly surprising that sales of routers and mesh Wi-Fi systems have soared in the last couple of years. The 'new normal' has seen many of us working and studying at home, and making Zoom calls on a daily basis. And, of course, the long months of lockdown saw a huge growth in the number of people signing up to streaming video services and playing online games.
And now, just as things seem to be settling down a little, there's another reason to think about buying a new router. For many years, our computers, routers and other devices have all used a Wi-Fi standard known as 802.11ac– which has recently been renamed Wi-Fi 5, as the industry's marketing brains decided that sounds a bit more user-friendly. Wi-Fi 5 transmits a signal on two frequency bands–2.4GHz and 5.0GHz–which is known as dual-band Wi-Fi. However, some more expensive tri-band routers are also able to transmit with two separate 5.0GHz signals, giving Wi-Fi 5 a maximum speed of 6.9 gigabits per second (Gbps). Just remember that the Wi-Fi speeds quoted by manufacturers are the theoretical maximum, and you won't get those speeds in real-life.
However, the most widely used form of Wi-Fi at the moment is probably the newer Wi-Fi 6–also known as 802.11ax–which has been standard on most Macs, iPhones and iPads over the last couple of years. This uses the same 2.4GHz and 5.0GHz frequencies as Wi-Fi 5, but is a lot faster, with a top speed of 9.6Gbps. In addition, Wi-Fi 6 is also more efficient when transmitting data to lots of different devices all at the same time–including smart devices such as lights, speakers and security cameras, in addition to all your computers and mobile devices. If you're still using an old Wi-Fi 5 router then it's definitely worth upgrading to a new router that has Wi-Fi 6.
However, Wi-Fi technology is developing so quickly that there's already a new kid in town, called Wi-Fi 6E – and, looming on the horizon is Wi-Fi 7 too. Wi-Fi 6E is a definite step forward, as it adds a new 6.0GHz frequency band alongside the 2.4GHz and 5.0GHz bands used by Wi-Fi 5 and Wi-Fi 6. But while routers with Wi-Fi 6E have been available for more than a year now, Apple and other manufacturers haven't been in a rush to add it to their own products. In fact, Apple only introduced Wi-Fi 6E with some of the latest Mac and iPad models at the start of 2023. So while we'd certainly recommend upgrading to a router with Wi-Fi 6, it's not really essential to pay even higher prices for Wi-Fi 6E at the moment–especially as it won't be long before Wi-Fi 7 arrives too.
There are a handful of routers available that offer Wi-Fi 7 at the moment, promising blazing speeds of up to 46Gbps, which are designed for next-generation applications such as VR and streaming 8K video. However, Wi-Fi 7 probably won't be widely available until the end of 2023, and neither Apple nor any of its PC rivals currently support Wi-Fi 7 in their products, so there's certainly no rush to upgrade at the moment. In the meantime, here's our selection of some of the best routers that currently support Wi-Fi 5, 6 and 6E.
Updated March 23, 2023 with Linksys Hyrda Pro 6E
D-Link DIR-X1560 – Best for beginners
Price When Reviewed:

$99.99
It's a bit basic, but if you shop around online you can probably pick up D-Link's DIR-X1560 for a lot less than the manufacturer's recommended price, so it's a good option if you want to upgrade to Wi-Fi 6 without spending too much money.
The DIR-X1560 is a dual-band router that transmits on the 2.4GHz and 5.0GHz bands, running Wi-Fi 6 with a top speed of 1500Mbps. That's not going to win any awards, but if – like me – you have home broadband that tops out at 100Mbps then the DIR-X1560 will provide all the speed you need for web browsing and streaming music and video.
The router also includes five Gigabit Ethernet ports – which is pretty good at this price – with one being used to connect to your existing broadband modem or router, while the others provide wired connections for laptops, games consoles and other devices that need it. We were pleased to see that the router comes with a two-year warranty, and there's also an option to get it professionally installed if you're not too keen on tackling it yourself.
You shouldn't have too much trouble getting started, though, as the D-Link WiFi app is very easy to use. You can simply scan a QR code provided with the router, and the app will set everything up for you. There's also a web browser interface provided for more advanced users who prefer to set things up for themselves.
The app provides a decent set of basic features, providing a network map that shows all the devices connected to your network. You can set up a guest network, and there's an option to create schedules to control your children's access to the Internet, or to simply pause Internet access for a while when you need to get them round the dinner table.
Asus RT-AX56U – Best for larger homes
Price When Reviewed:

$149.99
The RT-AX56U is an affordable WiFi 6 router, offering dual-band WiFi on the 2.4GHz and 5.0GHz bands, with a top speed of 1800Mbps. That's a relatively modest speed for WiFi 6, but should still be perfectly adequate for streaming music and video, and at just £115.00 it's a good way of stepping up to WiFi 6 without spending too much money.
It doesn't cut too many corners, though, despite the low price. There's one Gigabit Ethernet port for connecting to your existing broadband modem or router, and four additional Ethernet ports that can be used to connect a laptop, games console, or other devices that work better with a lag-free wired connection. It even has two USB ports – one each for USB 2.0 and 3.0 – that will allow you to connect USB storage devices that you can then share on the network.
That's all straightforward enough, but it's the router's versatile software and features that really provide good value for money. Newcomers can use the Asus Router app, which helps you to get started quickly and easily, but there's also a web browser interface provided for more advanced users who want to fine-tune their network settings for themselves. The app can monitor your network to watch out for attempted cyber-attacks and also provides some useful parental controls, such as the ability to block unsuitable web sites.
Some of Asus' rivals require an additional subscription for security and parental controls (Netgear, we're looking at you…) so it's good to see that Asus provides these features at no extra charge. The RT-AX56U also supports Asus' AiMesh technology, which allows it to form a mesh network with other Asus routers, so you can easily upgrade and extend your home network in the future if you need to.
Linksys Hydra Pro 6E – Best for new Macs/iPads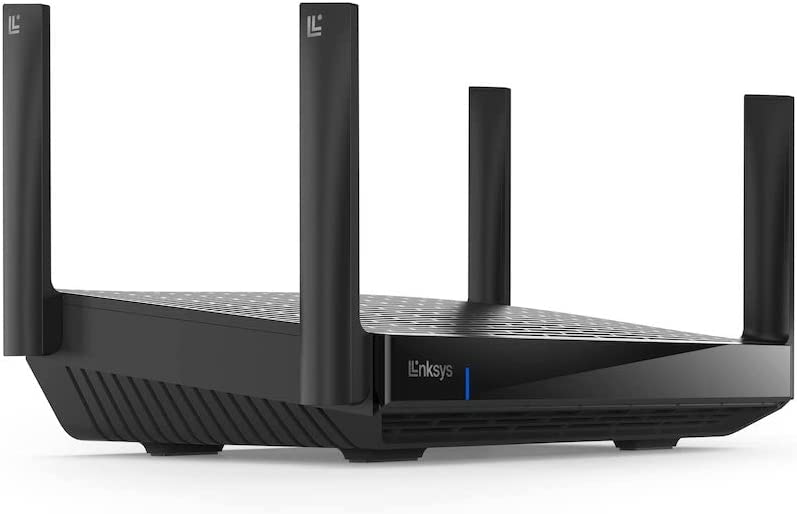 Price When Reviewed:

$349.99
Apple only introduced the new Wi-Fi 6E on a handful of the latest Macs in January 2023, and to iPads in late 2022, so it's not an essential upgrade for most of us just yet. However, this new version of Wi-Fi is a big step forward, so it's worth considering a new router with Wi-Fi 6E if you own any Macs, iPads or other devices that also support Wi-Fi 6E.
The Hydra Pro 6E is fairly expensive, and its design is classic boring black box, but it's packed with state-of-the-art features for both wireless and wired networking. The 'E' in Wi-Fi 6E stands for extended as it adds a new 6.0GHz frequency band to the standard 2.4GHz and 5.0GHz bands used by previous versions of Wi-Fi. If you've got a Mac or iPad that supports Wi-Fi 6E then the advantage here is that they can use the new–and uncongested–6.0GHz band all to themselves in order to provide maximum performance, while all your other devices have to compete for a slice of bandwidth on the busier 2.4GHz and 5.0GHz bands. The Hydra Pro 6E also provides a top speed of 6.6Gbps, which is more than fast enough for most home and business users, for streaming music and video, remote working, or some online gaming.
It provides high-speed wired connections too, with a 5Gbps Ethernet port for high-speed broadband, and four Gigabit Ethernet ports to provide wired connections for devices such as laptops or games consoles. On its own, the Hydra Pro 6E can cover areas of up to 2,700 sq.ft, but it can also be used with other Linksys routers to create a wider mesh network, so you've got a future upgrade path as well.
Getting started is very straightforward, as the Linksys app (iOS/Android) uses Bluetooth to connect to the router during the initial set-up process and then prompts you to enter a name and password for your new network. The only disappointment is that the app's parental controls are a bit basic. The app does allow you to create a schedule to control your children's Internet use, but there are no content filters to block unsuitable material, and the app takes the easy way out by leaving you to type in the addresses of millions of dodgy web sites for yourself.
Linksys MR8300 – Best for WiFi 5
Price When Reviewed:

$199.95
The Linksys MR8300 aka Max-Stream is not, admittedly, the most elegant design we've come across – the MR8300 is essentially a large slab of black plastic, with four big antennae sticking up out of it. The router provides strong performance, though, transmitting 802.11ac Wi-Fi on 2.4GHz and two separate 5GHz bands. That allows the MR8300 to provide a top speed of 2200Mb/s, and it also supports MU-MIMO (multi-user, multiple input/multiple output), which helps it to stream efficiently to several devices at once.
There are five ethernet ports on the back of the router for wired connections – although one of those ports will be needed to connect it to your existing broadband modem or router – and a USB 3.0 port that allows you to share a hard drive or printer on your home network. The MR8300 is also compatible with Linksys' Velop range of mesh routers, so you can extend your Wi-Fi network over a larger area by buying a Velop and placing it in part of your home that has trouble getting a good signal.
The Linksys app is easy to use, and provides a guest network and basic parental controls, but watch out as the company requires a subscription for the router's more advanced parental controls, such as 'age-appropriate blockers'.
TP-Link Archer C6 – Best budget buy
The Archer range of routers from TP-Link is always good value for money, and the company's Archer C6 is one of the most affordable 802.11ac routers currently available. It's been one of TP-Link's top sellers and we've seen it available online for much less than TP-Link's price; it'll be a good upgrade for anyone that's struggling with an old router provided by their ISP.
You're not going to get top-of-the-range speed at that price, and the Archer C6 is just a dual-band router offering 802.11ac Wi-Fi on the 2.4GHz and 5GHz bands. Its top speed is rated at 1200Mb/s, which is certainly modest compared to more expensive routers, but most homes only have broadband speeds of 100Mb/s or less, so it should still be more than adequate for streaming Netflix or a spot of online gaming or Zooming.
Its four large external antennae – and a fifth antenna hidden inside the shiny black case – also support MU-MIMO (multi-user, multiple input, multiple output), which helps to stream data smoothly to several devices simultaneously when everyone is online in the evenings.
The C6 also has five ethernet ports for wired connections – with one being needed to connect it to your existing broadband modem or router – and the only real sign of cost-cutting is that there are no USB ports for sharing a printer or hard drive on your home network. And, if you're on a really tight budget, there's a model called the
Archer A5 that provides similar speed and features for half the price. However, the A5 model lacks MU-MIMO, so it will only really be suitable for homes with just a few connected devices that are using the internet at the same time.
Netgear RAX20 – Best for Wi-Fi 6
Price When Reviewed:

$150
Netgear was one of the first companies to launch new routers based on the latest 802.11ax technology – also known as
Wi-Fi 6 (with existing 802.11ac routers being retroactively renamed 'Wi-Fi 5').
Admittedly, it's only been in the past few years that iPhone models have supported Wi-Fi 6, so this isn't a must-have upgrade right now. However, more and more devices will be supporting this new standard in the coming months, so buying a Wi-Fi 6 router now will ensure that you've future-proofed your home network for years to come. And while some of Netgear's AX range of Wi-Fi 6 routers are really expensive, the entry-level RAX20 provides an affordable Wi-Fi 6 upgrade for less than £150/$150.
In some respects the RAX20 is fairly conventional – it's a dual-band router that transmits Wi-Fi on both 2.4GHz and 5GHz bands, with a total speed of 1800Mb/s. It also includes four ethernet ports for wired connections, and a handy USB 3.0 port that can be used for connecting a hard drive for back-ups or storing music, photos and videos. It doesn't include a modem, though, so you'll need to connect it to your existing router.
Of course, that 1800Mb/s speed isn't much faster than existing routers that use 802.11ac, but the great strength of Wi-Fi 6 is that it introduces new features such as OFDMA (orthogonal frequency division multiple access) that help to improve performance when streaming data to lots of devices all at once. Netgear claims the RAX20 is ideal for homes with up to 20 connected devices, and other models in the AX range are designed to work with 50 or more devices all connected at once.
Routers buying advice: What to look for
We've listed our favourite choices and explained why they're worth your consideration. But speaking more generally, what features should you be looking for in a router?
Speed vs capacity
Speed is always an important factor, of course, and it's certainly worth buying the fastest router you can afford without totally busting your budget. You don't need to get too obsessed about speed, though.
Bear in mind that home broadband services – particularly in the U.K. – tend to run at speeds of 100 megabits per second (Mb/s) or less, so you really don't need to spend $300/£300+ on a top-of-the-range router specced at several gigabits per second. A router like that will just sit there twiddling its thumbs most of the time, waiting for your internet connection to keep up.
But there's a catch when figuring out how much speed you need from your router. Just as important as speed is capacity – the ability to stream data efficiently to several computers or other devices at the same time. That's especially important now that entire households are spending so much time indoors with several family members or flatmates all computing for bandwidth on Zoom, Netflix, Spotify and all those new streaming video services.
There are several factors that can affect the performance of a router when it's streaming data to lots of different devices simultaneously.
Cheaper routers tend to be 'dual-band' models, which means they actually transmit two Wi-Fi signals on the 2.4GHz and 5GHz frequency bands. However, more expensive models may offer 'tri-band' Wi-Fi, which adds a second 5GHz band. As you'd expect, having that extra frequency band available helps the router to stream data to lots of devices more efficiently, as each individual band gets less cluttered than it would on a comparable dual-band router.
It's also worth checking the spec sheet of any new router to see if it supports features such as 'beamforming' or MU-MIMO (multi-user, multiple input, multiple output), which are specifically designed to improve performance when streaming data to several devices at the same time (when in doubt, just look for lots of big, pointy antennae sticking out all over the place).
And just as important as the router's hardware design is the app that each manufacturer provides with its routers. As well as helping you to set up the router, a good app will provide additional features, such as parental controls that allow you to keep an eye on your children's internet use, or additional security features to prevent evil hackers from gaining access to your home network and vital personal data.
Mesh networking
No matter how fast your router is, there are many larger homes, and older buildings with thick walls that can block the signal, where a conventional router simply can't provide good Wi-Fi that reaches every single room.
If that's the case in your home then you might want to consider a 'mesh networking' system, which uses two or more routers that link together to create a wider and more reliable network. However, mesh routers are really a different category, so we cover those in a separate article for people that need them: pop over to
Best mesh routers for Mac to browse our advice.