AI has taken the world by storm, from controversially generating procedural art with MidJourney to writing love letters using ChatGPT. There's an AI renaissance happening across the world of tech, and developers are trying to find different ways of input for using the platforms.
Recently, we showed you how to use ChatGPT on iPhone, and now, thanks to a simple Apple Watch app called Petey, you can use ChatGPT on Apple Watch too. Here's how.
How to get ChatGPT on Apple Watch
Unlike the tutorial for iPhone, ChatGPT can be used on your Apple Watch without the need for the Shortcuts app. It's super easy.
Head to the App Store and download Petey. It costs $4.99 for the regular version, or you can upgrade to GPT4, a more comprehensive version with an in-app purchase.
Once you've purchased Petey, you can open the app and start using ChatGPT on Apple Watch straightaway. If you use a watch face with complications, adding Petey as a complication gives you quicker access and streamlines the process. 
After opening Petey, you'll be met with two buttons. If you click Petey's face, it will open up settings and allow you to change the icon of your robot, unlock GPT-4, or enable speech so that the app speaks your answers back to you.
To activate Petey, click Ask me Anything and either type out a question using the keyboard on your Apple Watch or Voice Dictation by clicking the microphone. Now, wait for Petey's reply.
What can you do with ChatGPT on Apple Watch?
So now you've added Petey to your Apple Watch, what can you do with it? I've been testing ChatGPT on Apple Watch and found that the shorter the answer, the more useful the application. Here are a few examples of what you can ask ChatGPT on your Apple Watch.
Asking about pop-culture
Quick bits of information is the best use case for ChatGPT on Apple Watch. I asked, for example, "How many Oscars has Daniel Day-Lewis won?" Despite a dictation misunderstanding, Petey gave me the correct answer faster than I could check on my iPhone 14 Pro or ask Siri and scroll through its search answers.
Asking about travel times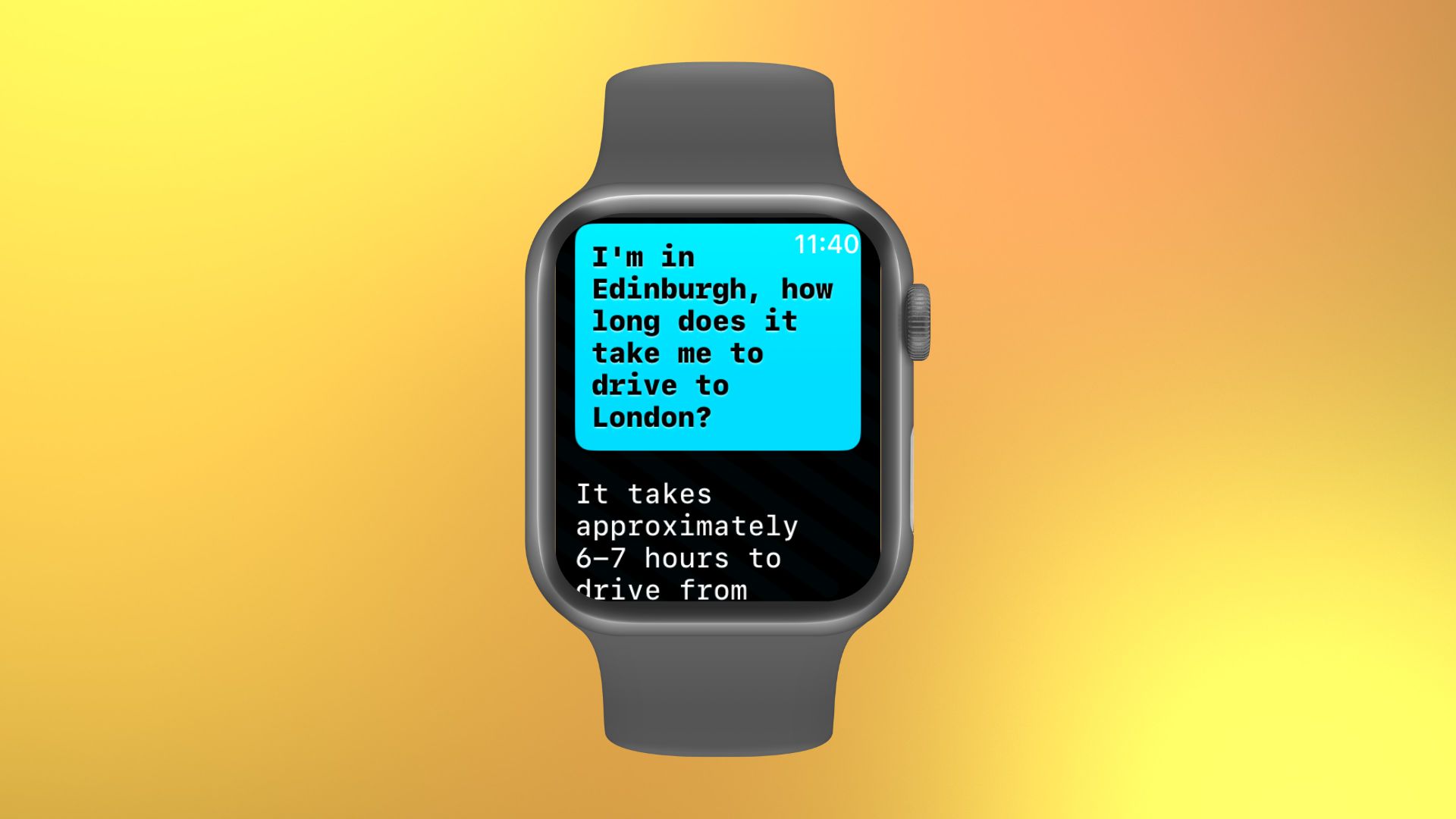 If you need to know how long it takes to drive from Edinburgh to London, ChatGPT gives you the answer in a split second. I could see this being useful for chats at the pub when you and your mates decide to travel cross country at 11 pm without knowing how far away your final destination is.
For anything quick, Petey is the one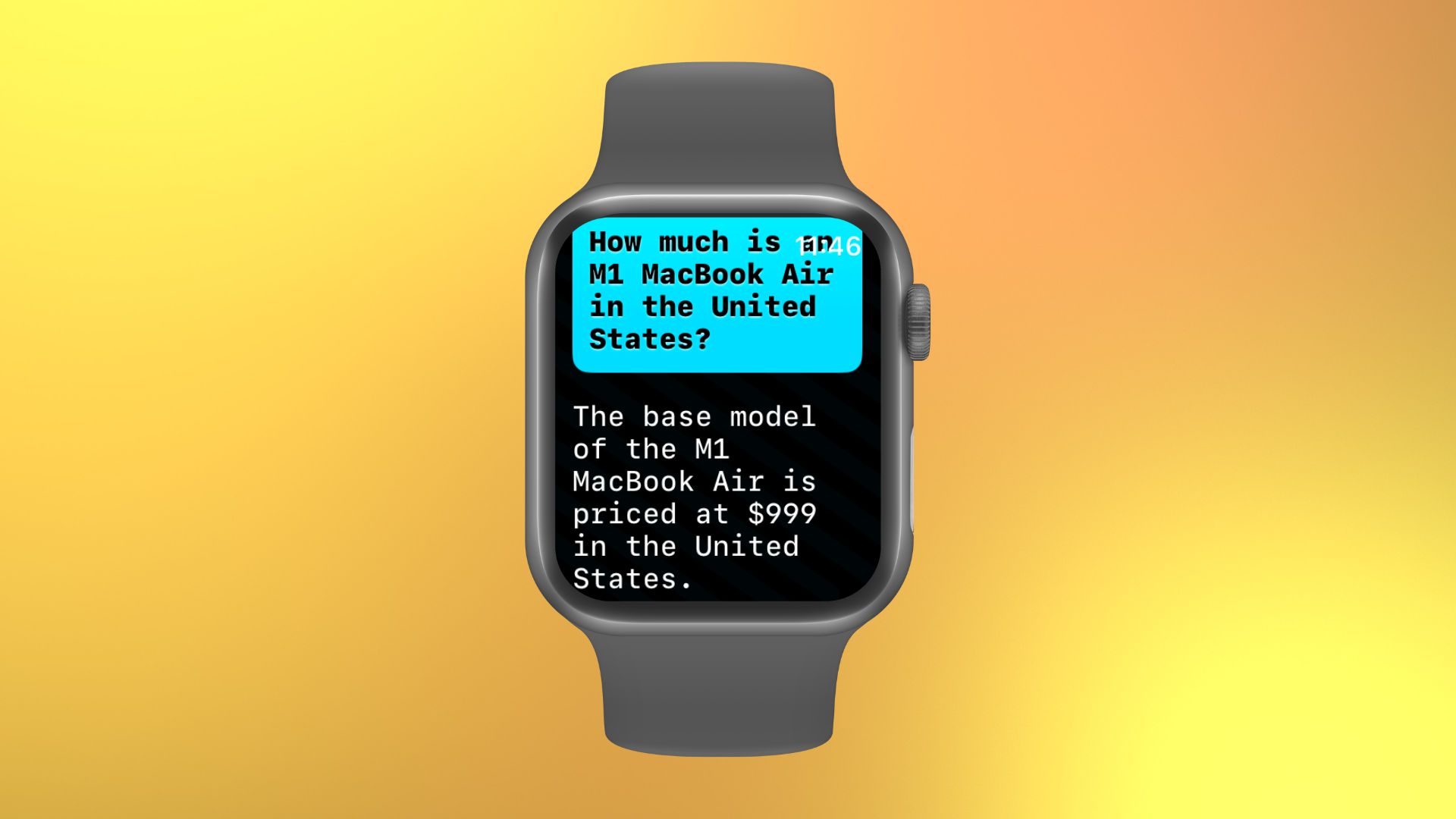 The real benefit of having ChatGPT on Apple Watch is how quickly you can get information without opening a new browser tab or unlocking your iPhone. So regardless of if you have the best iPhone on the market, like the iPhone 14 Pro Max, or an older device like the iPhone 7, Petey will be more efficient and faster in giving you a result. 
Just testing Petey for this article, I've already noticed the potential to help out at work for quick tidbits of information as I write. For example, if I'm writing about an M1 MacBook Air and need to double-check the price, ChatGPT on Apple Watch can be used to check without ever stopping my workflow. It's pretty neat and could become an essential tool for many people.
window.reliableConsentGiven.then(function()
!function(f,b,e,v,n,t,s)if(f.fbq)return;n=f.fbq=function()
n.callMethod? n.callMethod.apply(n,arguments):n.queue.push(arguments)
;if(!f._fbq)f._fbq=n;
n.push=n;n.loaded=!0;n.version='2.0′;n.queue=[];t=b.createElement(e);t.async=!0;
t.src=v;s=b.getElementsByTagName(e)[0];s.parentNode.insertBefore(t,s)(window,
document,'script','https://connect.facebook.net/en_US/fbevents.js');
fbq('init', '1765793593738454');
fbq('track', 'PageView');
)