While we're still waiting for the official announcement, WWDC is coming. In just a couple of months, most likely the first week in June, Apple will unveil the next version of macOS and show off all of its new features ahead of its release later this year. Rumors about new features have been light—all we know so far is that Apple has shifted some macOS resources to xrOS—but there are plenty of features we expect and hope to see make an appearance on the big stage. Here's our feature wishlist for macOS 14 [insert name of scenic California locale here]:
Dynamic Island for the Mac
With the iPhone 14 Pro, Apple introduced the Dynamic Island, which uses the pill-shaped cutout for Face ID and the selfie camera as an extraordinary UI element. It's an ingenious feature that needs to at least come to the MacBook Pro.
At the very least, Dynamic Island would alleviate the clutter on the right side of the macOS interface, which houses notifications, reminders, and widgets. But it could also be a great way to monitor the progress of something an app is working on in the background, act as an indicator for battery life, or display what Apple Music is playing as on the iPhone. 
Besides, Apple's 14- and 16-inch MacBook Pro and the M2 MacBook Air already have display notches, so a trip to the Dynamic Island should be easy to book.
Time Machine iCloud backups
Foundry
This was on our wishlist for macOS 12 and macOS 13, and it's going to stay on every wishlist until it happens. As I said before, I'll say it again: Having an offsite backup is always a good idea, and Time Machine could be updated to do that along the option for a local backup.
Since Apple doesn't seem to be interested in adding this feature to macOS out of necessity, allow me to take a different angle: It's good for Apple's bottom line. Think about it, Apple. You could make precious Services money from Time Machine iCloud backups by selling iCloud+ storage. Apple already has a $9.99/£6.99 tier that offers 2TB of storage— and I could see a new $6.99/£3.99 for 1TB of Time Machine iCloud+ storage tier. That's about $84/£48 per year, and say, 500,000 users sign up for that. Um, well, that's a lot of money you're making each year and a lot of happy Mac customers. How can you pass that up, Apple?
Fine-tune System Settings
In my macOS 13 wishlist, I wanted Apple to rename System Preference to Settings to match iOS and iPadOS. My wish came true, but at a price: Apple took it a step further and redesigned the UI to be more like the iPhone. That caused consternation for the most hard-core Mac fans and confusion among even iPhone users–and sent a lot of Mac users to Google to find settings they thought were lost. There's no going back now; System Settings and its UI are here to stay. But it could use some fine-tuning.
We'd love to see Apple separate the interface from iOS. The look is fine, but some settings don't make sense tucked away behind General or Desktop & Dock. Top on the list: Time Machine (especially if Apple unlocks iCloud backups).
Bring over more Apple iOS apps
With macOS Ventura, Apple finally made Mac versions of the Clock and Weather apps that have been in iOS since forever. Why stop there? There are plenty of iOS apps that aren't available on the Mac: Translate, Clips (which was on my macOS 13 wishlist), Health, Wallet (those two were on my macOS 12 wishlist), Support…maybe not Compass, Measure, and Magnifier. And hey, while they're at it, revive Warren Buffet's Paper Wizard and bring it to the Mac!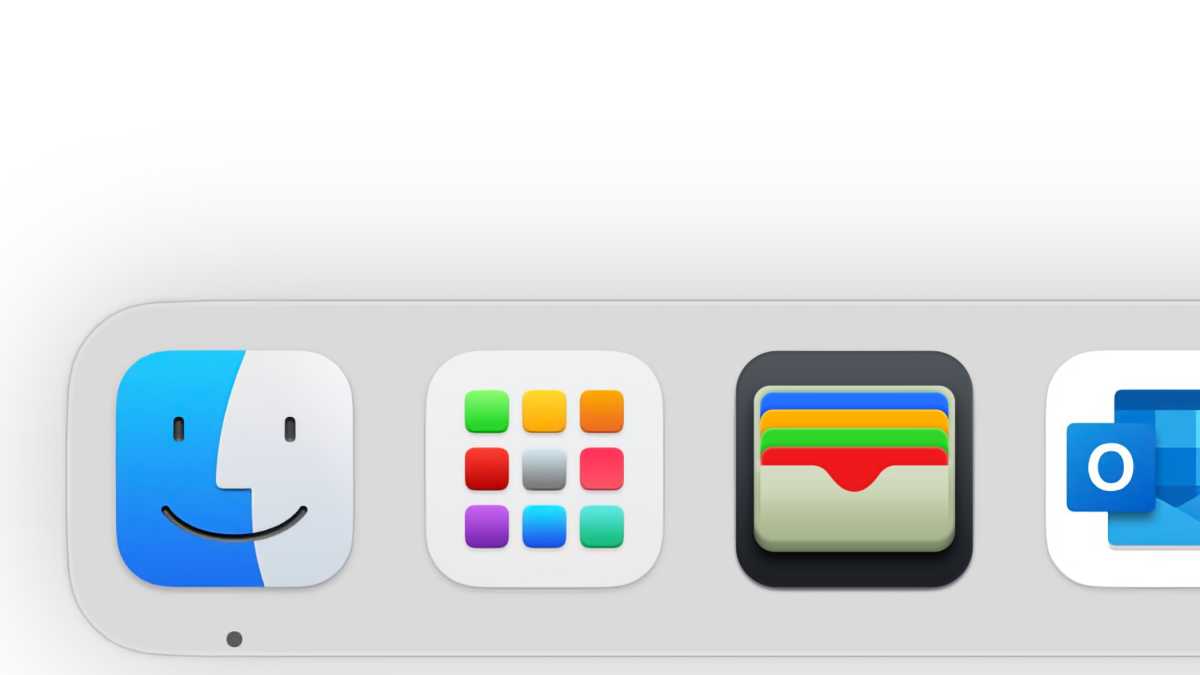 Foundry
Sync the Clock app across all devices
As I just said, with macOS Ventura, Apple finally brought over Mac versions of the Clock and Weather apps that have been in iOS and iPadOS. Yay! However, the Weather app syncs between devices, and the Clock app doesn't. That means that alarms that you set on one device aren't available on others. Boo!
It's easy enough to set an alarm, but it would be way easier if those alarms synced across devices. While we're at it, why not sync world clock entries? Or even timers–I create a lot of timers and would like to be able to control them from multiple devices. Oh, and since everyone might not want their iPhone timers on their Mac, then give us the option to turn syncing off.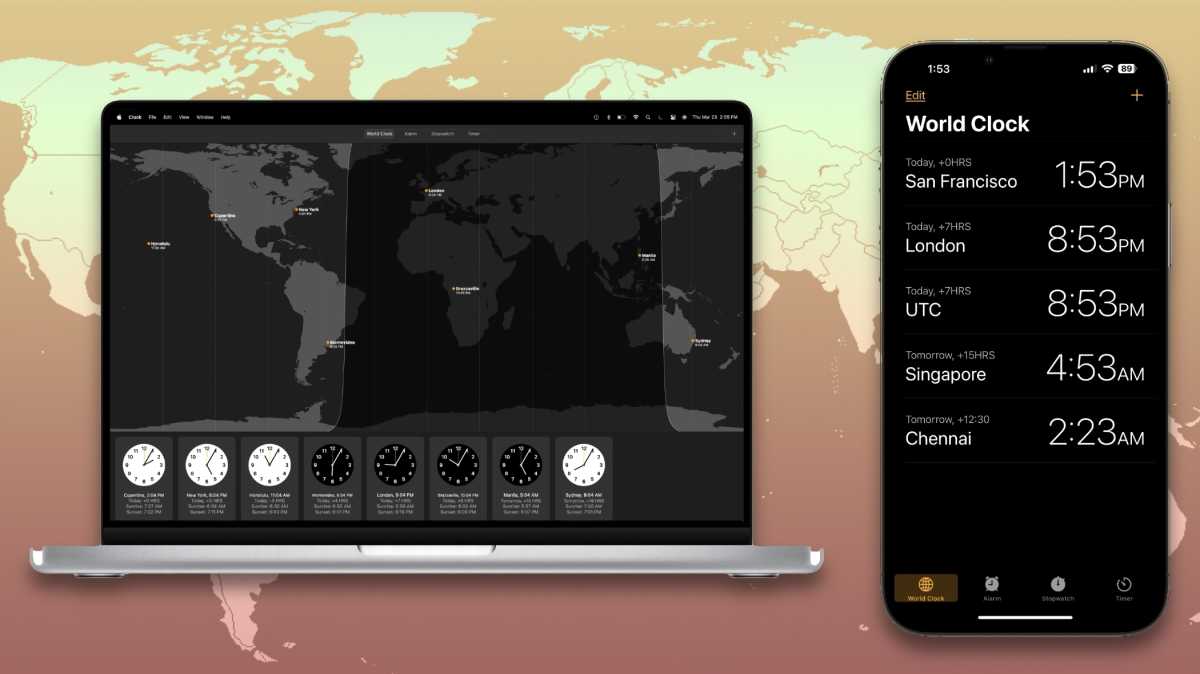 Foundry
Unify the version number
This version of macOS will be version 14 even though Mac OS X came out in 2001. In the meantime, iOS and iPadOS will eventually upgrade to version 17. And as someone who makes a living off of covering these products, I still get mixed up with the version numbers frequently. If macOS, iOS, and iPadOS were all the same version number, it would save us a lot of trouble. 
Admittedly, this is a minor request and many of you reading this probably think it's a silly request. But at the same time, isn't versioning just as silly? After all, it's just a label. Apple already tries to get away from using the number as a general reference point by giving macOS a name after a California location.
I suspect that Apple has some sort of plan for this already in the works as it looks to add a new operating system, xrOS, into the mix. But it seems like macOS and iPadOS are on a collision course (which is a whole different conversation), so perhaps Apple could take the opportunity to align all of its OSes on the same number. Maybe 20? After all, it's just a number.
Bring stability improvements and optimization
I can keep going with the wishes–a lot of what I wanted in my macOS 12 and macOS 13 wishlist have yet to become reality, and I'd still like to see them happen. But reports have said that macOS 14 won't have many major changes, since the company is supposedly focusing on the AR/VR headset and its operating system, rumored to be called xrOS. Development for macOS 14, iOS 17, and iPadOS 17 (see, wouldn't it be easier to read if they had the same version number?) is seemingly a lower priority until that device is unveiled.
But Apple won't let 2023 go by without a macOS update. With the focus of the media and users on the headset, this could be the time to do an update filled with fixes to longtime issues and optimizations–and that's it. If that happens, that's great. MacOS has some lingering bugs and fixing them, along with making the OS overall more stable and faster, would be very satisfying.