Getting Siri to pronounce a complex or foreign-sounding name can be a challenge. Why? Because Siri's method of determining how to pronounce proper names depends on your device's system language. In the U.S. and other English-speaking regions, Siri's pronunciation is governed by English phonetic rules. When Siri is confronted with a name, say of Italian origin like Vito Corleone or of Chinese origin like Xiaoyan Zhou, it will likely need help in getting the spoken pronunciation exactly right.
I recently learned that there's a way to get Siri to precisely pronounce every syllable in every name in your contacts list—but you have to type the instructions rather than tell Siri how to do it.
The education of Siri starts in the Contacts app on either the iPhone or iPad. To correct an errant Siri pronunciation, choose the name in question. On that pane, tap the Edit button at the upper right corner of the screen. That opens a new pane where you then tap the Add Field line. There you will find Pronunciation and Phonetic help for first, middle, and last names. To school Siri, choose the Phonetic name you wish to correct (or all three names, if Siri is seriously mangling a moniker). You can even tell Siri it has pronounced a name wrong, and it will lead you to the pronunciation page.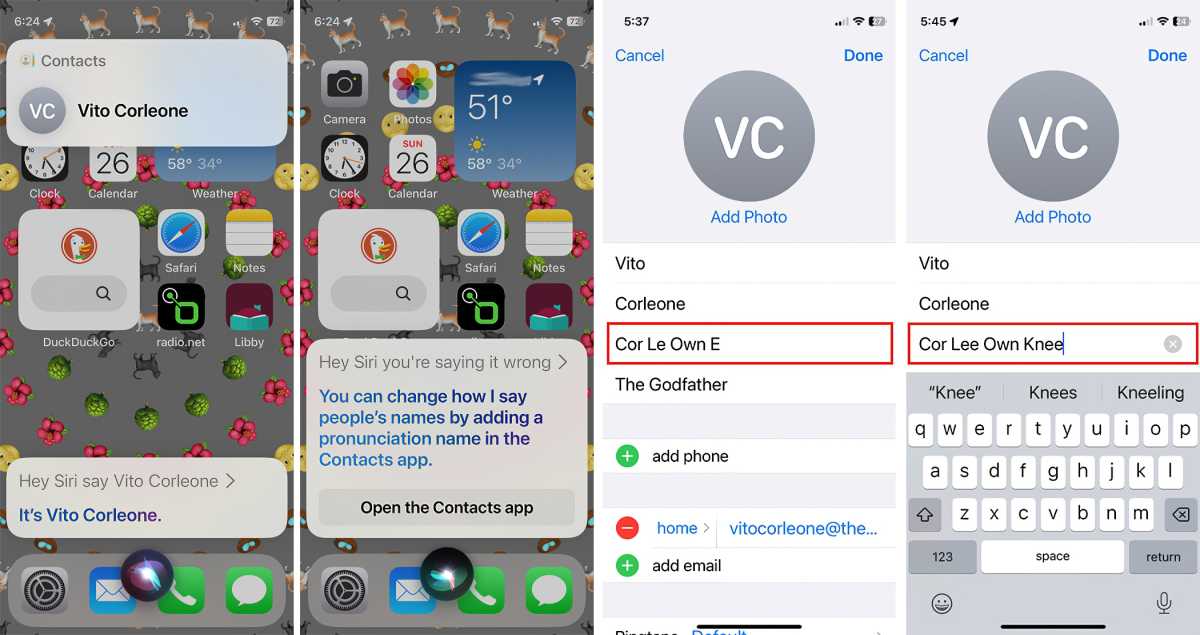 Foundry
To test my Vito Corleone example, I chose the Phonetic last name and used the field to type the pronunciation as closely as I could and then tapped Done. It took a few tries, but I finally got Siri to pronounce The Godfather's name correctly, as opposed to saying "Cor-leon" (three syllables instead of four) or "Corleon-a" (four syllables but the wrong vowel at the end).
Don't be afraid to enter several variations until Siri gets it right. Test the result by asking Siri for information about that person, so Siri is forced to repeat the name. You can even tell Siri it's pronounced a name wrong, and it will prompt you to add a phonetic description in Contacts.
What's the difference between phonetic and pronunciation hints? Not much in terms of operation. Choosing Phonetic is preferred because it automatically places the name in the correct alphabetical listing sort order.
Today I Learned is a Macworld column that spotlights lesser-known but useful tips and tricks for Apple users. If you have any ideas for future columns, send an email to michael_simon@idg.com.