At a glance
Expert's Rating
Price When Reviewed
€9.99 (1 Mac); €15.99 (3 Macs)
Best Prices Today: Lasso
Window sizing and placement are two of the least-evolved parts of macOS. There's a joy to familiarity, and whenever Apple makes a change, many people roll their eyes and grit their teeth about learning something new after many years–decades even–of motor memory. However, managing the size and position of windows is something that Apple has neglected because its current implementation is just good enough. (If you hover over the green resize dot on any window, you'll see a dropdown menu that shows the extent of Apple's commitment.)
If you want more efficiency, control, and speed in managing windows across one or more displays, Apple's lack of interest has left room for Lasso, a single-minded utility designed to let you use a grid to move and resize windows quickly.
Use Lasso by activating it with a hotkey with a window in the foreground from any app. Command-Shift-Space is the default, but you can change it. An overlay shows all your displays and lets you drag to size and place the window within the grid. Release and the window moves to that location and changes shape.
You can customize like mad. The default 4-by-4 grid can be set to any number of columns and rows, and you can set different grids for each of your displays if you have more than one. Lasso shows the background of each display beneath it in its settings and when you invoke it, but Lasso also lets you set a custom image for each display to make it more recognizable when moving things around.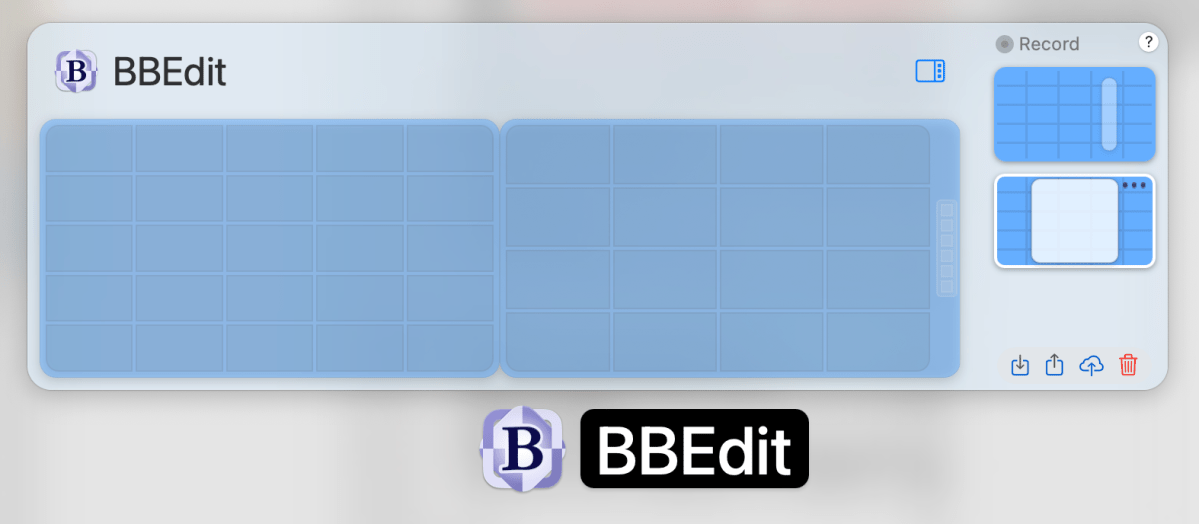 It's likely you'd have specific sizes and locations of windows you'd want to save. You can click Record and then drag a window shape and spot, and Lasso adds to a list you can click in subsequent uses to apply directly to the current window. For even greater ease and efficiency, you can assign keystrokes to the layout, making it a few keypresses to reset window sizes.
Lasso can either be set to work only on the current foreground window, the default option or you may change this to select any window you're hovering over at the time you press its activation keystroke.
The app can be set to sync over iCloud among your devices, or you can export and import its settings among copies of the app.
The software is priced at €9.99 (about $11) for use on a single Mac or a €15.99 license (about $17) for up to three Macs. The license lasts a lifetime. The developer offers a seven-day free trial.
If you find it a constant chore to rearrange and resize windows, Lasso removes that friction.
With the strong resurgence of the Mac in recent years, we want to celebrate the tools we use and that readers recommend to make the most of your macOS experience. Mac Gems highlights great nuggets of Mac software, apps that have a high utility, have a sharp focus on a limited set of problems to solve, and are generally developed by an individual or small company. Stay tuned for weekly updates, and send your suggestions to the Mac Gems Twitter feed (@macgems).