If the idea of a long car journey or bedtime without a connection to the internet leaves you trembling with fear, there's a solution. You can download those YouTube videos your kids (or you) love to watch to play back offline. Making a copy of YouTube videos on an iPad or iPhone is really easy, but the same can't be said if you want to save YouTube videos on your Mac.
The most curious thing about this particular issue is that YouTube allows YouTube videos to be downloaded to an iPad or iPhone (if you subscribe to YouTube Premium, $11.99/£11.99 a month, one-month free trial). The same is true of Disney, Netflix and Prime, who also allow downloads to mobile devices, but not the Mac. For some reason these services do not seem to want people to download anything to a Mac, perhaps this is because they offer apps for mobile devices and therefore have control over how those recordings are stored and how long they are available for (YouTube Premium only lets subscribers download video and music on to mobile devices, and it will only be available to watch offline for 30 days, for example).
Since there are no apps for YouTube or the other streaming services on the Mac, the content owners won't have control over how the recordings are used. Obviously the solution would be for Mac versions of the apps to be offered, but as yet this hasn't happened.
However, just because YouTube doesn't make it easy to download YouTube videos on a Mac doesn't mean you can't. Apple makes it possible to screen capture what is playing on your Mac, so ripping a YouTube video with the audio on to your Mac is not too much of a challenge. We'll run though this process below.
There are also free and paid for apps that will also do this for you with a little more finesse, and we will include some of these options below too. In our experience the free apps are usually more trouble than they are worth and potentially dangerous. (If you see a warning that you need to install Flash, for example, it really could be a scam, or at worse malware!)
Before we start, we have to point out that you should be aware of copyright issues. Firstly, you shouldn't download someone else's video and then, for example, upload it to your own YouTube channel or use it to promote your business. You should also note that downloading YouTube videos goes against YouTube's terms of service. The company specifies that "You shall not download any Content unless you see a 'download' or similar link displayed by YouTube."
Of course if it's for your own private use it's unlikely that YouTube will ever know.
How to download YouTube videos on a Mac for free
It is really easy to download YouTube video for free with software that comes with your Mac. You don't need to download an app at all. Since Mojave, macOS has had an in-built screen recording feature. You can capture what is playing on your screen and the audio. Just note that Mac mini doesn't have an inbuilt microphone so you would need a microphone to capture audio if you are using a Mac mini.
Option 1: Screen capture with audio on a Mac
Press Command + Shift + 5.
Click on Record selected portion.
Drag the crosshairs to select the video.
Click Options and make sure your microphone is selected.
Click Record.
Now start playing the video.
Wait for it to finish and then stop the video. To stop the screen recording (you'll find a stop button in the menu at the top of the screen or in the box as seen in the image below.)
This is without a doubt the best way to record from YouTube on a Mac. However, a short video can take up a lot of space on your Mac, and obviously it is necessary to wait while the whole video plays through.
Option 2: Record the screen using QuickTime
Before Apple merged the tools for screen recording with the screen grab tools in macOS Mojave, Mac users could use QuickTime to record the screen on their Mac. Since Monterey, if you try to screen capture using QuickTime it just defaults to the same tools as are offered by Command + Shift + 5, however, if you have an older version of macOS this is how it works:
Open QuickTime Player (press Command + Space and start typing QuickTime).
Go to the menu at the top of the screen and choose File > New Screen Recording.
A Screen Recording pop-up window will appear. Before you move to the next step click on the down arrow beside the red button and make sure that Internal Microphone is selected.
Click on the red button.
Now you will see instructions indicating you can click to record the full screen, or drag to record part of the screen. Drag the cross-hairs over the video.
Now click on Record.
Start the YouTube video playing (make sure the sound is on).
Once the YouTube video has played you can click on the stop button in the menu at the top of the screen.
The video will open so you can check it before saving it.
Best apps to download YouTube video
There are also some solutions on offer that will download the YouTube video for you, rather than you have to record the screen of your Mac while playing the video. This might be a preferred option if you don't have the time to sit and wait for an hour of Peppa Pig to play. It should also result in much smaller file sizes.
EaseUS Video Downloader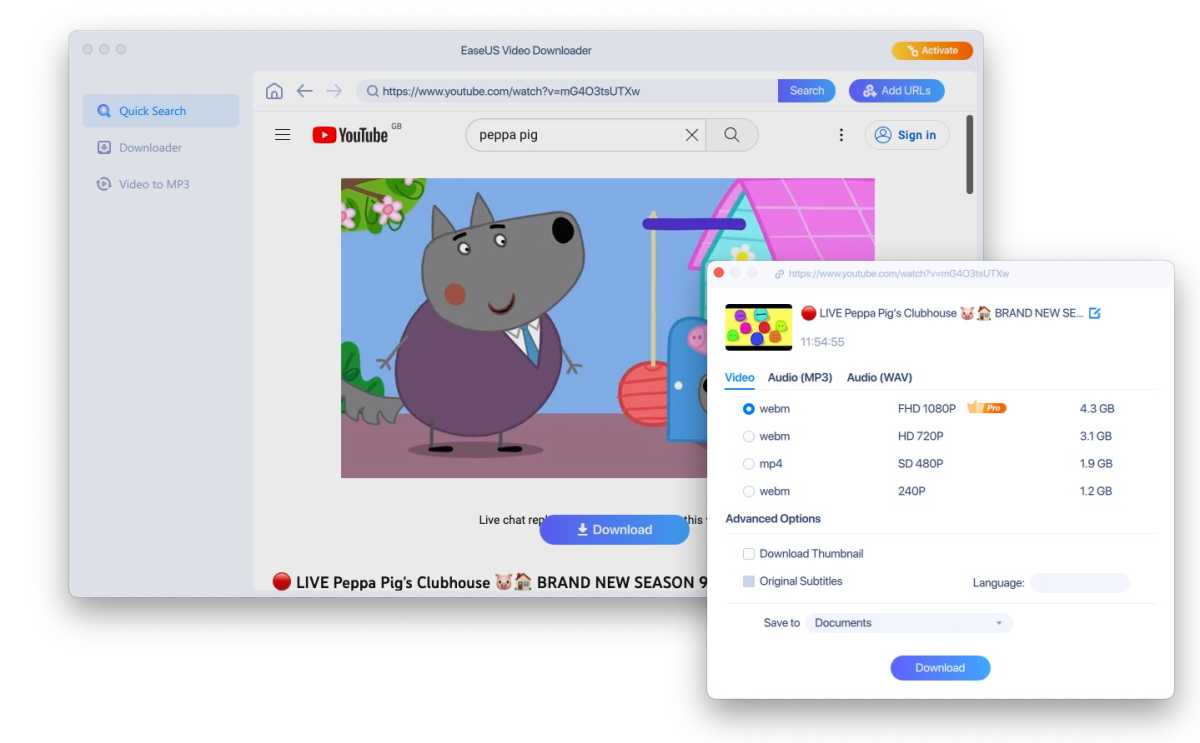 Foundry
EaseUS's video downloaded is simple to use. Once the app is installed you can view content on a number of popular video hosting sites, including YouTube, and we were able to download videos (although we did find a few we couldn't download).
There were four download options that indicated what the file size would be. It is also possible to just download audio as an MP3.
The software indicated how long the download would take and counted down the seconds remaining. We could hear the video playing in the background, but couldn't see it. Once downloaded the video was saved to our Documents folder where we could play it.
The free trial lets you download two items.
Parallels ToolBox
On the basis that going with a well-known company means you are more likely not to end up with at best bad software, at worse malware on your Mac, we'll look at Parallels ToolBox.
Parallels (the people behind the software that makes it easy to run Windows on your Mac) have come up with a number of tools that can be used to simplify a number of tasks on your Mac. ToolBox is the result of their experience manning a help desk for their customers running Parallels on a Mac. So many customers phoned up asking how to do various things that Parallels thought some easy to use tools might be a good solution. And so Parallels Toolbox was born.
Once you have download and installed Parallels Toolbox you'll see a toolbox icon in the menu at the top of your screen. Click on that.
You'll see a number of tools including Airplane Mode, Free Memory, Do Not Disturb, Make Gif, and Download Video. Click on Download Video.
Toolbox will instruct you that you need to enable a Safari extension in order to download video. Click Enable.
Now a Download Video box will open on your screen. Just copy and paste the URL from the YouTube video and paste it into the box, or drag and drop it in. An arrow will indicate that the video is downloading and a box will pop up with the details, e.g. Downloading "Peppa Pig.mp4" and you can watch as the download happens. Ours took about 10 minutes to download 88MB – but note that speed will be determined by your connection.
Once the download has finished you will find the video file in your Downloads folder (which might not be immediately obvious).
The file will be saved as an MPEG-4 movie. It will open and play in QuickTime on your Mac.
If you are looking for an easy way to get the video onto an iPad or iPhone one solution would be to copy the video onto iCloud so you can access it from the Files app. You can then download it from there and play it whenever you want. We have more details about
saving a YouTube video to an iPhone or iPad.
iTubeDownloader
iTubeDownloader charges a fee – it's $8.99 for the activation code, and students can
get 35% off – but there's a free trial that may be sufficient for your needs.
It looks like a browser, but it automatically directs you to YouTube's home page. You then browse the site as normal, except that there's now a big Download button next to the URL bar. Tap this at any point to grab the video you're currently viewing (or the video whose URL you've pasted into the address bar).
We found it easy to use iTubeDownloader when we first tried it our in 2019, and the resultant download was of a good quality. Unfortunately when we tried it out again in 2022 we were unable to download anything. A list of reasons were given.
When it does work, you get a choice of download quality settings. The only downside, really, is that it isn't free beyond the terms of the trial.