At a glance
Pros
More than 50 tools and utilities
 Available for Mac and Windows
 Slick, easy-to-use interface
Cons
Requires annual subscription
Few users will need all tools
Our Verdict
Among the collection of 50+ tools there are some real gems, like the Clipboard History and video download tools. There's also a lot of tools you probably don't need, but someone somewhere does. It's a shame that a Toolbox now requires an annual subscription (unless you get it as part of Parallels Desktop) but you can take advantage of the 7-day trial to see how useful Toolbox will be for you.
Price When Reviewed
$24.99 per year, free 7-day trial
Best Prices Today:
Parallels Toolbox Free Trial
$0
Parallels Toolbox is included in our review of the best cleaner apps for Macs, as it includes a number of tools and features that can help you to fully uninstall apps, and clear out old or duplicate files that are taking up unnecessary disk space. However, there's a lot more to Toolbox than that simple handful of features.
When it was first launched, Toolbox consisted of a fairly small collection of utilities that were–and still are–included free of charge along with Parallels Desktop (reviewed here). Since then it has continued to grow and is now available as a standalone product for both Mac and Windows, with an annual subscription fee of $24.99/£20.99 a year. There's also a 7-day free trial available so that you can try it out before deciding if you want to buy the full version.
Parallels claims that the current version (6.0.2) includes more than 50 tools (we actually make it 54, but who's counting?). Each tool works like a kind of mini-app that performs one specific task – such as the Free Memory tool, which shows how much memory your Mac currently has free, and which apps that you're running are using the most memory.
You can set Toolbox to run automatically when you start your Mac, and the Toolbox icon will then be displayed on the Mac's main Menu bar–alongside Time, Volume and other standard Mac controls. This allows you to open a pull-down menu that has two tabs for displaying tools. The Dashboard tab shows some of the most popular tools to help you get started, as well as the tools that you've used most recently.
There's also a Library tab that displays the entire list of tools that are available, with additional sub-tabs that sort tools into related groups, such as Video Tools or System Tools. You can tag your favourite tools so that they are added to the Dashboard view for quick access, but many tools can also be placed with their own icons in the Menu bar as well, and there's also an option to create your own keyboard shortcuts to launch individual tools as well.
Cleaning And More
A collection of more than 50 tools means that there's a lot to take in when first getting started but, as mentioned, Toolbox can sort tools into groups to help you find the tools you need. If you're looking for cleaner tools that can help you to reclaim disk space or fine-tune your Mac's performance then the Clean Drive tool can locate unnecessary files that are taking up space on your Mac, and also find duplicate files that you may no longer need. Another tool can fully uninstall Mac apps, along with any related files that may be scattered around your Mac's drive. It can also highlight large files that are taking up a lot of space, such as games that you may not need anymore.
Other groups of tools include Video Tools, with options such as Download Video, which can help you to download videos from YouTube and other websites, while Convert Video can convert your video files into different formats for use on an iPhone or iPad, or even into the AVI or WMV formats for Windows devices. The video tools also include options for creating screen recordings and animated GIFs, and there's a useful Download Audio tool, which lets you just grab the audio track from video files that you find online.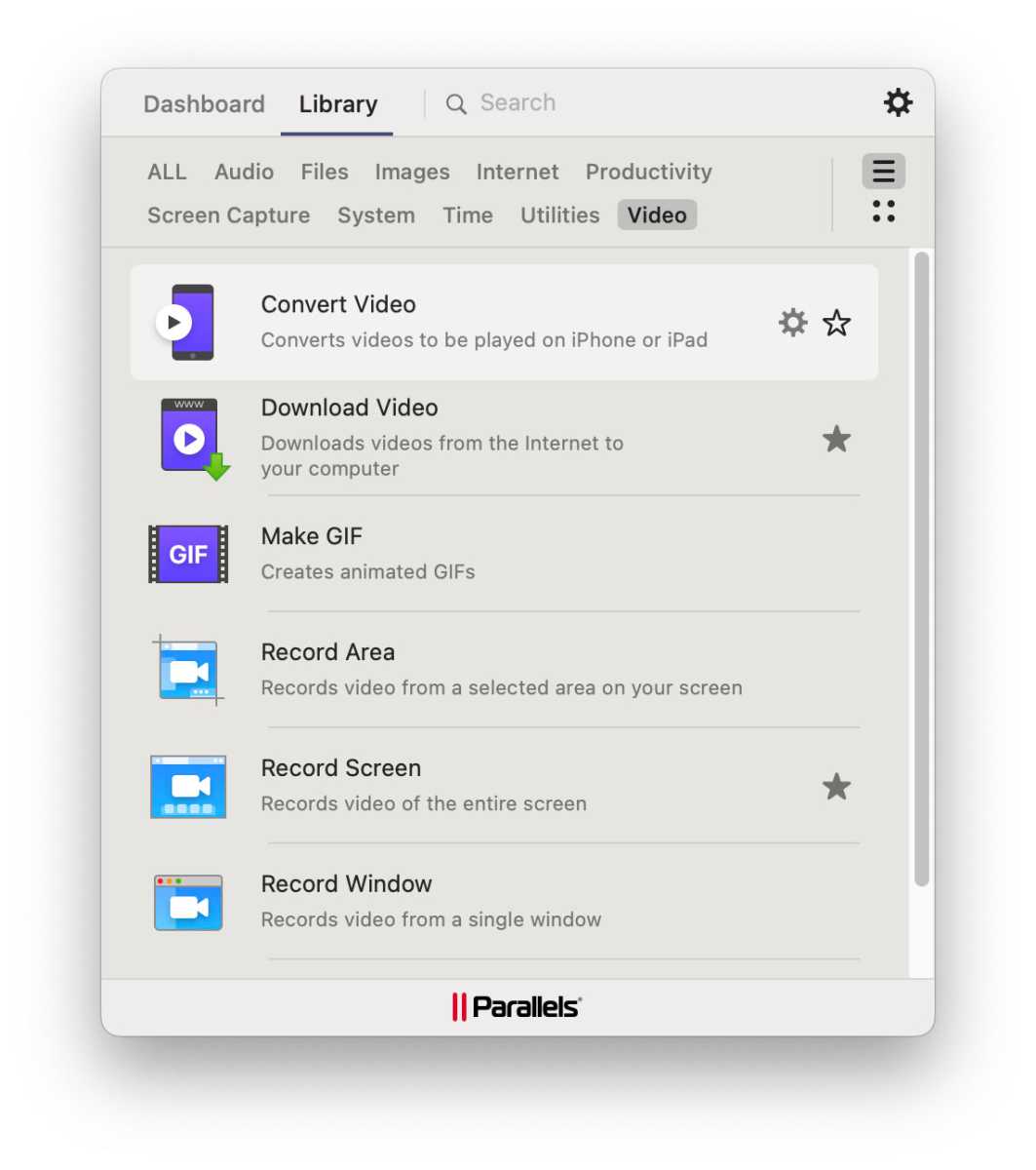 Foundry
Saving Time
One of the biggest groups of tools is time-saving Productivity Tools. My personal favourite–which has earned its own spot on my iMac's Menu bar–is Clipboard History, which can store multiple text and graphics items that you have copied into the clipboard, going back as far as the last 30 days. This is really useful for me when writing and editing articles as it allows me to quickly look back and retrieve text or graphics that I may need to use again.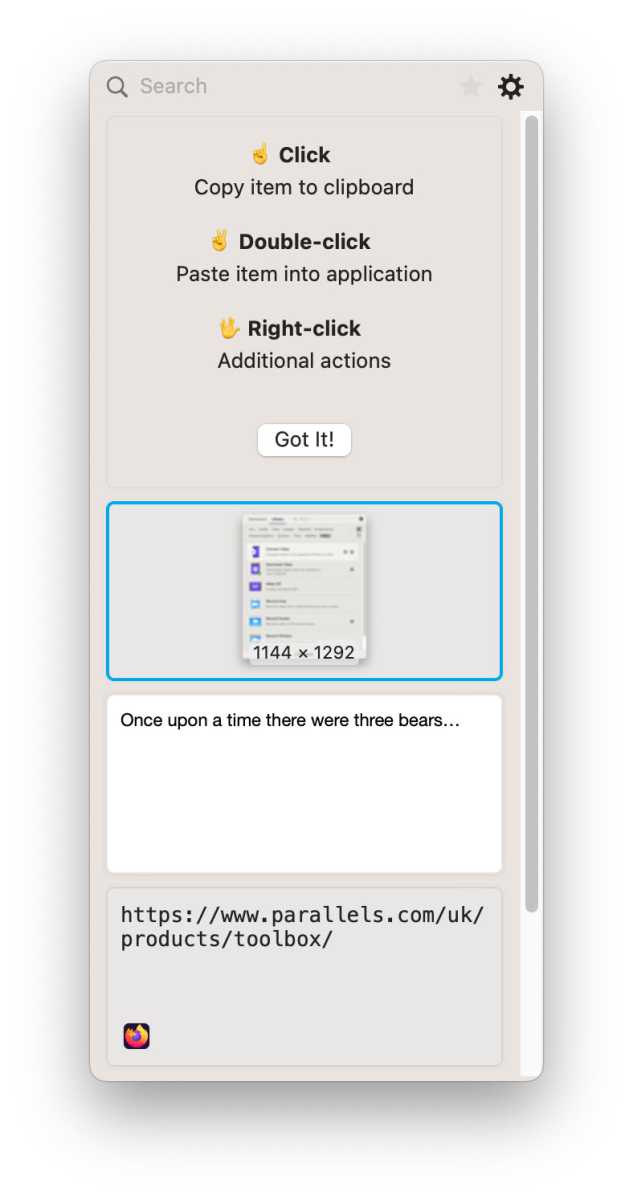 Foundry
I also like the ability to quickly launch an entire group of apps or files with one click–such as Pages and Photoshop Elements when I'm working on screenshots for reviews–and the Focus On Window tool that reduces distractions by dimming the entire screen apart from the window or app that I'm currently using.
There's a useful set of time-management tools as well, including a countdown timer, and a calendar countdown that counts the days until a specific date. The Break Time tool reminds you to get away from your computer every now and then, and there's a stop-watch, and the ability to create multiple alarms (which I find much simpler than Apple's own Reminders app).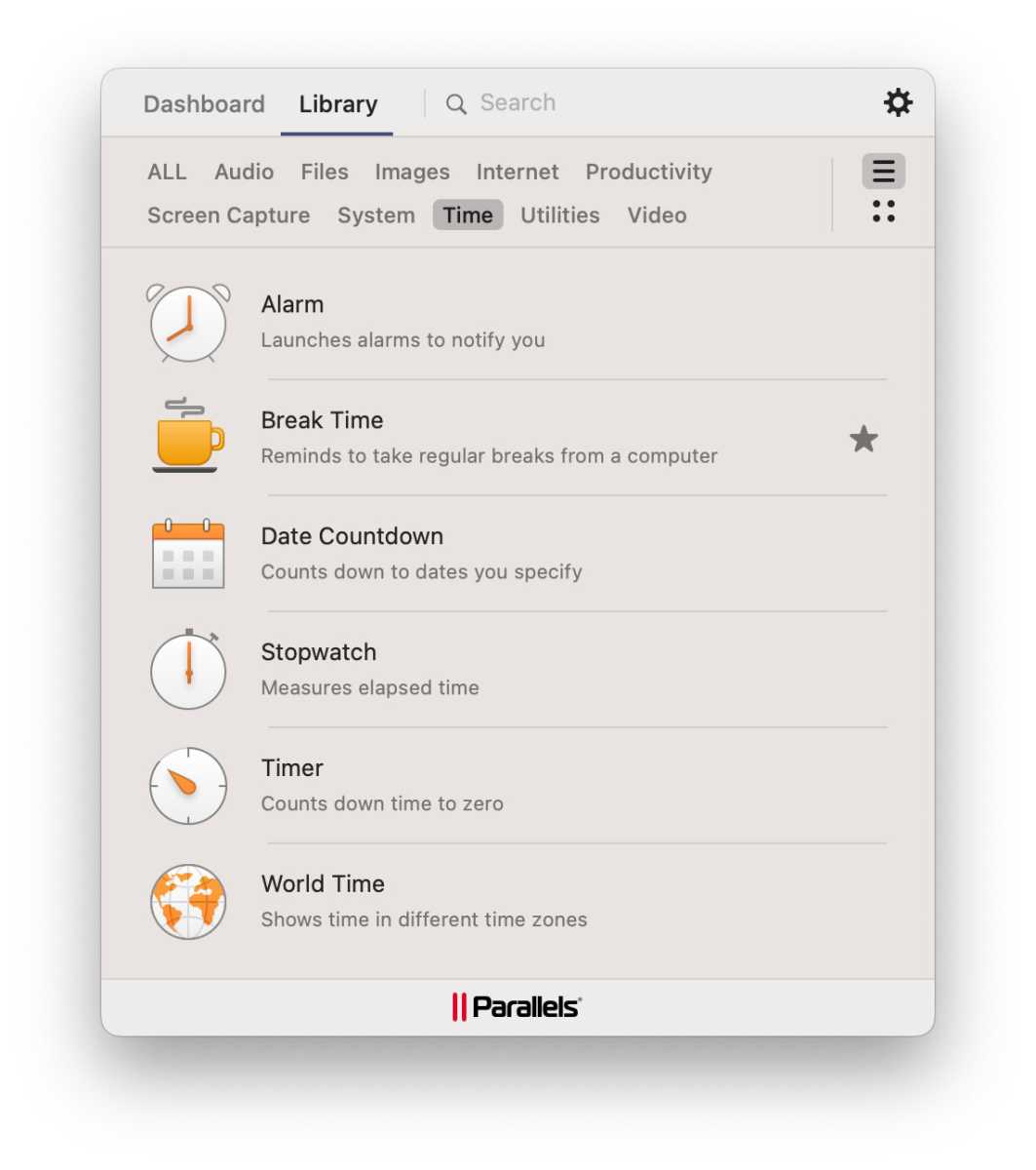 Foundry
Not all of these tools will seem essential, though. The tools for reading and creating barcodes will probably only appeal to a rather niche audience, while the tools for creating screenshots and screen recordings largely seem to reproduce the features that are already built into the macOS itself. We also found one or two tools – such as Hide Desktop Files, which reduces clutter by temporarily hiding all the junk you leave sitting on your desktop – that worked perfectly well on my old Intel-based iMac, but didn't seem to work on a newer M1 iMac.
Verdict
It's a shame that a relatively modest piece of software such as Toolbox now requires an annual subscription, as that will probably deter quite a few potential users. I do find Toolbox useful–but I get it included with my copy of Parallels Desktop, so I don't need to pay an additional subscription fee for it. And, incidentally, Parallels Desktop still provides an option to buy that as a one-time purchase without an annual subscription, so it's disappointing that Toolbox itself is now subscription-only. And, of course, there are many utilities available from other developers that provide similar features. But at least you can download the free trial and see how useful Toolbox is for your own personal work set-up before buying.