There are loads of Bluetooth speakers to choose from out there, each emulating the last, iterating on it in small ways. Sometimes that's a new shape, a new speaker and driver setup, and sometimes it's more features on board. In the case of the new Motion X600 from SoundCore, it's a very cool extra feature: Spatial Audio.
But does it work? As someone only recently brought into the Spatial Audio fold, does it impress me? Well, with some impressive built quality and stellar sound tuning, it might just have become a favorite of mine.
AudioPhile and Spatial Audio skeptic
AudioPhile and Spatial Audio skeptic
If you want to know whether a piece of audio gear is worth spending your hard-earned cash on, I'm here to help out. I test everything that comes across my desk thoughtfully, making sure that what I've got in my hands matches my expectations. I've looked at the latest Sonos Era 300, as well as Bang & Olufsen headphones, making sure each is up to scratch. With an ear for detail and a love of finding new, impressive gear, I'll help you find the kit for you. 
Soundcore Motion X600: Price and availability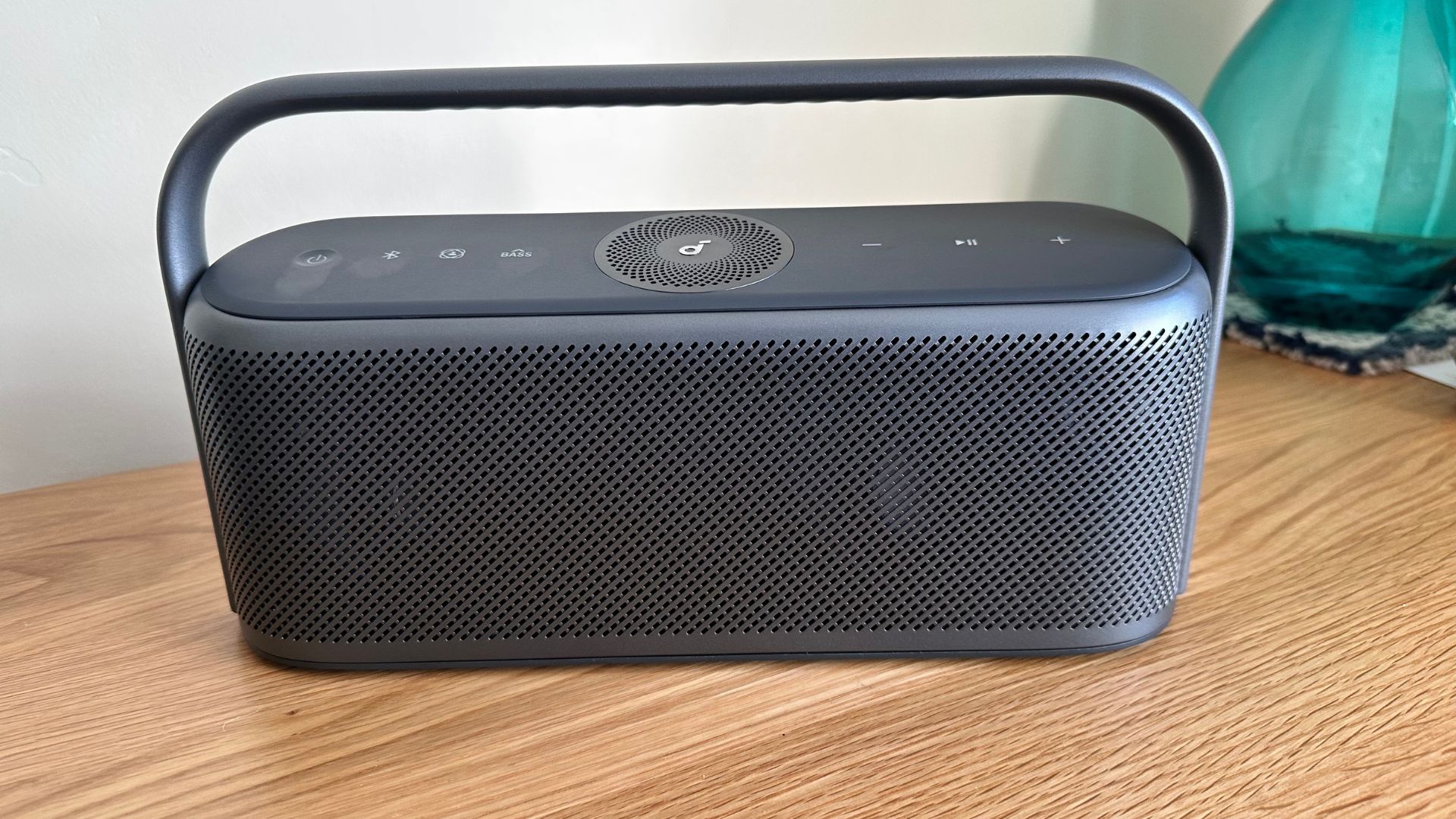 The Soundcore Motion X600 is actually still yet to come out, with a release date of May 9, so you won't have long to wait from the release of this review. You'll be able to pick one up from all major retailers like Amazon and Bestbuy, as well as grab one from the Soundcore website (opens in new tab). In fact, If you pay $1 for a preorder now, you'll get $50 off the full price when it's launched.
With that deal, you'll pay $149 instead of the normal $199 price. At full price, it's not a cheap Bluetooth speaker, but there are a number of reasons why it's well worth the price of admission.
Soundcore Motion X600: What I liked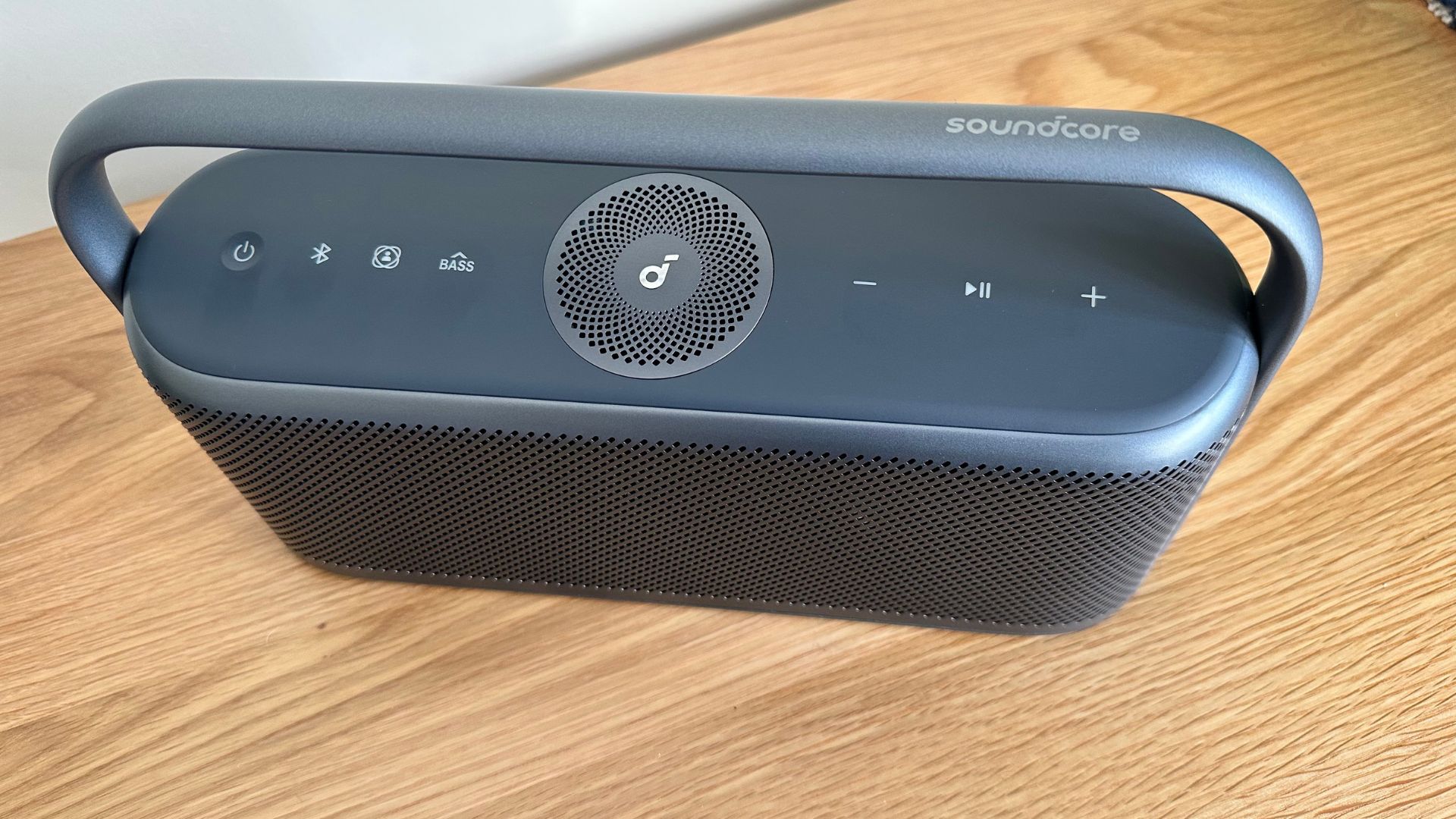 In hand, the speaker feels really good. It's weighty, and the handle is made out of a very premium-feeling metal. The grille feels sturdy, and looks great too, giving you a glimpse of the drivers within. The rest of the speaker is made out of plastic, although this doesn't make it feel cheap by any means, given it's covered in a kind of soft-touch rubber. 
It looks fantastic as well, like a retro radio. There are small details that set it apart, like the little mesh for the upward-firing driver for Spatial Audio. It looks like something from an expensive car stereo, as if it's been pulled from the system of a Bentley or a Rolls Royce. It's lovely, all in all. Let's put it this way – pay the $200, and you'll feel like you got a speaker worth $200.
The controls are easy to use, and connecting up is super easy. Press the power button on top to turn it on, connect with your best iPhone in settings, and away you go. There's a spatial audio button on top to turn the feature on and off, a bass button to reduce the amount of bass being pumped out, a series of play, pause, and skip buttons, and a Bluetooth button you can use to connect a new device. It's user-friendly to the point of being completely foolproof – you don't even really need the app to get started.
Using the app doesn't hurt, however. You can use it to update the firmware of the speaker and change the sound profile. You needn't really do the latter unless you really know what you're doing, however – because out of the box, the speaker sounds great.
Without the Spatial Audio turned on, the speaker has a lovely sound, filled with body and depth. It's a very bassy affair, make no bones about it, but there is impressive control here given the price of the device. If it's too bassy, hit that bass button and you'll enjoy a slightly more subdued sound profile, but one that's perfect if you don't want too much 'boom' to your sound. For listening outside, it's going to be great.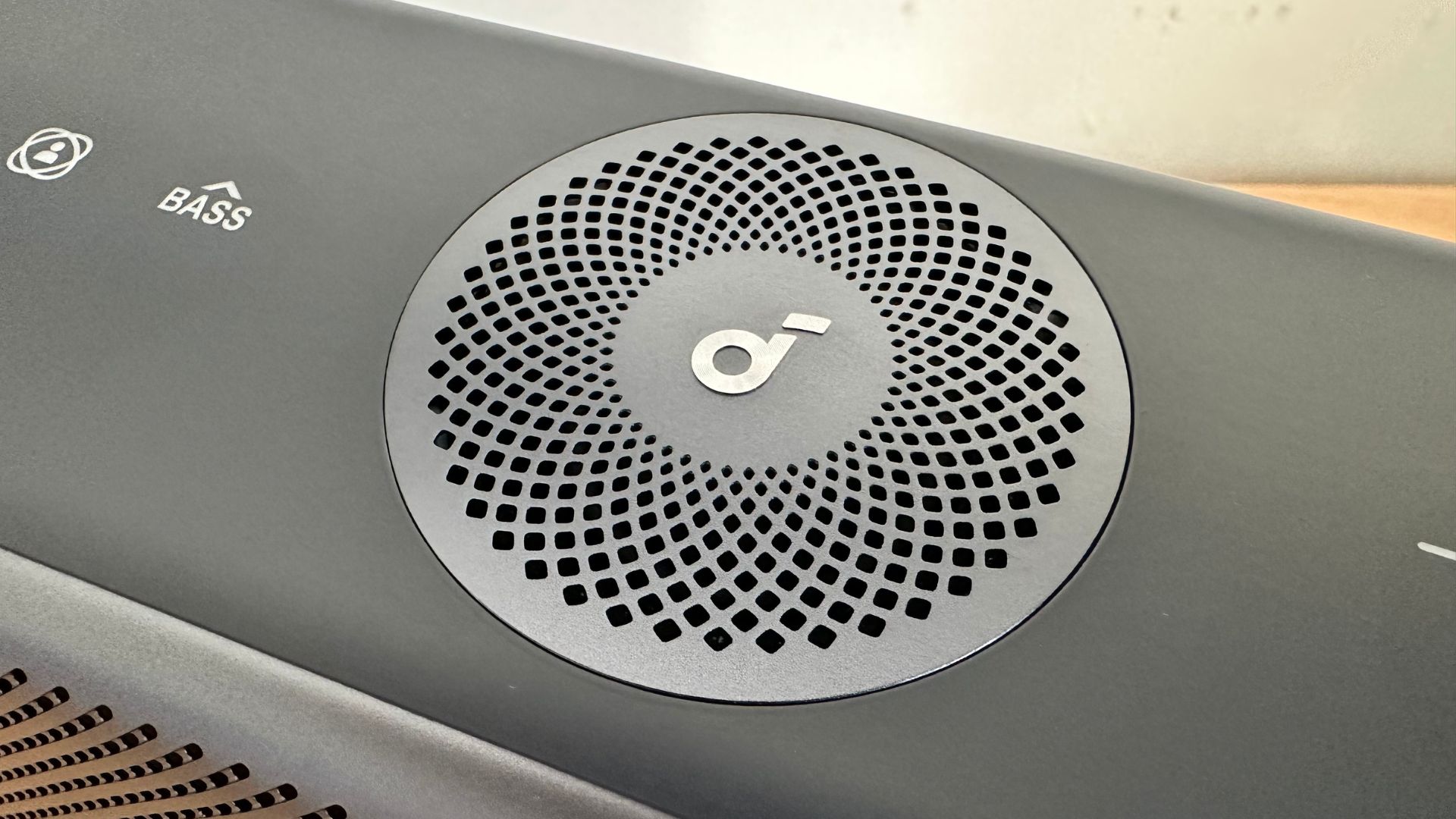 Get Orville Pecks Legends Never Die going, and have yourself a fantastic time. There's a lot of get up and go to the speaker, and it makes for a very engaging listen. Peck sounds excited throughout the piece, and Shania Twain gives it her all as the instruments join the party – all replicated well within the Motion X600. The Soundstage could be a little wider, perhaps, but its otherwise a solid listen.
Want more soundstage? The Dolby Atmos Spatial Audio on board is actually really impressive for the size and price of the box. It's not going to match up to something twice the price like the Sonos Era 300, but it gets pretty close to the HomePod 2. The Weeknds Blinding Lights, a stellar example of well-mixed spatial audio, puts the music all around you, the Motion putting in a stellar effort. It's not quite as wide as others, but it's very impressive what they've managed to achieve with a speaker that looks as directional as this.
Battery life is solid at 12 hours, and you can charge it over USB-C. There's a line in, a 3.5mm jack port on the back too, so you can forgo Bluetooth altogether. LDAC, Hi-res, and Hi-res audio are supported as well for those higher-quality tracks.
Soundcore Motion X600: What I didn't like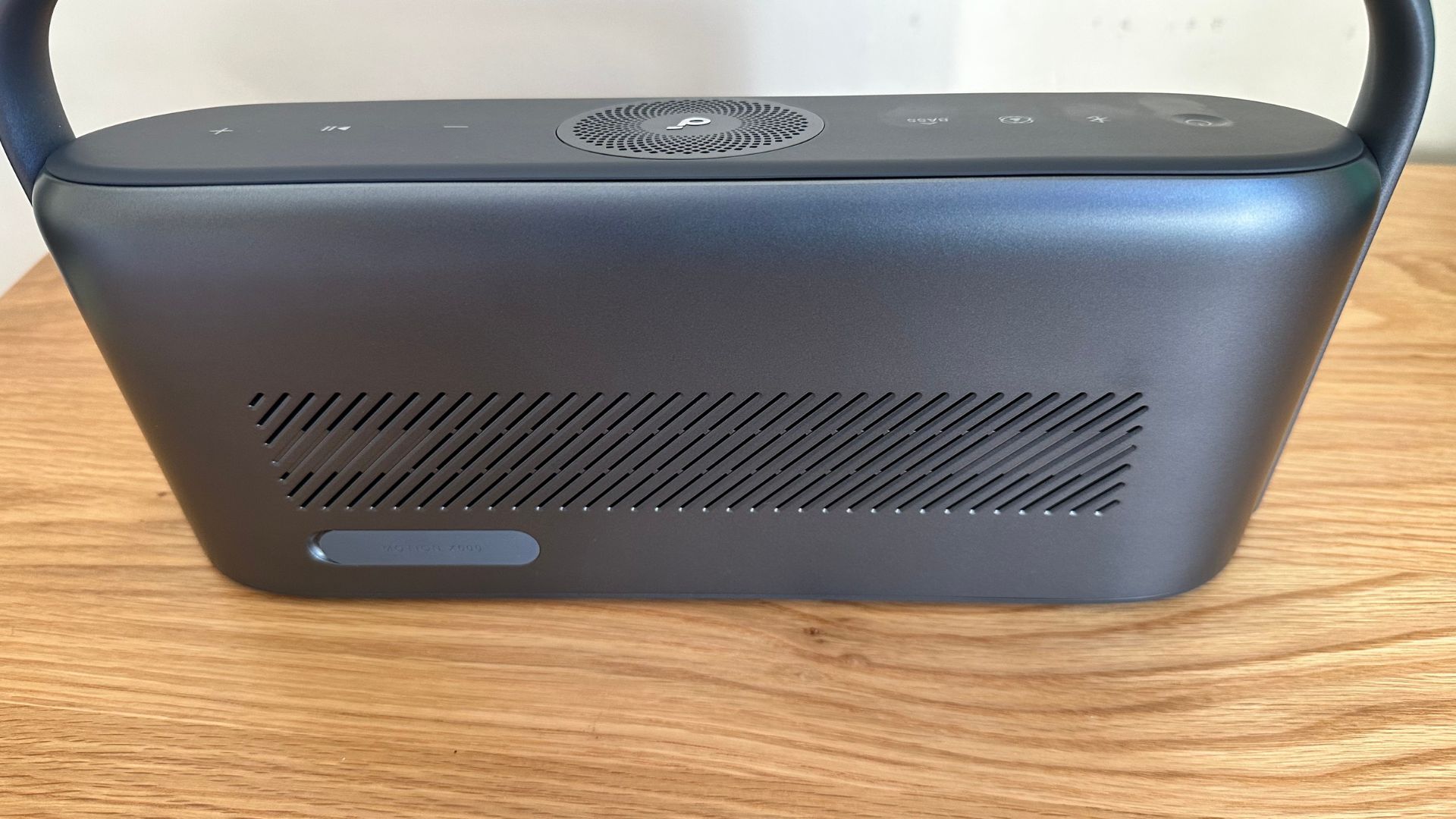 There's only really one thing that I didn't like about the Soundcore Motion X600, and it's really into nitpicking territory. Support for lossless audio would have been grand, with some kind of wifi connection. Alas, no such luck – only hi-res tracks are supported.
Beyond that? Some more upper mids would be nice, and the highs could be a touch more detailed. As a Bluetooth speaker, however, the Motion X600 is remarkably accomplished, and well worth the asking price. Not one that you should take on long walks in the outdoors, however. This is an indoor or backyard speaker, not a hiking model.
Soundcore Motion X600: Competition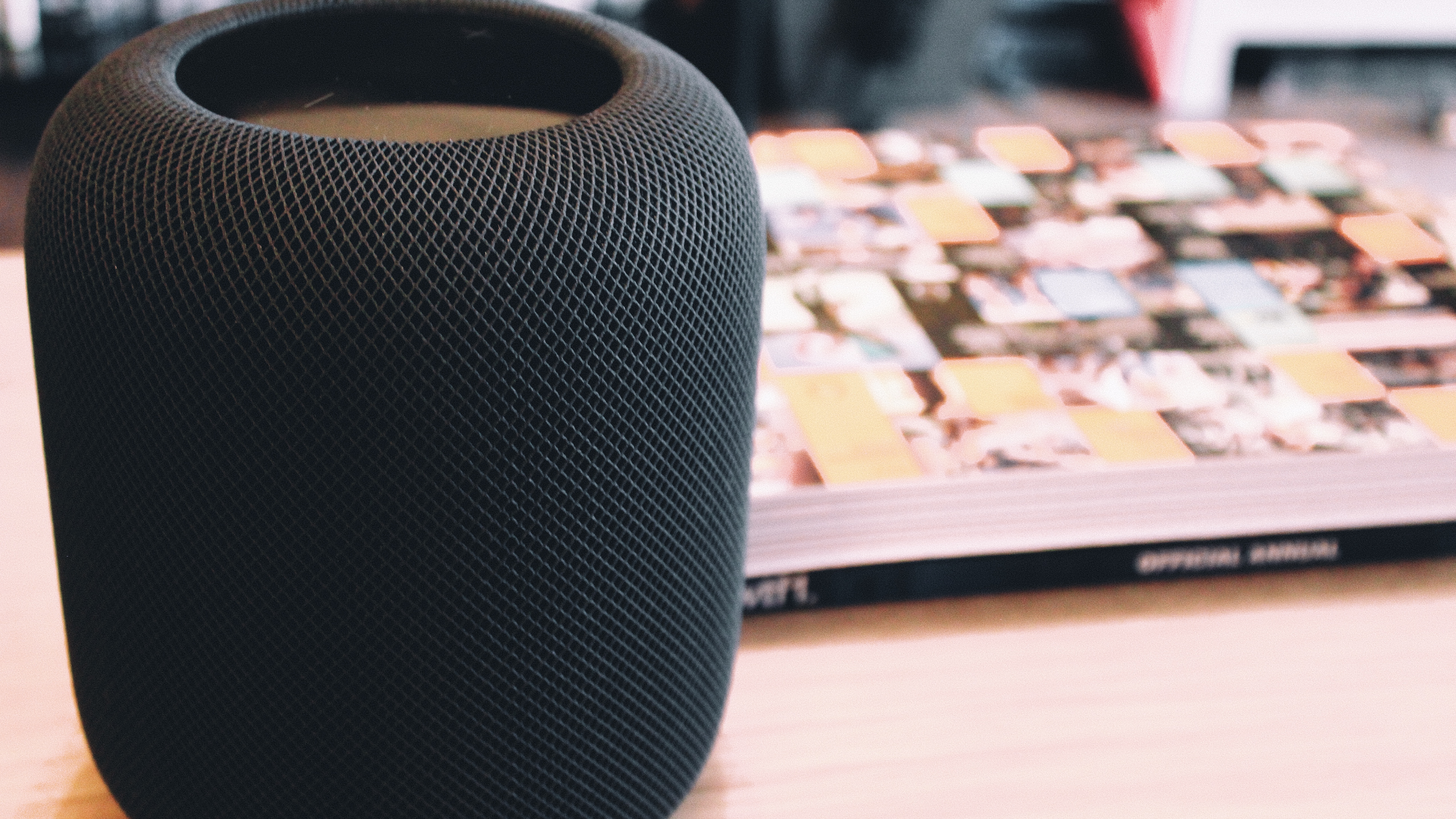 There are plenty of options out there, but not many of them contain Spatial Audio. In fact, there are really only plug-in options if you want something that's properly set up for the standard.
Of course, there's the HomePod 2, but that is supposed to be plugged in, so you can't take it from room to room. It edges the Motion X600 slightly on sound quality, but it costs around $150 more as well. And you can't take it in the garden.
Soundcore Motion X600: Should you buy this?
You should buy this if:
You want Spatial Audio for less than a HomePod 2
You want a very high-quality feeling Bluetooth speaker
You like retro aesthetics
You shouldn't buy this if:
You want a smart speaker
You want to spend less than $150
You need lossless audio support
Soundcore Motion X600: Verdict
You know what? I'm really impressed with the Soundcore Motion X600. It looks great, feels really solid, and sounds excellent to boot. Spatial Audio is a lovely addition, and it doesn't take anything away from the speaker at all. A solid product, that's easily one of the best Bluetooth speakers we've used.
window.reliableConsentGiven.then(function()
!function(f,b,e,v,n,t,s)if(f.fbq)return;n=f.fbq=function()
n.callMethod? n.callMethod.apply(n,arguments):n.queue.push(arguments)
;if(!f._fbq)f._fbq=n;
n.push=n;n.loaded=!0;n.version='2.0′;n.queue=[];t=b.createElement(e);t.async=!0;
t.src=v;s=b.getElementsByTagName(e)[0];s.parentNode.insertBefore(t,s)(window,
document,'script','https://connect.facebook.net/en_US/fbevents.js');
fbq('init', '1765793593738454');
fbq('track', 'PageView');
)