The announcements at the WWDC 2023 keynote were plentiful – from Vision Pro to big refinements across iOS 17, iPadOS 17, macOS 14, and watchOS 10. But widgets aside, it was Apple's new macOS gaming features that impressed me most.
It's fair to say that if you want to play games such as Elden Ring, CyberPunk 2077, and Resident Evil 4 Remake on your Mac, your choices have long been limited. 
You can try to play them through a virtualization app such as Parallels Desktop, which can load up Windows 11 within an app, and from there fire up Steam.
But that wasn't natively playing games on the Mac, introducing compatibility issues and performance woes. And while a few newer titles like Resident Evil Village and No Man's Sky can finally be played natively, the overall Mac gaming choice remains barebones beyond a few Mac App Store titles, older conversions and the Apple Arcade catalogue.
However at WWDC 2023, once Hideo Kojima announced that Death Stranding was coming to the Mac, alongside a hint that we'd be seeing its sequel arrive on the platform in the future, Apple revealed its new 'Game Porting Kit'. It's designed to make the porting process from PC game to native Mac title less laborious, and to tempt PC gamers and developers to the platform in the process.
Already, some have been using this feature with very impressive results, and it could change the field of Mac gaming forever.
Cyberpunk on macOS is more real than you think
For those unaware, Apple's 'Game Porting Kit' allows developers to move their game over to the new macOS 14 Sonoma operating system with little effort. But it goes deeper than that.
Apple explains it in a video over at its developer site, but essentially, it's similar to its Rosetta 2 feature, where it enabled apps running on Intel Macs to run on Apple silicon models by way of emulation.
The same applies principle applies here, but this instead emulates the functions that a game runs on, such as graphical frameworks like Direct3D, something that's been used for many years on Windows.
It then packages the game into a language that macOS can understand, then runs it with the benefits that Apple silicon offers, like Metal 3, Apple's graphical framework.
Apps like CodeWeavers have been able to offer something similar for a long while, way before Apple silicon arrived on the scene. In a blogpost, they were clearly unaware of this effort from Apple but has admirably offered its services to the company to help make Game Porting Kit even better.
The below shows Cyberpunk 2077, a demanding PC gaming title, working with the Game Porting kit, just one example of what can be done with this framework. And this has been achieved in under two days from when the feature was released.
Apple's new game porting toolkit is fantastic. Here's Cyperbunk 2077 running at Ultra on an M1 MacBook Pro 16 GB! pic.twitter.com/hylzMU6U46June 6, 2023
See more
You can see Cyberpunk 2077, a game released in 2020, running within this kit, at Ultra settings on an M1 MacBook Pro. The results are very impressive already, and while Apple stresses that this should be used as a way to help developers port over their games to the Mac natively, you can imagine a bunch of games being unofficially built with this kit to work with help from the ever-ready modding community, too.
What could come to the Mac?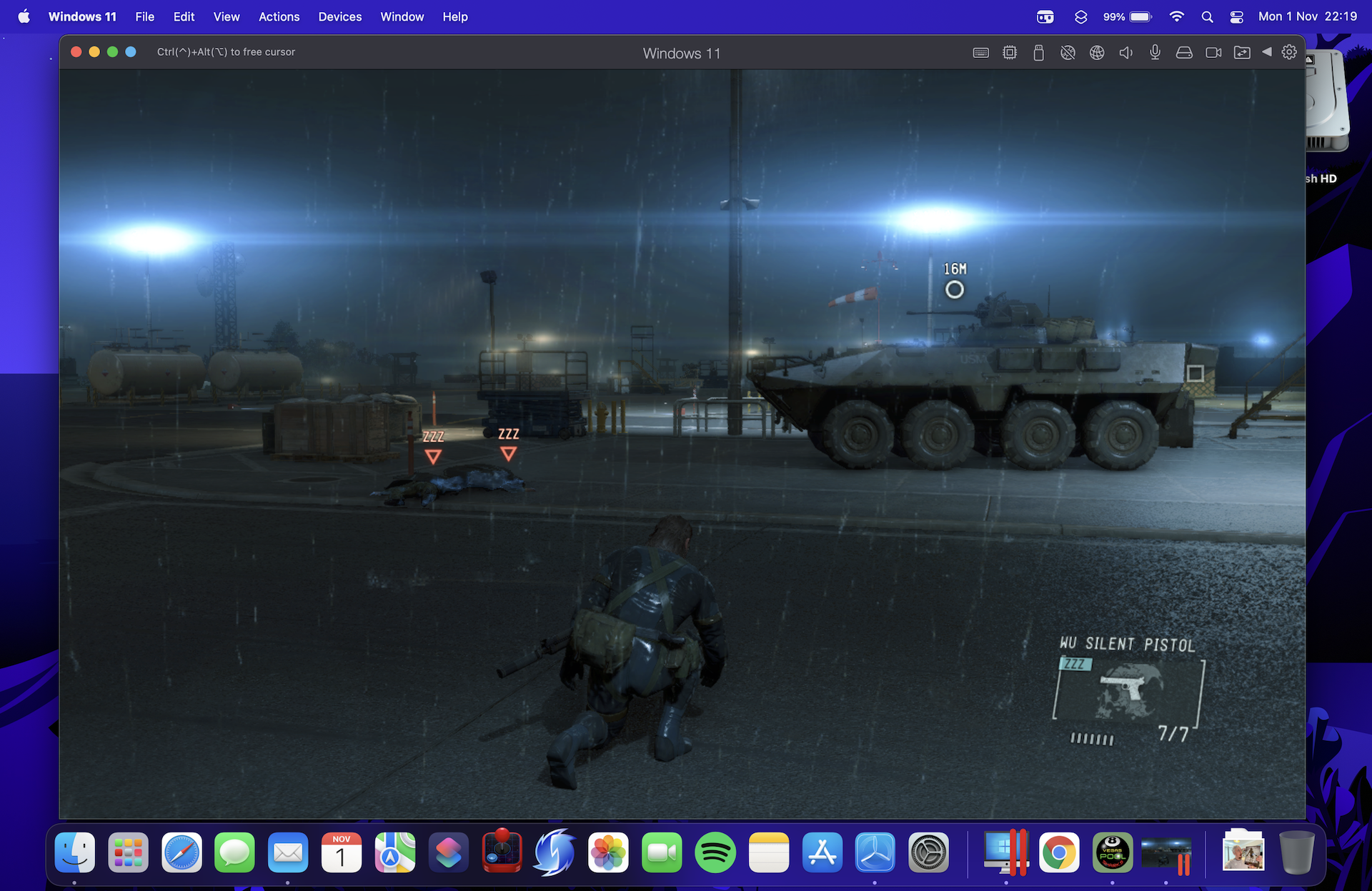 There's already a big community over at Mac Source Ports who port over classic games to Apple silicon, thanks to the original developers offering the source code. With the code, and a dedicated enthusiast team, games like Unreal Tournament, DOOM 64, and Monkey Island can already run natively on a Mac without help from major publishers.
But Apple's Game Porting Kit unlocks another level in how modern games can run on a Mac. The above shows Metal Gear Solid V: Ground Zeroes running on my M1 Pro MacBook Pro in Parallels Desktop for example, but there's now a good chance of being able to play this natively without using a virtualization app.
It also helps that macOS Sonoma, the latest release for the Mac, is coming with a 'Game Mode', which supercharges the CPU and GPU cores in an Apple silicon chip to focus on the game at hand. This also lowers the latency for AirPods, so there's almost no audio delay when you're playing.
For years, I would question whether Apple really cared about gamers, and if we would be seeing certain games arrive on the Mac. Now though, it's a matter of when, thanks to Game Porting Kit.
You can be sure that once the public beta of macOS Sonoma lands, we'll be looking into getting some games running through Game Porting Kit.
Are there any particular games that you'd like to see come to the Mac? Do let us know over at the iMore Forums.
window.reliableConsentGiven.then(function()
!function(f,b,e,v,n,t,s)if(f.fbq)return;n=f.fbq=function()
n.callMethod? n.callMethod.apply(n,arguments):n.queue.push(arguments)
;if(!f._fbq)f._fbq=n;
n.push=n;n.loaded=!0;n.version='2.0′;n.queue=[];t=b.createElement(e);t.async=!0;
t.src=v;s=b.getElementsByTagName(e)[0];s.parentNode.insertBefore(t,s)(window,
document,'script','https://connect.facebook.net/en_US/fbevents.js');
fbq('init', '1765793593738454');
fbq('track', 'PageView');
)