At a glance
Our Verdict
The 15-inch MacBook Air is the perfect laptop for those who want a laptop with a large display, compact build and enough power for general day-to-day computing. If you want more power for things like video-editing and high-end gaming, then it's the Pro all the way.
Price When Reviewed
Apple 15-inch MacBook Air (M2, 2023): $1,299
Apple 14-inch MacBook Pro (M2 Pro, 2023): From $1,999 | Model reviewed $2,499
Best Prices Today: Apple 15-inch MacBook Air (M2, 2023)
The MacBook Air has traditionally been a svelte and compact device that is lightweight and easy to carry around. Apple has pushed the boundaries of this now with the introduction of the new 15-inch MacBook Air. With dimensions similar to that of the more powerful 14-inch MacBook Pro, which one offers the better deal and is the one you should buy?
For more help deciding which Mac laptop to buy read MacBook Air vs 13-inch MacBook Pro, and our Best MacBook guide.
15-inch MacBook Air vs 14-inch Pro: Price
One of the most important parts of any buying decision is how much you want to spend. That's why the 16-inch MacBook Pro has been left out of this comparison, as you could almost get two 15-inch MacBook Airs for the same money, which puts the Pro in a different league in terms of cost.
There is a 13-inch MacBook Pro, which has the same M2 chip as the new 15-inch Air, and comes in closer to the asking price, but if it's a bigger display you're after then we think this might be too small.
So, that leaves the 15-inch MacBook Air and 14-inch MacBook Pro to fight it out.
Here's how the current models line up:
15-inch MacBook Air (M2, 8GB/256GB) – $1,299/£1,399/€1,599
15-inch MacBook Air (M2, 8GB/512GB) – $1,499/£1,599/€1,829
14-inch MacBook Pro (M2 Pro, 16GB/512GB) – $1,999/£2,149/€2,399
14-inch MacBook Pro (M2 Pro, 16GB/1TB) – $2,499/£2,699/€2,999
14-inch MacBook Pro (M2 Max, 32GB/1TB) – $3,099/£3,349/€3,699
As you can see, there's still quite a disparity in the prices, but the Pro models do come with at least double the memory and storage as the respective Air, plus the M2 Pro chip rather than the standard, but still excellent, M2 chip you'll find in the new 15-inch MacBook Air.
Of course, you can upgrade components on the Apple site when buying, meaning you could configure the Air to match the memory and storage specs or even surpass those of the Pro, so long as you have the cash. At the time of writing, upgrading to 16GB/512GB would set you back $400/£400/€460, leaving the baseline model still a bit cheaper than the Pro, albeit without the M2 Pro chip.
The one thing you can't do is add a M2 Pro to a MacBook Air, let alone an M2 Max.
15-inch MacBook Air vs 14-inch Pro: Design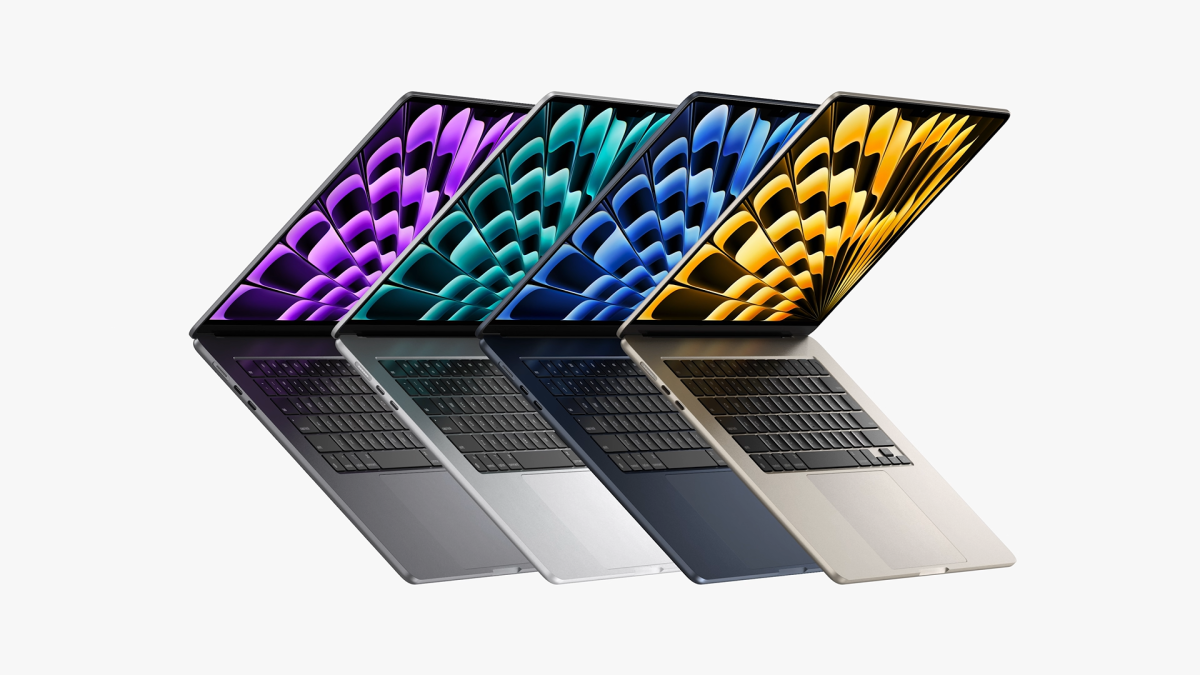 Apple
Apple updated the design of the MacBook Air when it launched the 13-inch MacBook Air (M2) in July 2022, losing the tapered chassis that had been there pretty much since the time Steve Jobs pulled the first model out of an envelope and introduced the Air to the world.
This makes more room for components inside, but does mean that the Air and Pro have very similar looks and dimensions.
15-inch MacBook Air – 0.45in x 13.40in x 9.35in; 3.3lbs (or 1.15cm x 34.04cm x 23.76cm; 1.51kg)
14-inch MacBook Pro – 0.61in x 12.31in x 8.71in; 3.5lbs (or 1.55cm x 31.26cm x 22.12cm; 1.60kg)
Yes, the Pro is a bit chunkier and heavier, but there's not much in it. The Air is, unsurprisingly, wider and taller, thanks to the bigger display.
The thicker MacBook Pro features more ports. Apple fits the MacBook Air with two Thunderbolt / USB 4 ports, a MagSafe charging port, and a 3.5mm headphone jack. On the Pro you get an additional Thunderbolt 4/USB-C (bringing the total to three), plus MagSafe, HDMI, SDXC ports and the headphone jack.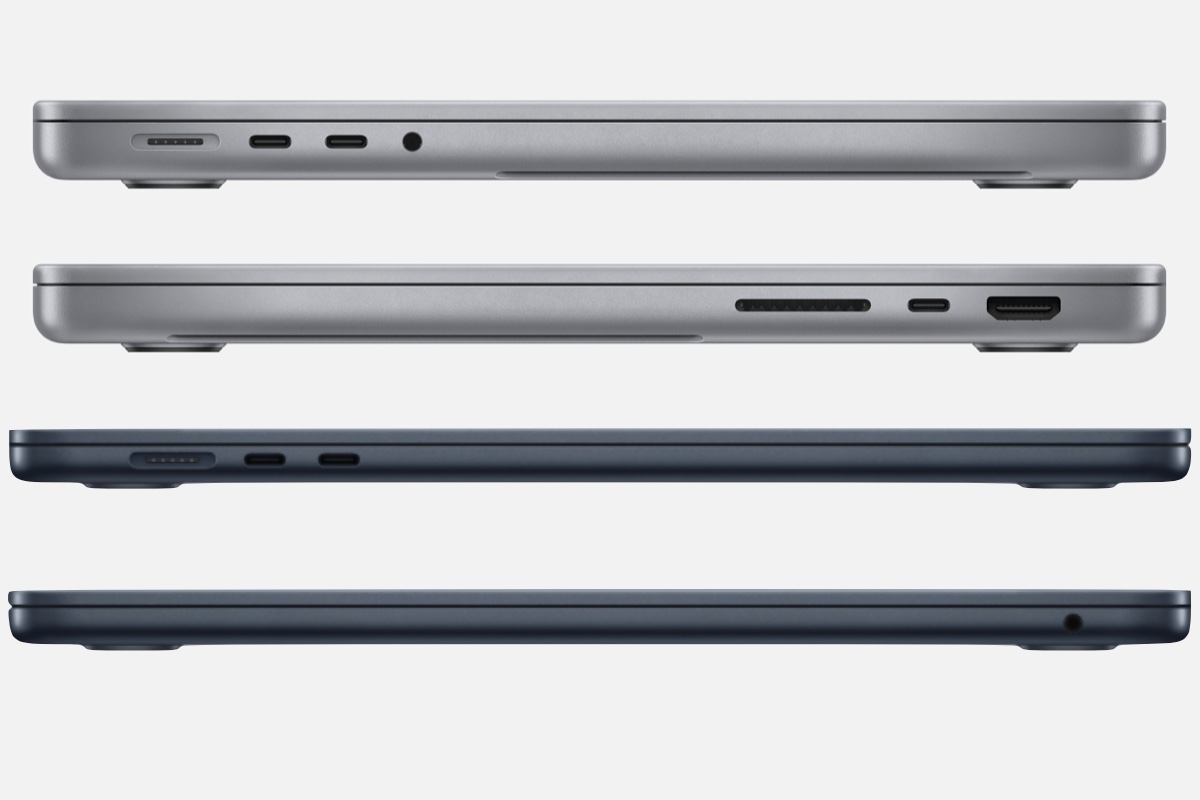 Apple
Both the MacBook Pro and Air come with Touch ID, 1080p FaceTime HD cameras, and six speaker arrays (the 13-inch Air only has a four speaker sound system). The sound on the MacBook Pro is described by Apple as "High Fidelity", by which we assume Apple is indicating it is superior to the Air. Connectivity is via Bluetooth 5.3 and while the Air supports Wi-Fi 6, the Pro tips the balance with Wi-Fi 6E.
15-inch MacBook Air vs 14-inch Pro: Displays
Foundry
You get a 15.3-inch Liquid Retina display in the Air, while the Pro comes with a 14.2-inch Liquid Retina XDR panel. The screen on the Air might be bigger, but it's not as good as the screen on the MacBook Pro.
The Air display runs at a resolution of 2,880 x 1,864 with a top refresh rate of 60Hz. Its maximum brightness is 500nits, which is half of the Pro's 100 nits (or a third if you use the HDR mode at 1,600 nits). This is achieved by the Pro display incorporating mini-LEDs rather than the LCD of the Air.
Perhaps the biggest difference though is that the Pro features Pro-Motion, meaning that the refresh rate tops out at 120Hz, again double that of the Air. If you scroll through pages and content a lot, then the super-smooth Pro display will be a joy.
Either panel will be great for everyday use, but in this area the Pro definitely has the edge.
15-inch MacBook Air vs 14-inch Pro: Performance
The new 15-inch MacBook Air features Apple's M2 chip, as previously seen in the 13-inch MacBook Air and 13-inch MacBook Pro, while the 14-inch MacBook Pro comes with either the M2 Pro or the M2 Max.
Inside the M2 chip there are 8 cores in the CPU, plus a 10-core GPU and a 16-core Neural Engine, all of which makes short work of most challenging tasks.
As the name suggests, the baseline M2 Pro improves on this with a 10-core CPU, 16-core GPU and a 16-core Neural Engine. If you go up to the more expensive M2 Pro then the specs increase to a 12-core CPU and 19-core GPU, and the M2 Max lives up to its title by offering a 12-core CPU and either a 30-core or 38-core GPU.
Apple
The standard M2 is a very capable chip, which can handle most things you'll throw at it, including photo and video-editing. But if those are your main intended uses for your MacBook then we think the extra power in the Pro chips would be the better solution. Otherwise, the M2 will be more than sufficient for a few years to come.
You don't have to consider battery life in this race, as Apple states that both are capable of 18-hours of use from a single charge, which should get you through even the busiest of working days.
Should you buy the 14-inch MacBook Pro or 15-inch MacBook Air?
The fact that both devices have similar looks and sizes makes it easier to decide which one to get, as it all comes down to price, screen size and power. If you're in the market for an everyday laptop for writing documents, creating presentations, working on spreadsheets, some light gaming and plenty of online streaming, and find 13-inch screens a tad too small, then the 15-inch MacBook Air is the one we'd recommend. You get a slightly lighter but larger frame, with a larger display and at a much lower price.
Those who require the brightest, smoothest display, extra ports and even more power will inevitably find the siren song of the 14-inch MacBook Pro too hard to resist. It's a production powerhouse built for video-editing, code creation and gaming, that's able to handle all the extreme demands of those activities. It's called a Pro for a reason.
So, once you've decided how you intend to use your MacBook, the choice should be straightforward. Either way, you'll be getting a great machine.