If one iOS 17 feature stands out above the rest, it's StandBy. Apple has added a widget hub to your iPhone that works when it's on charge and in landscape mode -and it could well be the killer feature of iOS 17.
StandBy on iOS 17 allows you to see glanceable tidbits of information as you work at your desk or wake up in the middle of the night and want to know the time. It's useful because it integrates into the workflow of anyone that sits at a desk and feels like the kind of feature that will be used for years to come – and maybe in a HomePod with a screen too!
How to use StandBy on iOS 17
Beta software, also referred to as a preview, seed, or release candidate, is a version of the software still under development and not yet released to the public. This software is intended only for installation on development devices registered under your Apple Developer Program membership. Registered development devices can be upgraded to future beta releases and the public version of the software. Attempting to install beta software in an unauthorized manner violates Apple policy and could render your device unusable and necessitate an out-of-warranty repair. Make sure to back up your devices before installing beta software and install only on devices and systems you're prepared to erase if necessary.
iOS 17 is only available as a developer beta at the time of writing. Here's how to install it.
Activating StandBy on iOS 17 is incredibly easy. With your screen locked, plug your iPhone into charge and turn it on the side. Of course, StandBy feels destined to be used with a MagSafe charging stand, but if you only have a lightning cable, you can also use StandBy just by propping your phone on its side. Please note: StandBy will not work if you lie your iPhone on a flat surface.
StandBy works with all iPhones on iOS 17 but you'll need an iPhone 14 Pro or Pro Max to take advantage of the always-on benefits of the mode.
When entering StandBy for the first time, you'll see a calendar widget and a classic clock. Swiping up on either switches between clocks and the widget SmartStack.
Press and hold to add or remove widgets from this view
Swipe left and right to change between multiple StandBy views. There's a Photo view that will slowly change through photos in your library as well as different clock styles.
Press and hold on any of the clock faces to change the color, although only the default analog clock view allows for widgets
StandBy on iOS 17 works with Live Activities, Siri, incoming calls, and other notifications like text messages. As iOS 17 is still in development, we expect more use cases to appear once developers update apps to support the mode.
StandBy on iOS 17 is a standalone music player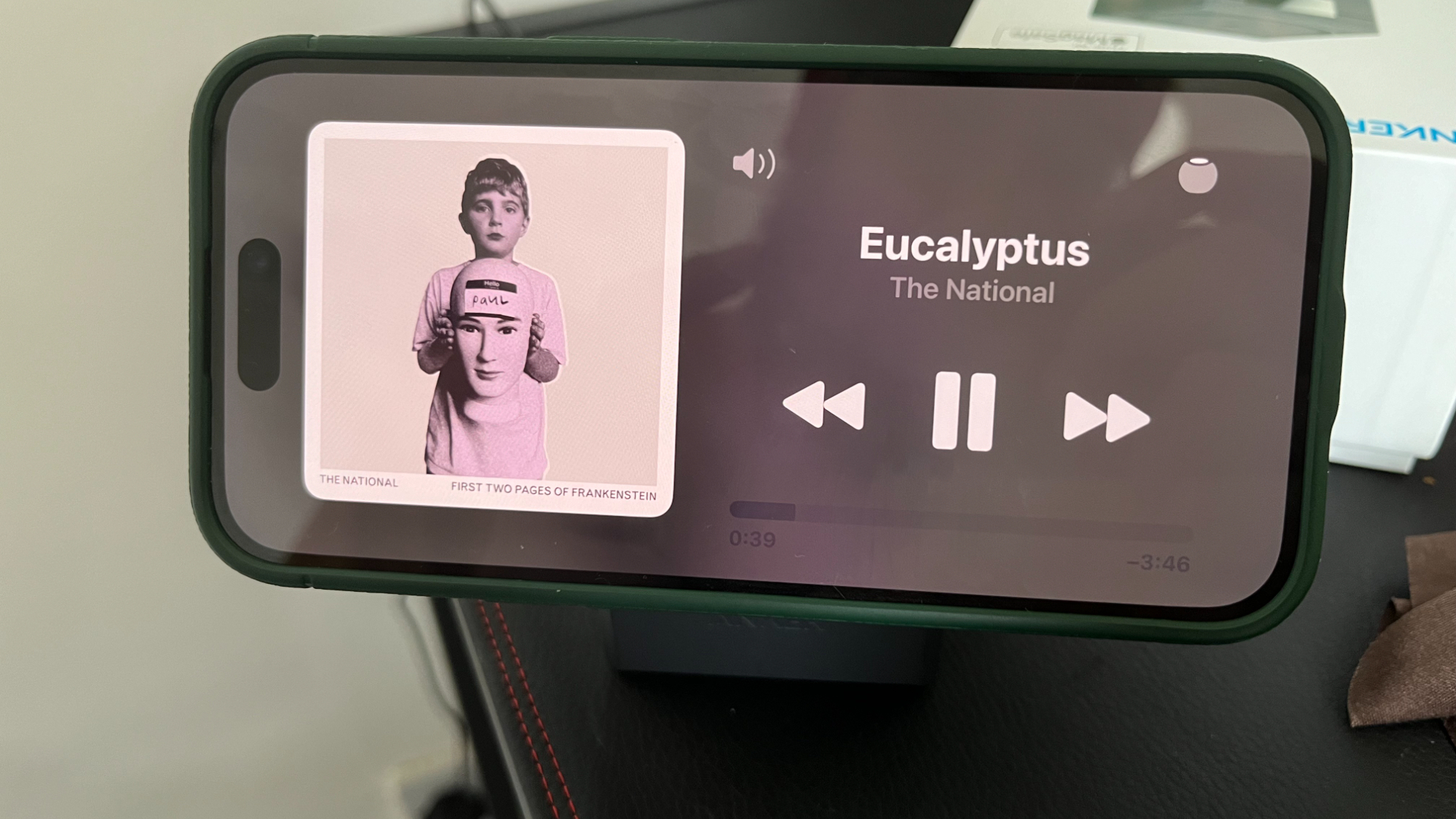 One of the best use cases for StandBy so far is as a music player for Apple Music, Spotify, and any other application that uses Apple's Music API. 
Start playing a song, then lock your iPhone and place it on charge in landscape, and your iPhone suddenly becomes a dedicated music player. You'll see an icon in the middle of your StandBy screen, if you're using AirPlay with a HomePod, it shows a HomePod icon, for example. 
Tap the icon, and you'll see a beautiful full-screen music interface. You can go back to StandBy by swiping up on the middle of your screen at any time.
---
The future is bright for StandBy on iOS 17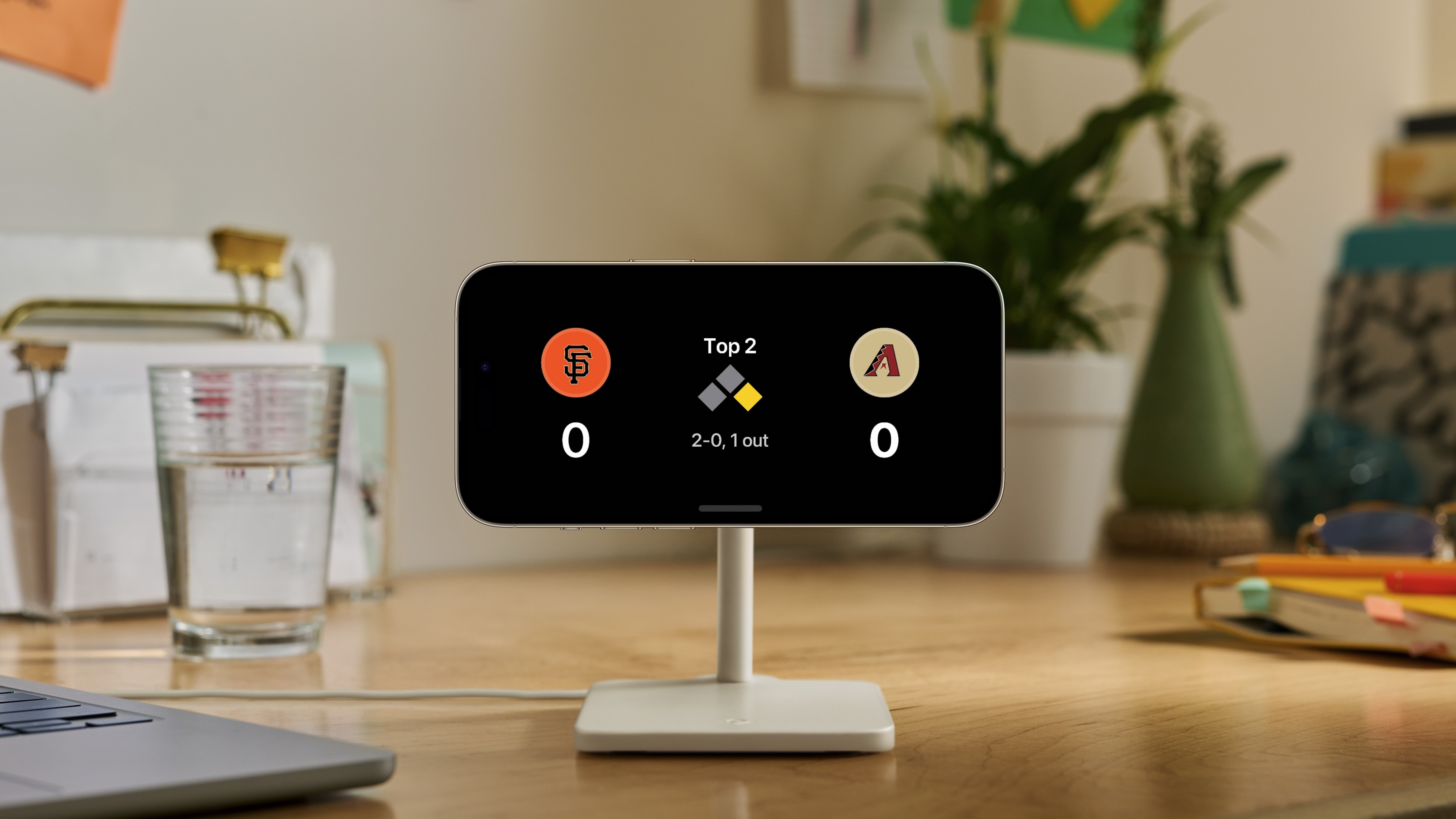 StandBy has all the potential to really stand out as a must-have feature for iOS 17. It looks awesome, is fun to use, and feels futuristic. We can't wait to see how the feature evolves throughout the development process, but first signs show a mode that might well become the most used iPhone feature for anyone that works from home.
window.reliableConsentGiven.then(function()
!function(f,b,e,v,n,t,s)if(f.fbq)return;n=f.fbq=function()
n.callMethod? n.callMethod.apply(n,arguments):n.queue.push(arguments)
;if(!f._fbq)f._fbq=n;
n.push=n;n.loaded=!0;n.version='2.0′;n.queue=[];t=b.createElement(e);t.async=!0;
t.src=v;s=b.getElementsByTagName(e)[0];s.parentNode.insertBefore(t,s)(window,
document,'script','https://connect.facebook.net/en_US/fbevents.js');
fbq('init', '1765793593738454');
fbq('track', 'PageView');
)