Apple had plenty of great things to show off when it unveiled iOS 17 at WWDC. We're psyched about vastly improved autocorrect, StandBy, Live Voicemail transcriptions, custom contact posters, and all that other good stuff.
But sometimes it's the little things that have the biggest impact. A small interface change or tiny unsung feature might change the way you use your iPhone day-to-day more than all the fancy AI-powered gimmicks ever will.
Here are some of the little things in iOS 17 that you didn't hear about in the keynote, but are sure to have an impact on your iPhone.
Ping your Apple Watch
One of our favorite features of the Apple Watch is that you can open Control Center and ping your iPhone, causing it to make a brief loud sound so you can find it quickly.
With iOS 17, it goes the other way as well! There's now a "ping Apple Watch" button in Control Center on your iPhone.
Linking Notes
You've got one note with your itinerary for your trip to Tokyo, and another with a list of restaurants you want to go to. Wouldn't it be nice to quickly jump between them?
With iOS 17 links aren't just for websites, you can link directly from one note to another. Just long-press somewhere in your note, choose Add Link, then you can type either a URL or, now, the title of another note.
News+ daily crossword
A mainstay of many newspapers, Apple News+ subscribers will get daily crossword puzzles in the News app. This doesn't appear to be live in the first beta so we don't know what it will look like or how hard it will be, but it's one more reason to subscribe to Apple News+ or the Apple One bundle.
Better Spotlight search
An underused feature for many, Spotlight search (just drag down from anywhere on your iPhone home screen) lets you very quickly find apps, search the web, do simple calculations and conversions, and even find content in Mail or Messages.
In iOS 17 it gets smarter and more capable. Search for a setting like "Wi-Fi" and the top Siri Suggestion will have a toggle to turn it on or off right there, without diving into the Settings app. When you don't type in anything in Spotlight, Siri Suggestions will contain some new more intelligent items like starting a timer or going right to a particular album in Photos.
For many, swiping down to enter Spotlight / Siri Suggestions is already the first thing they do when picking up their iPhone. These changes in iOS 17 make it even more useful for more people.
Fitness+ Custom Plans
Want to build your own custom workout plan for your Fitness+ workouts? Open the Fitness app, tap the Fitness+ tab, and select Custom Plans. You can choose days of the week, how long your plan is for (2-8 weeks), workout length, and which type of activities you want to use–and even include which equipment you have like dumbbells or yoga mats.
Note that this isn't a freeform fitness plan creation tool–it's for Fitness+ and is limited to the types of activities and equipment you'll find in the Fitness+ workouts.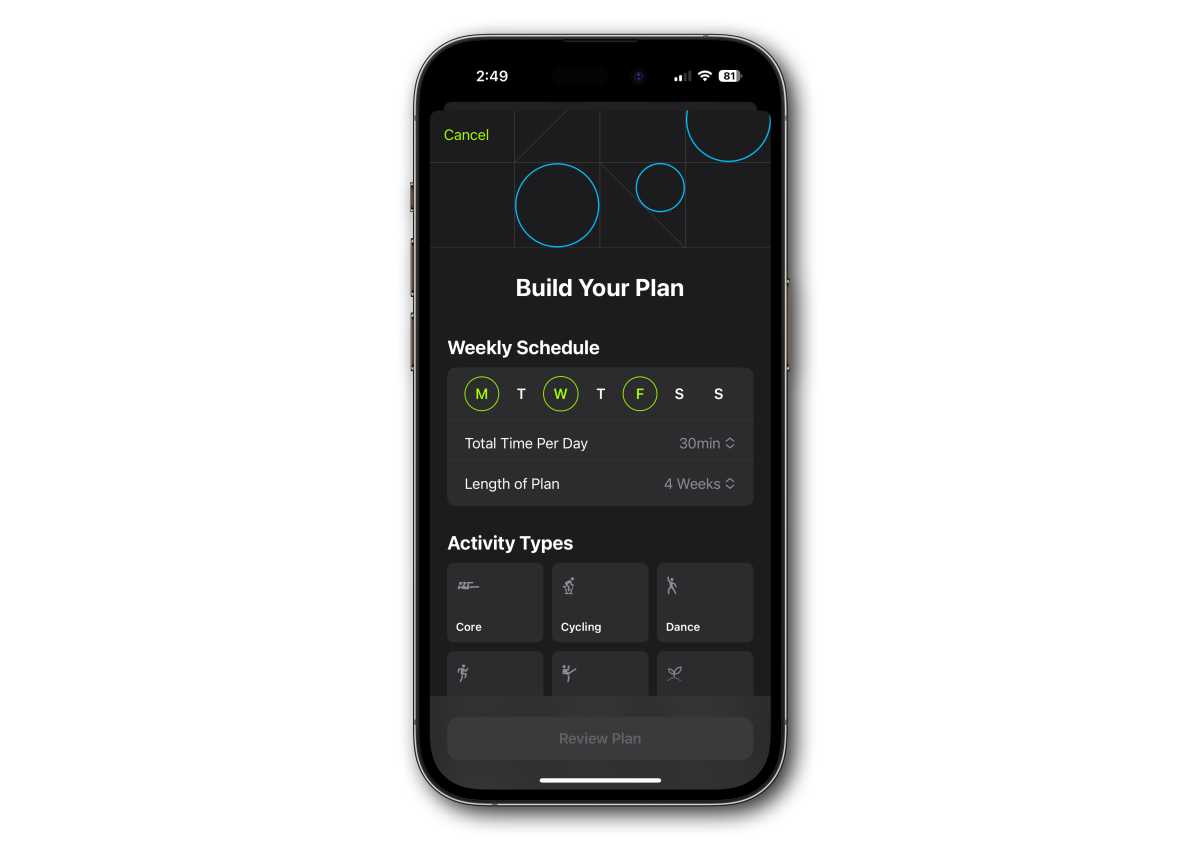 Foundry
Quickly listen to web pages
The Speak Screen feature has been able to read web pages in Safari for a long time now, but Apple seems to have realized that it can be really useful for everyone. So, in iOS 17, there's a "Listen to Page" feature right in the aA menu on your address bar. Tap it again to pause or resume reading.
Apple Music Crossfade
We heard a lot about new Music SharePlay features, but there's another feature Apple didn't mention: Crossfade, which smoothly fades out one song and fades in the next so there's no gap between music. Ever since Apple Music replaced iTunes users have been begging for this, and it's been available on the Mac for a long time but not iPhone.
Open Settings > Music and look for the Crossfade setting.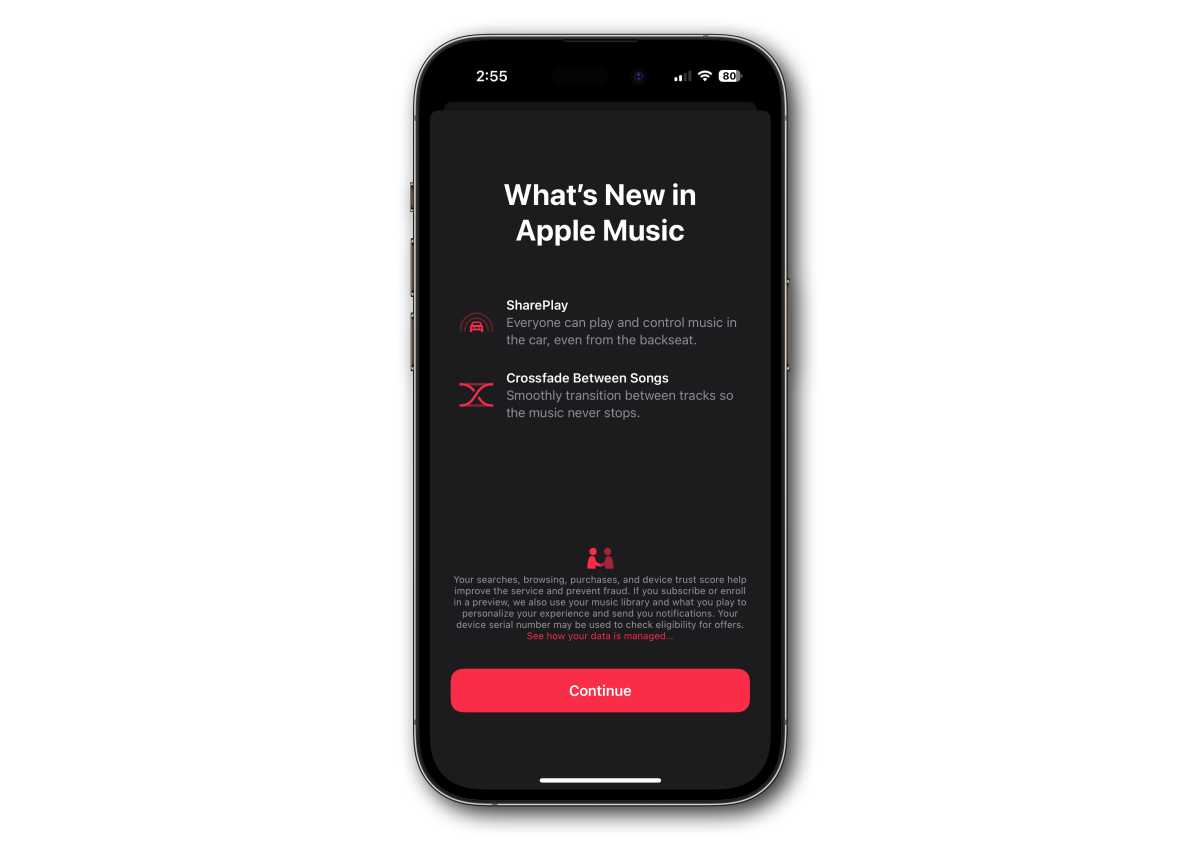 Foundry
Follow Up medication reminders
The Health app can optionally send a second notification 30 minutes after the first notification about taking your medication.
In the Health app, tap the Browse tab, then Medications. Scroll down to the Options at the bottom and tap that. You'll find the toggle for Follow Up Reminders there.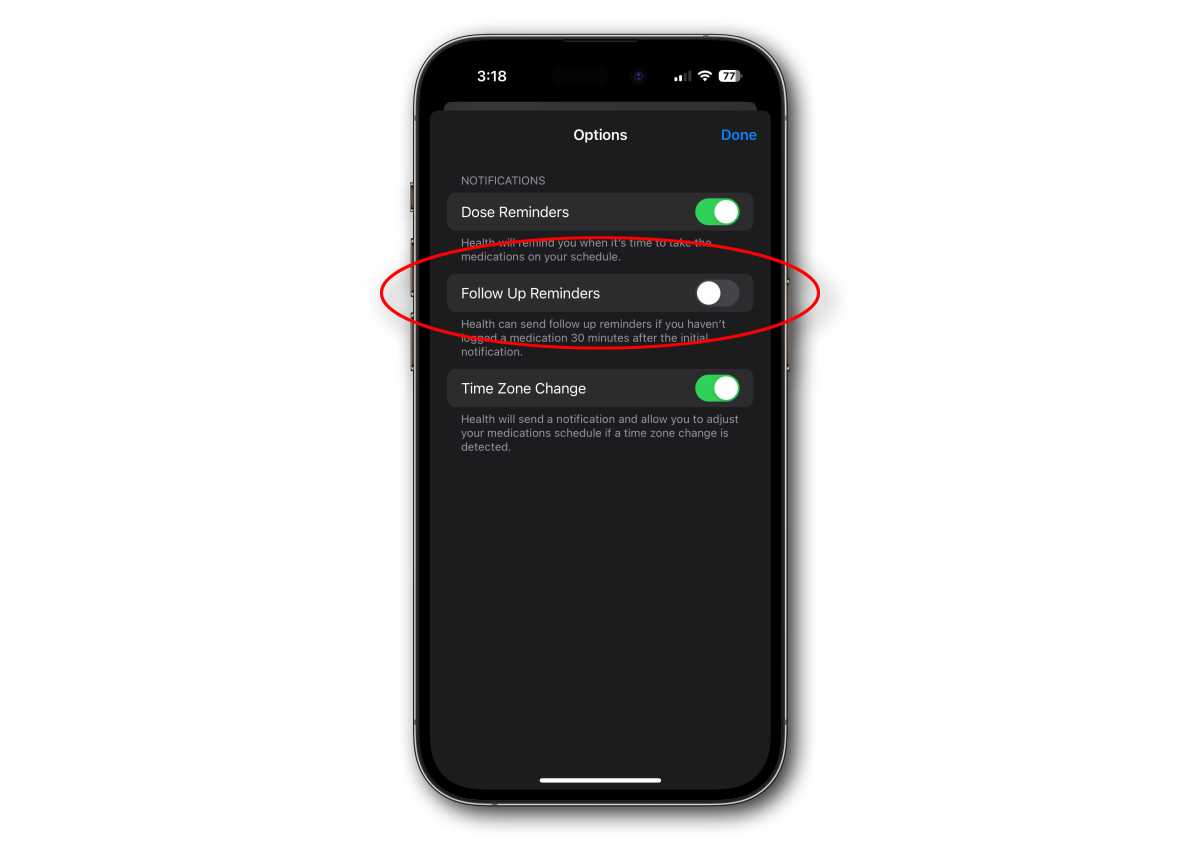 Foundry
Multiple timers
This was mentioned in the iPadOS section of the keynote, but it bears elaboration: multiple timers will be a feature across iOS, iPadOS, and macOS. No, we don't know why it took this long, either.
In almost any text filed in iOS 17, including Messages, Mail, Notes, and so on, you can long-press, select Insert, and in addition to the existing Scan Text option you'll see options to add Contacts or Passwords. Choosing one will open up your contacts or passwords (you'll have to authenticate before your passwords open) where you can quickly select the one you want to add.
Apple promoted this as an iPadOS feature, but it's present on iOS 17 as well as macOS Sierra. You can now check off Reminders items, toggle smart home switches, and so much more from your widgets without opening the app.
Dark Mode AirPods cards
It sure is distracting to have that bright white card pop up when you open your AirPods case near your iPhone if you're using dark mode. We're not sure why it took so long, but iOS 17 now respects your dark mode preferences when showing these popup cards.
New quick Crop interface in Photos
When you're viewing a photo in iOS 17 and you pinch-to-zoom into it, you'll see a new "Crop" button in the upper right.
Tapping that will open the usual edit interface in crop mode, with the crop edges set to exactly what was showing on your screen when zoomed in. You can still drag the borders to adjust the crop, but this is a fast and easy way to get a crop that fits exactly right for making an iPhone wallpaper or new Profile Poster, for example.
Clean up verification codes automatically
We love the feature that automatically fills in verification codes sent to you via text message, and iOS 17 extends that to codes you receive in email.
But even better is the way it can keep those old codes from piling up. Open Settings > Passwords > Password Options and you'll see a new toggle Clean Up Automatically that will delete these texts or emails after inserting them with AutoFill.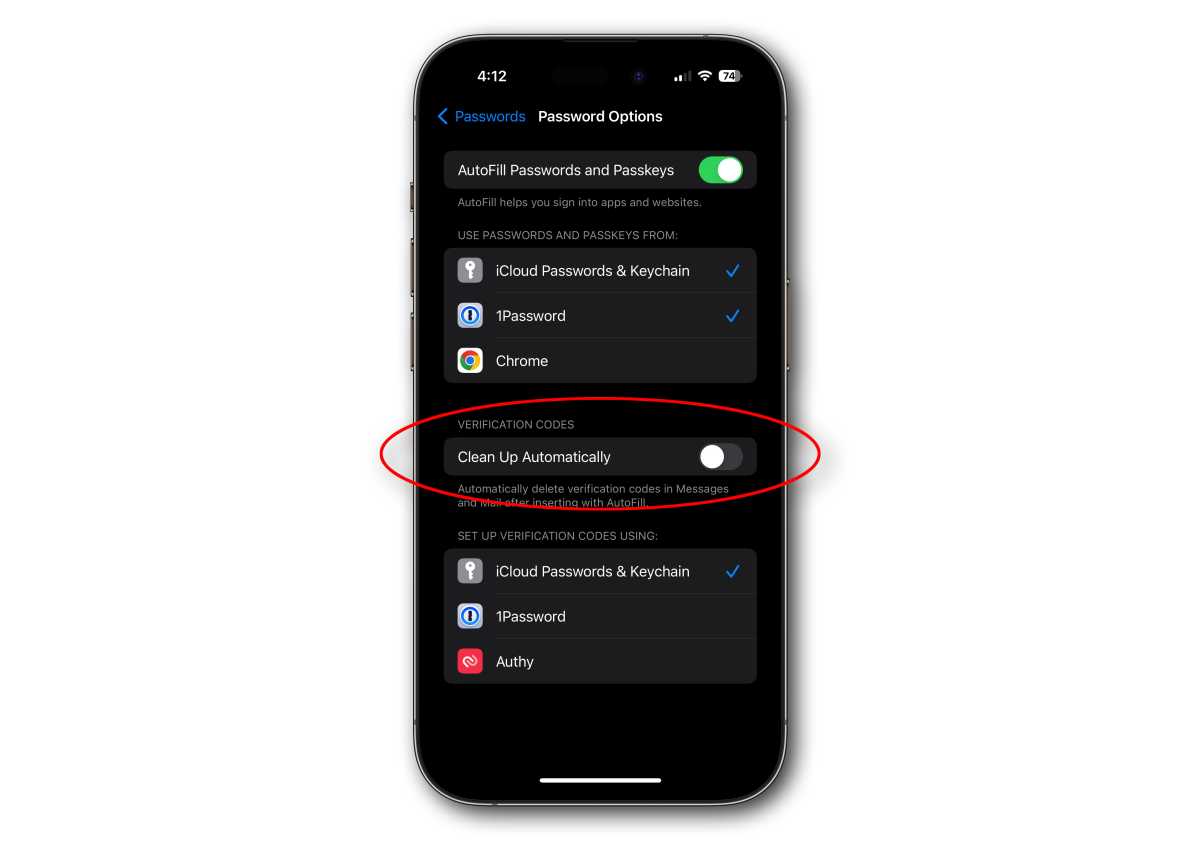 Foundry