With all the buzz surrounding the WWDC 2023 event and all that was announced, you'll be forgiven for missing a brief mention of a feature that could change the way many families go on road trips. Mine included.
That feature is baked into iOS 17, although Apple didn't actually preview it during the iPhone segment of its streamed opening keynote. Instead, it was part of the awkward "Audio & Home" portion of the event, stuffed in alongside some hotel AirPlay thing and changes to the Apple TV interface.
But those inauspicious surroundings belie a feature that could be transformative for something that families do every weekend, if not every day, all around the world. Road trips with kids can be an experience, to say the least.
And while we used to pass the AUX cable back in the day, CarPlay makes collaborative music-choosing hard work. But iOS 17 will change all of that thanks to the magic of SharePlay.
A true 'finally' feature
Swapping the AUX cord definitely worked in a pre-CarPlay world, but it just isn't feasible today. Sure, we could unplug the driver's iPhone (mine) and plug in my wife's or either of the kids' iPhones so they can choose the music. But that means that we lose whatever navigation was already underway. And yes, we could restart it on their device but that's just a whole pain that nobody needs while they're on the move. And who wants to go through that rigmarole over and over so other people can choose the tunes?
With iOS 17's new SharePlay support, CarPlay will no longer get in the way. Apple says that whenever the driver's iPhone is connected and CarPlay is running, those also in the car will be automatically prompted to join a SharePlay session — although only via Apple Music, it seems. Hopefully that will change in the future. I have to imagine that this is just a case of companies like Spotify and Tidal hooking into an API, but we'll have to wait and see.
Once up and running, anyone connected to the same SharePlay session can add their own songs, see the full playlist, and more — all as if they were holding the iPhone that's actually connected to the car.
I honestly cannot wait for this feature to ship and it might be the stealth-best iOS 17 improvement of them all.
I can't tell you how many times I've tried to make a Lightning cable stretch to the back of the car so the kids can take hold of my iPhone to pick a song. Yes, I know Siri exists but also, it's Siri. It works maybe 50% of the time, and it's a no-go if you don't know the name of the song or the artist. When your kids want to browse, they need a display to do it on.
We often say that Apple "finally" did something, whether that's adding a new feature or releasing a product that we've seen leaked for years — I'm looking at you, Vision Pro. But I feel like this is a problem that should have been fixed long ago. And now it's just a few months away from going away for good.
Apple at its best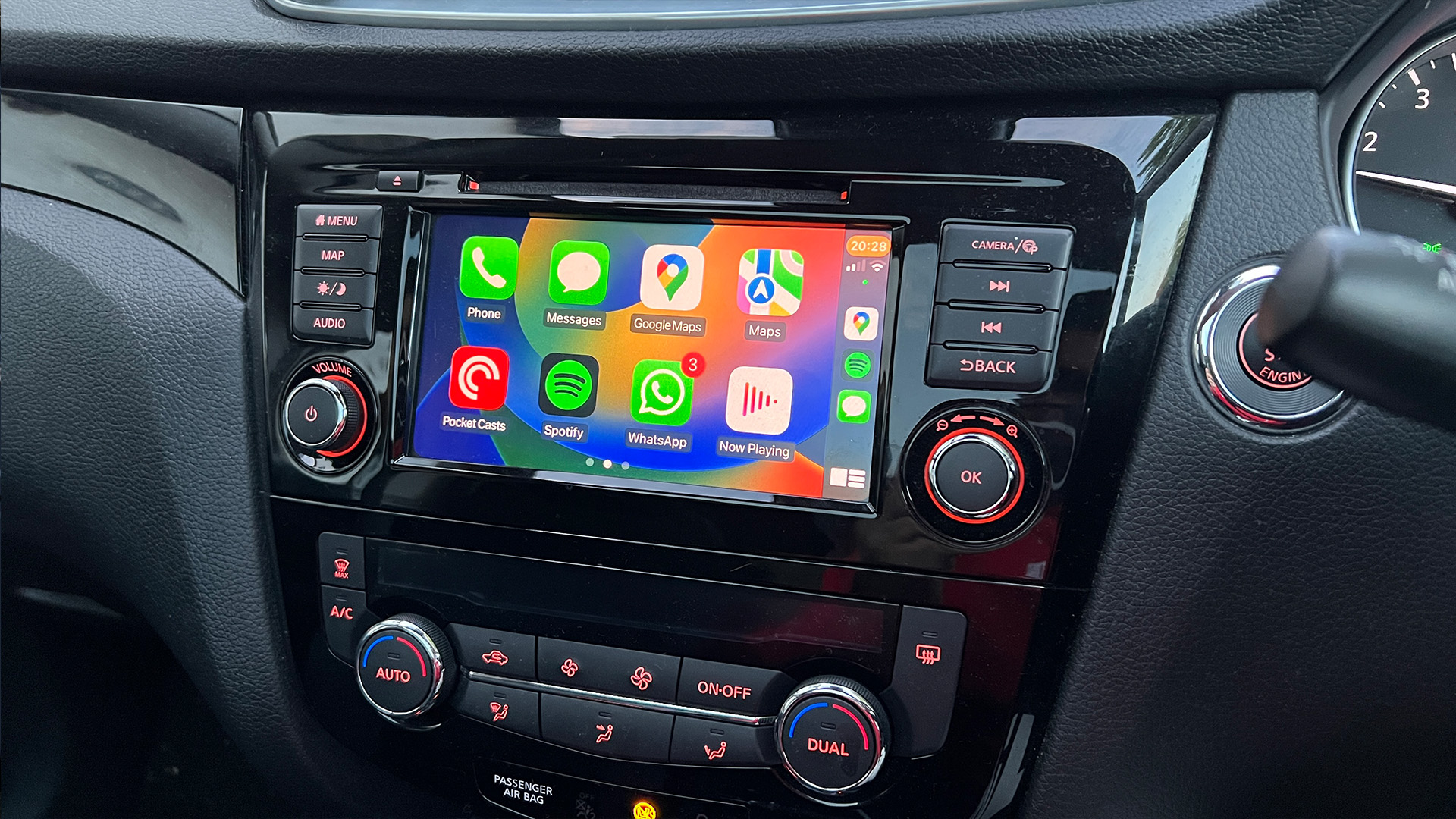 That being said, the way Apple has chosen to fix this problem is Apple at its best. It uses its own ecosystem as a way to make something work, as if by magic. Assuming it works as advertised, of course.
Being able to just join a CarPlay session without any setup or codes will mean that anyone can actually do it. They won't even need to be part of our Family Sharing group either, it seems. Apple says that anyone in the car will be able to get in on the music-picking fun.
Sure, some people will wish that their Android-owning friend or family member could get in on the music-picking, but imagine how clunky the experience would need to be. Apple's ecosystem (or walled garden, if you prefer) isn't perfect. And it creates some of its own problems, absolutely. But when it works, nothing else comes close.
Now, I just have to explain to my family that we can't go on any road trips until this fall, so I can try CarPlay SharePlay out for myself.
window.reliableConsentGiven.then(function()
!function(f,b,e,v,n,t,s)if(f.fbq)return;n=f.fbq=function()
n.callMethod? n.callMethod.apply(n,arguments):n.queue.push(arguments)
;if(!f._fbq)f._fbq=n;
n.push=n;n.loaded=!0;n.version='2.0′;n.queue=[];t=b.createElement(e);t.async=!0;
t.src=v;s=b.getElementsByTagName(e)[0];s.parentNode.insertBefore(t,s)(window,
document,'script','https://connect.facebook.net/en_US/fbevents.js');
fbq('init', '1765793593738454');
fbq('track', 'PageView');
)