Reddit communities, including some about Apple, will be going dark on June 12, as a form of protest against the site's decision to charge developers for access to its API.
In April, Reddit issued an update relating to its Data API, with the changes including a new premium tier of access for developers with extra capabilities, higher usage limits, and broader usage rights. However, those changes were not accepted quietly by the numerous communities that call Reddit home.
As a form of protest against the API changes, numerous subreddits within Reddit are going dark for 24 to 48 hours. Going dark on Reddit means the subreddit goes private and inaccessible for a period of time by the public, and has been used in the past to demonstrate solidarity over a topic.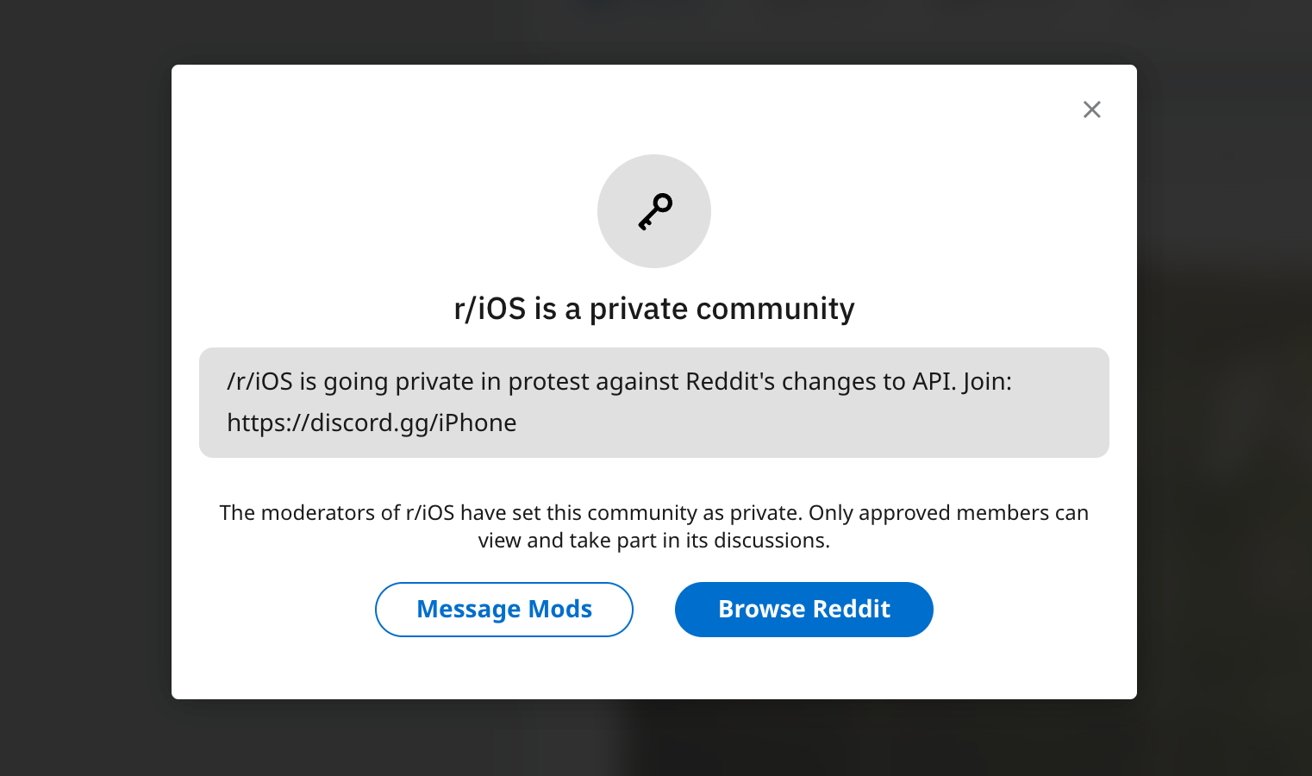 In posts topping many different subreddits joining the action, it is explained that the cost of calls to the API will reach a level that will make it almost impossible for third-party Reddit apps to function.
In the most public example, developer Christian Selig said popular app Apollo will close on June 30 due to the increased cost. At a charge of $0.02 per user for access, it was reckoned Apollo would face an annual cost of around $20 million for access
While an obvious problem for developers of those apps, it will also be a problem for users, too. The post explains subreddit moderators often rely on tools by third-party developers to maintain the communities, since the official app isn't suitable for the task.
Reddit is expected to implement the API fee on June 19. It is unclear whether the blackout will change the minds of Reddit's management, but it may still send a message that the community is unhappy with potentially losing access to well-loved apps.
In a list of popular subreddits going dark compiled on Reddark, Apple-related communities are joining in the activity. The list of subreddits taking part includes:
r/Apple

r/AppleArcade

r/AppleCard

r/AppleHelp

r/AppleMaps

r/AppleMusic

r/ApplePay

r/AppleSwap

r/AppleTV

r/AppleWallet

r/AppleWatch

r/iOS

r/iOSBusinessChat

r/iOSSetups

r/iOSThemes

r/iPhone

r/Mac

r/MacApps

r/MacGaming

r/OriginalMac

r/SignInWithApple

r/VintageApple