I'm a simple man, I like sports. All sports really, balls, wheels, bats, clubs, you name it. If it's competitive and can be scored, I'll watch it. There are a few sports that I'm truly passionate about, and there are a few sports that I have been longing to see plastered over my face in immersive augmented reality, an itch that the Apple Vision Pro looks finally set to scratch when it comes out next year. 
At WWDC 2023 Apple unveiled its stunning new Vision Pro headset. There's a lot to marvel at, from watching movies in awesome environments with a 100ft screen, to work and collaboration using Microsoft Office with a keyboard, trackpad, and FaceTime. But there was one standout feature at the keynote that I think deserves to be shouted from the rooftops. As Disney CEO Bob Iger took to the stage to celebrate Disney 100, he revealed a mind-blowing keynote trailer showcasing Disney's vision for what content could look like on Apple Vision Pro, most notably, live sports. 
Every time I rewatch the video, there's something else to marvel at, and I am absolutely stoked for the future of watching sports in Apple Vision Pro. 
So let's deep dive into sports on Apple Vision Pro and see what Apple might offer in the future. 
The trailer
First up, Apple showed us an immense multi-screen sports viewing experience, the likes of which would only be possible in AR. Five screens are depicted, a larger central screen and four accompanying screens. Displayed are College Football, the NBA, Major League Baseball, NHL, and Formula 1, as well as a row of icons that suggests a feature for scrolling through specific teams or leagues and promotions, such as the UFC. 
The video glances right, seemingly indicating that focusing on one particular screen using Vision Pro's eye-tracking system can bring a different window into focus, in this case, Formula 1. This could be a great look at how interacting with different windows in a multiviewer setup could bring each one to the forefront of the experience. 
Snap back to the middle, and all of a sudden the main screen is a massive viewing experience adorned and overlaid with all manner of stats to create the ultimate single-sport immersive experience, as well as highlights and AR graphics such as confetti overlaid on screen.
Disney+ on Apple Vision Pro#WWDC23 #Apple #Disney100 pic.twitter.com/rr9t7Y6zkWJune 6, 2023
See more
Another example shown is NBA, with a massive basketball game on-screen that shifts quickly to a "court view replay" showing a tabletop, overhead view of the court. This not only shows basketball in a completely new viewing dimension, but it can also transport the user courtside, giving the experience of actually being at the game. 
 I'm convinced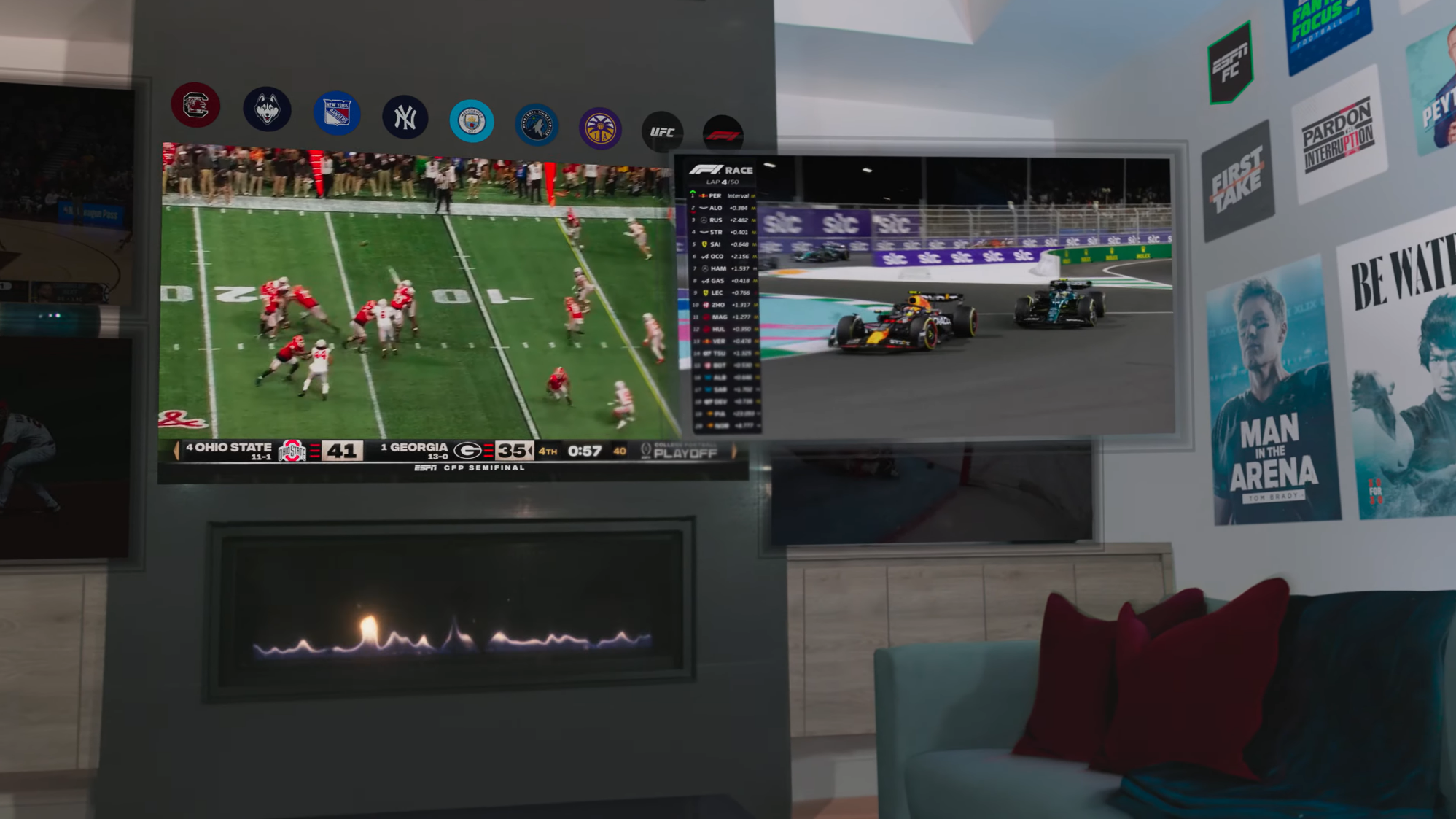 All of this is just a tiny snippet of one company's interpretation of sport on Apple Vision Pro, and boy, does it bode well for the future. 
Sports is all about excitement and immersion, the closer you feel to a sport, the more real it is, the more exciting and entertaining it becomes. Even now, a single flat-screen TV is enough to get my blood pumping (or more often boiling), so imagine sport in all the glory of augmented reality, closer to the action than ever before, more informed, more information, more of everything. I hope Disney+ hasn't overpromised, and this is really just the tip of the iceberg when it comes to sports on Apple Vision Pro. 
There are so many incredible implementations of what sports could look like on Vision Pro, from multi-viewing lots of games and sports at the same time, watching one game immersed in every stat and metric, and seeing sports in completely new ways thanks to AR. Imagine watching a basketball game with a courtside projection on the table in front of you, or a virtual representation of a Formula 1 track and GPS data from the drivers. 
Apple Vision Pro is just the beginning of Apple's journey into Spatial Computing, but if this snippet of sport is anything to go by, then sports is the only reason I need to buy one when it comes to the UK next year. I'll see you at the Apple store.
window.reliableConsentGiven.then(function()
!function(f,b,e,v,n,t,s)if(f.fbq)return;n=f.fbq=function()
n.callMethod? n.callMethod.apply(n,arguments):n.queue.push(arguments)
;if(!f._fbq)f._fbq=n;
n.push=n;n.loaded=!0;n.version='2.0′;n.queue=[];t=b.createElement(e);t.async=!0;
t.src=v;s=b.getElementsByTagName(e)[0];s.parentNode.insertBefore(t,s)(window,
document,'script','https://connect.facebook.net/en_US/fbevents.js');
fbq('init', '1765793593738454');
fbq('track', 'PageView');
)