Apple's second-generation Mac Studio is packed with top-tier M2-series chips. Here's how the specs compare against the previous version running M1 Max and M1 Ultra chips.
Apple has unveiled an upgraded iteration of the Mac Studio, marking its second generation. The latest version incorporates the M2 Max processor, delivering a remarkable 25% increase in performance while maintaining the same sleek design and form factor as its predecessor.
Here's all you need to know about Apple's latest M1 Ultra chipset and its comparison to the company's previous M-series offerings.
2023 Mac Studio vs 2022 Mac Studio – Specifications
Specifications
Mac Studio (M1 Max)
Mac Studio (M1 Ultra)
Mac Studio (M2 Max)
Mac Studio (M2 Ultra)
Launch Price (starting)
$1,999.00
$3,999.00
$1,999.00
$3,999.00
Processor
10-core M1 Max
20-core M1 Ultra
12-core M2 Max
24-core M2 Ultra
Memory
Up to 64GB
Up to 128GB
Up to 96GB
Up to 192GB
Graphics
Up to 32 cores
Up to 64 cores
Up to 38 cores
Up to 76 cores
Storage
512 GB, 1TB, 2TB, 4TB, 8TB
512 GB, 1TB, 2TB, 4TB, 8TB
512 GB, 1TB, 2TB, 4TB, 8TB
512 GB, 1TB, 2TB, 4TB, 8TB
Ports
USB-C x6 (2x 3.1 Gen 2, 4x Thunderbolt)
USB-A x2
HDMI 2.0
SDXC
10GB Ethernet
USB-C x6 (6x Thunderbolt)
USB-A x2
HDMI 2.0
SDXC
10GB Ethernet
USB-C x6 (2x 3.1 Gen 2, 4x Thunderbolt)
USB-A x2
HDMI 2.1
SDXC
10GB Ethernet
USB-C x6 (6x Thunderbolt)
USB-A x2
HDMI 2.1
SDXC
10GB Ethernet
Connectivity
Wi-Fi 6
Bluetooth 5.0
Wi-Fi 6
Bluetooth 5.0
Wi-Fi 6E
Bluetooth 5.3
Wi-Fi 6E
Bluetooth 5.3
2023 Mac Studio vs 2022 Mac Studio – Design
Apple has maintained the design, size, and weight of the Mac Studio without making any alterations. The device's dimensions remain consistent, measuring 3.7 inches in height and 7.7 inches in width and depth.
The Mac Studio models equipped with an M Max chip weigh 5.9 pounds, while the version with an M Ultra chip weighs 7.9 pounds. Similarly, the ports have stayed the same.
2023 Mac Studio vs 2022 Mac Studio – Processor
The M-series chips are manufactured using a chipmaking process with a 5-nanometer scale, which results in a reduced physical footprint of the chip die. This reduction in size lowers the cost-per-chip and facilitates improved power efficiency.
The M2 Ultra contains 134 billion transistors, an increase of 20 billion compared to the M1 Ultra, which has 114 billion transistors. Similarly, while the M1 Max has 57 billion transistors, the M2 Max increases that to 67 billion.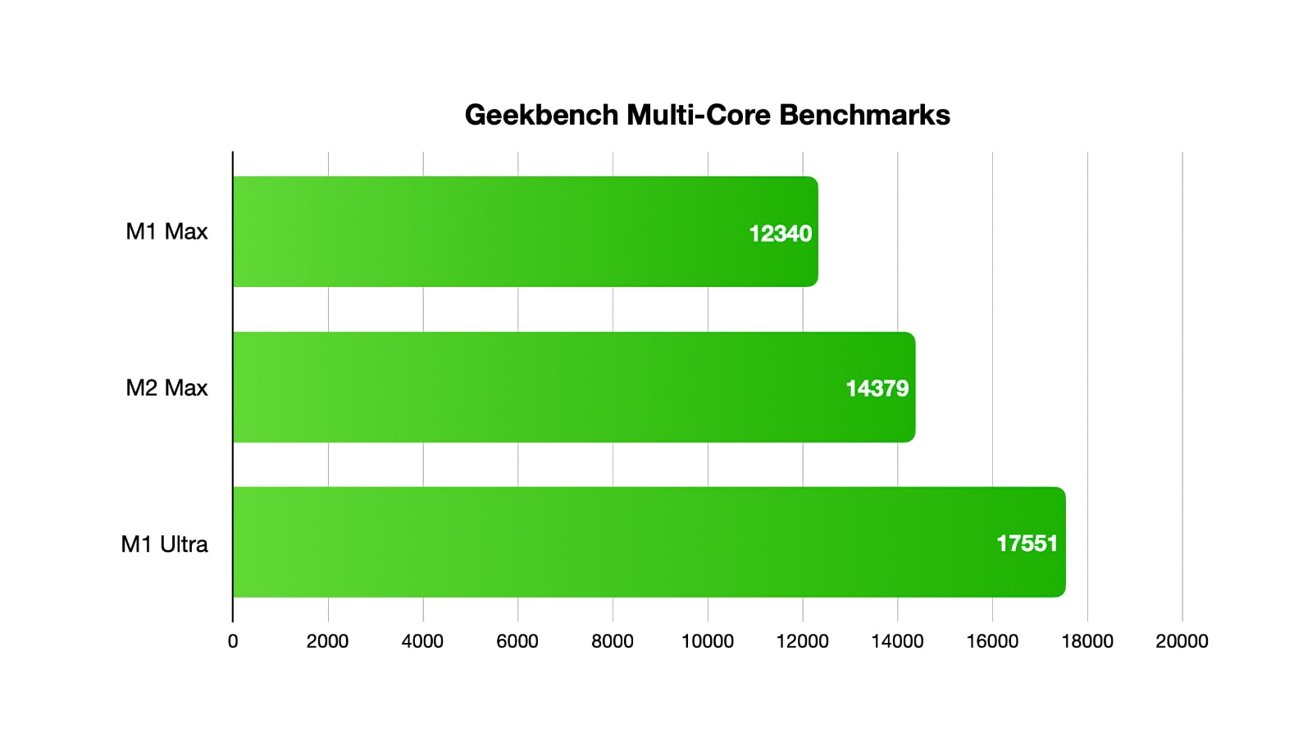 The M1 Ultra boasts an exceptionally robust 20-core CPU comprising 16 high-performance and four high-efficiency cores. The M2 Ultra features a 24-core CPU, which includes 16 advanced high-performance cores and eight advanced high-efficiency cores.
This configuration enables up to a 20% increase in performance compared to the M1 Ultra. When using a Mac Studio powered by the M2 Ultra, colorists using DaVinci Resolve will enjoy video processing up to 50% faster than Mac Studio with the M1 Ultra.
The M1 Max chip has a 10-core CPU and a 32-core GPU and supports up to 400GB/s of memory bandwidth, the same as the M2 Max. However, its CPU has 12 cores and up to 38 GPU cores.
Apple's Ultra class of its chips uses a technology called UltraFusion that combines two Max chips. UltraFusion employs a silicon interposer to establish connections between dies through more than 10,000 signals, resulting in a substantial interprocessor bandwidth of over 2.5TB/s with minimal delay.
The architecture of UltraFusion allows the Ultra chips to function as a unified chip when interacting with software. As a result, software code does not need to be rewritten to leverage its exceptional performance.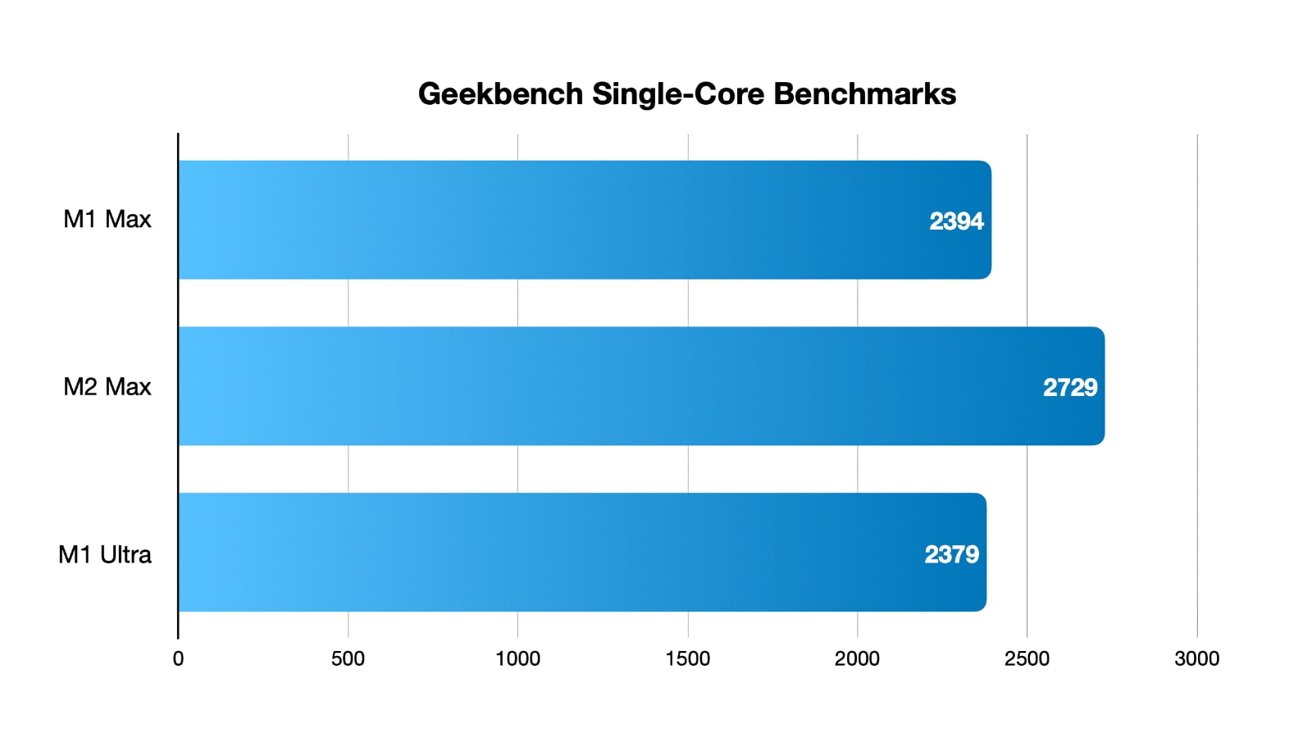 Geekbench benchmarks for the Mac Studio reveal a single-core performance score of 2,394 and a multi-core score of 12,340 when running on the M1 Max chip. On the other hand, the M1 Ultra chip exhibits comparable single-core performance with a score of 2,379 but significantly outperforms in multi-core performance with a score of 17,551.
While benchmarks specifically for the M2 Ultra chip are not yet available, we can gain insight into the performance potential of a Mac Studio equipped with an M2 Max chip. For instance, looking at a 2023 MacBook Pro featuring an M2 Max chip, it showcases impressive results with a single-core performance score of 2,729 and a multi-core score of 14,379.
2023 Mac Studio vs 2022 Mac Studio – Graphics
Apple's M-series chips have moved away from relying on separate graphics processors from AMD, Nvidia, or Intel, which were previously used extensively. Instead, they now use integrated GPUs with significantly higher numbers of cores.
To illustrate, let's consider the M1 Max, which offered 24-core or 32-core GPU options, whereas the M1 Ultra surpassed that by providing a doubled capacity. The M1 Ultra featured an integrated GPU with 48 cores or an alternative version with an impressive 64 cores.
In the M2 Max and M2 Ultra, Apple has raised the count of GPU cores compared to their predecessors. The M2 Max now offers a choice between a 30-core GPU or a 38-core variant, while the M2 Ultra takes a significant leap with options of either 60 cores or an even more impressive 76 cores.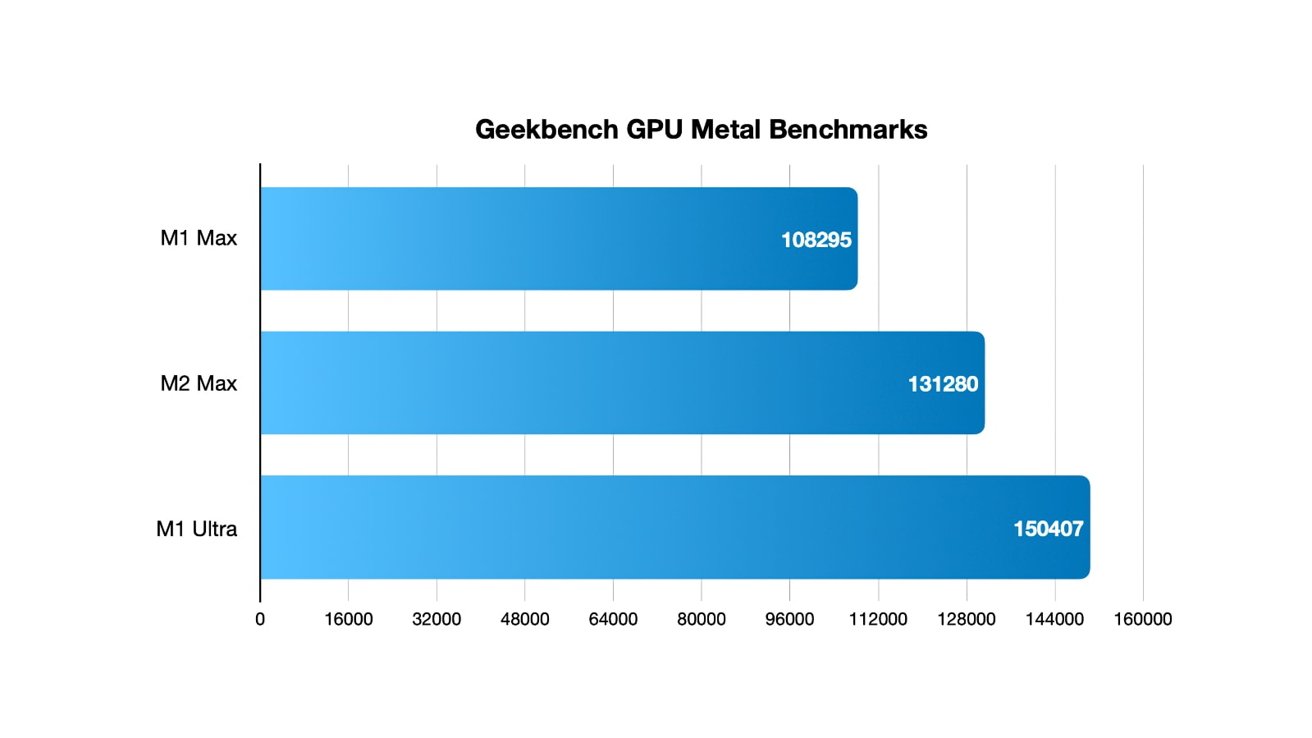 Previously, the Mac Studio with an M1 Max or M1 Ultra chip could accommodate four Pro Display XDRs and one 4K display. However, the latest generation can now handle a significantly higher number of displays.
It can support up to eight 4K displays, six 6K displays, or three 8K displays, indicating a notable improvement in both quantity and quality of external display compatibility. The expanded capacity for multiple displays offers advantages to professionals with distinct work requirements, such as graphic designers, video editors, financial traders, and others in similar fields.
The Metal benchmarking scores demonstrate the graphical performance capabilities of the M1 Max and M2 Max chips. The M1 Max achieves a score of 108,295, while the M2 Max shows an improvement with a score of 131,280.
As for the M2 Ultra, a benchmark score is currently unavailable. However, the M1 Ultra chip sets a high standard with an impressive score of 150,407, indicating its exceptional graphical performance.
2023 Mac Studio vs 2022 Mac Studio – Memory
Apple's M-series chips come with a feature known as Unified Memory, which is integrated directly into the chip itself. This technology enables different chip components to access stored information without requiring it to be held in specific memory pools, as stated by Apple.
When it comes to the M1 Max chip, users had the option to configure it with either 32GB or 64GB of Unified Memory. Those who upgrade to the M1 Ultra chip can add up to 128GB of Unified Memory to their Mac Studio.
The memory configurations for the M2 Max chip, featuring a 30-core GPU, are comparable to the M1 Max. However, individuals who opt for the 38-core GPU can select 96GB of memory.
On the other hand, the M2 Ultra chip, equipped with a 60-core GPU, offers multiple memory options, including 64GB, 128GB, or 192GB. Those memory configurations are the same for the M2 Ultra with a 76-core GPU — the only difference is the higher price.
2023 Mac Studio vs 2022 Mac Studio – Ports
The Mac Studio offers a variety of connectivity options to cater to different user needs and preferences. The M1/M2 Max variants of the Mac Studio are equipped with four Thunderbolt 4 ports, allowing for fast data transfer and versatile connectivity.
On the other hand, the M1/M2 Ultra model goes a step further, providing six Thunderbolt 4 ports, offering even more connectivity options for users with multiple devices or peripherals. These Thunderbolt 4 ports ensure users can connect a wide range of peripherals, such as external displays, storage devices, or docking stations while enjoying high-speed data transfers.
There are variations in the port configuration on the front of the M Max and M Ultra models. The M Max version has two USB-C ports, offering data transfer speeds of up to 10Gb/s.
But an M-series Ultra Mac Studio provides Thunderbolt 4 speeds for the USB-C ports, allowing for blazing-fast data transfers of up to 40Gb/s. Regardless of the chip variant, the front of the Mac Studio features a consistent inclusion — an SDXC card slot (UHS-II).
These card slots enable users to conveniently transfer data directly from SD memory cards, commonly used in cameras and other devices, to their Mac Studio. It simplifies workflows for photographers, videographers, and other professionals who frequently work with SD cards.
The Mac Studio includes 10Gb Ethernet ports in all models to cater to networking needs. These Ethernet ports offer high-speed wired network connectivity, ensuring reliable and fast data transfers for users who require a stable and efficient network connection.
Furthermore, the Mac Studio has HDMI ports to let users connect their computers to external displays or TVs that support HDMI input. HDMI ports ensure easy integration with various display setups and multimedia devices.
Finally, the Mac Studio is equipped with a 3.5 mm headphone jack. That allows users to connect their headphones or external audio devices to the Mac Studio, enabling high-quality audio experiences.
2023 Mac Studio vs 2022 Mac Studio – Pricing
The two generations of the Mac Studio launched at $1,999 with various configurations to add more CPU and GPU cores, memory, storage, and built-in software.
The base configuration of the 2023 Mac Studio features an M2 Max chip, which includes a CPU with 12 cores, a GPU with 30 cores, and a Neural Engine with 16 cores. As for the starting add-ons, it contains 32GB of memory for enhanced performance and a 512GB SSD drive for ample storage capacity.
To fully maximize the hardware capabilities of the 2023 Mac Studio, it incurs an additional cost of $1,799 compared to the previous model. This upgraded version comprises an M2 Ultra chip featuring a 24-core GPU, a 76-core GPU, and a 32-core Neural Engine.
Furthermore, the add-ons for this configuration include an impressive 192GB of memory, enhancing overall performance, and an expansive 8TB SSD for vast storage capacity. These options bring the Mac Studio's price tag to $8,799.
While the M1 counterparts were priced similarly originally, Apple doesn't directly sell the Mac Studio with that chip range anymore. You can still get an M1 Mac Studio via third-party retailers and with a potential saving of a few hundred dollars.
2023 Mac Studio vs 2022 Mac Studio – What to buy
The choice between the 2023 Mac Studio and the 2022 Mac Studio depends on budget, professional requirements, and future-proofing needs.
For professionals relying heavily on graphics-intensive apps or multi-tasking across several high-performance apps, the 2023 Mac Studio is an excellent choice. Its M2 Max and M2 Ultra chips increase performance with more CPU and GPU cores and more transistors.
It also offers more options for memory configurations and can handle a significantly higher number of displays. However, the 2023 Mac Studio is more expensive if you opt for the higher-end configurations.
Therefore, budget considerations could make the 2022 Mac Studio more appealing to many users. The 2022 model, with its M1 Max and M1 Ultra chips, still offers impressive performance for a wide range of tasks and could be more than sufficient for users who don't require the same top-end performance that the 2023 model provides.
The design, size, weight, and ports have remained consistent between the two versions, so the decision hinges on processing power, graphics performance, memory, and price. With Apple shifting to selling only the M2-based models, that does mean you will have to check out other online stores for a potentially cheaper M1-based version.
If budget is not a constraint and top-tier performance is a priority, the 2023 Mac Studio would be the best choice.
However, suppose you're looking for a balance between cost and performance. In that case, the 2022 Mac Studio still offers robust features and capabilities that can efficiently handle most professional and personal computing tasks.
Where to buy Apple's Mac Studio
The 2023 Mac Studio with Apple's M2 Max or M2 Ultra chip can be ordered now at Adorama.com, with exclusive promo code APINSIDER knocking $100 off retail models and $30 off optional AppleCare.
Closeout M1 Max and M1 Ultra Mac Studio models are also discounted, with the latest prices at your fingertips in our M1 Mac Studio Price Guide.